Indonesia Kerahkan Empat Jet Tempur ke Natuna Disorot Media Asing
Indonesia Deploys Fighter Jets in Stand-off with China
Editor : Ismail Gani
Translator : Novita Cahyadi

PUBLISHED: Rabu, 08 Januari 2020 , 03:02:00 WIB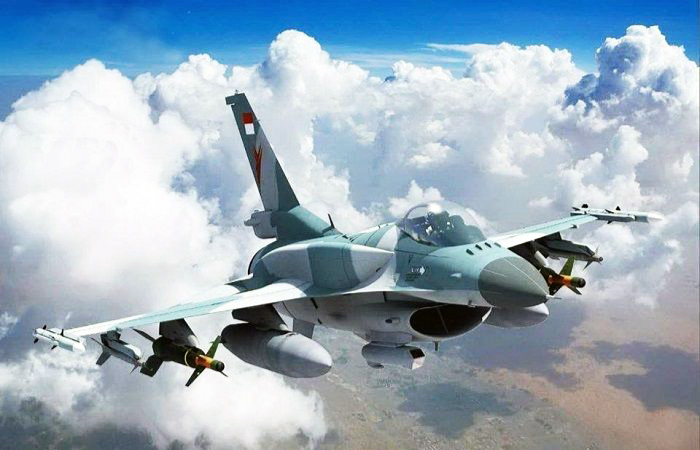 JET TEMPUR F-16: Kadispen TNI AU Marsekal Pertama Fajar Adriyanto mengatakan empat jet F-16 melakukan penerbangan di Natuna [Foto: istimewa]
MARKAS BESAR TNI AU mengerahkan empat jet tempur ke perairan Natuna pada Selasa dalam perselisihan dengan Beijing setelah Indonesia memprotes pelanggaran China terhadap zona ekonomi eksklusif Indonesia.

Kebuntuan dimulai pada pertengahan Desember ketika kapal penjaga pantai China, yang menyertai kapal nelayan Cina, memasuki perairan di lepas pantai pulau-pulau Natuna di Indonesia utara, mendorong Indonesia untuk memanggil duta besarnya di Beijing.

Masalah ini telah merusak hubungan Indonesia yang dengan Cina, mitra dagang terbesar dan investor utama di negara terbesar di Asia Tenggara itu.

Kadispen TNI AU Marsekal Pertama Fajar Adriyanto mengatakan empat jet F-16 telah melakukan penerbangan di Natuna, meskipun ia juga mengecilkan kekhawatiran akan konfrontasi dengan Beijing.

"Mereka sedang melakukan patroli standar untuk melindungi wilayah kedaulatan kita. Kebetulan mereka sedang berpatroli di Natuna," kata Adriyanto. "Kami tidak memiliki perintah untuk memulai perang dengan Cina."

Laut Cina Selatan adalah rute perdagangan global dengan lahan penangkapan ikan yang kaya dan cadangan energi dan Cina mengklaim sebagian besar berdasarkan apa yang dikatakannya adalah aktivitas bersejarahnya. Tetapi negara-negara Asia Tenggara, yang didukung oleh Amerika Serikat dan sebagian besar dunia, mengatakan klaim semacam itu tidak memiliki dasar hukum.

Pada Senin, Indonesia mengatakan sedang memobilisasi nelayan ke wilayah Natuna utara dan telah mengerahkan beberapa kapal angkatan laut.

Tanggung Jawab Bersama
Juru bicara kementerian luar negeri China Geng Shuang mengatakan pada Selasa Beijing telah "membuka saluran diplomatik" dengan Indonesia sejak insiden terakhir, dan mengatakan "kedua negara memikul tanggung jawab untuk menjaga perdamaian dan stabilitas regional".

Belum ada negosiasi dengan kapal-kapal China pada Selasa, kata Nursyawal Embun, direktur operasi laut dari Badan Keamanan Maritim Indonesia, kepada Reuters.

Menurut data dari Lalu Lintas Maritim, situs pelacakan kapal, setidaknya dua kapal China - Zhongguohaijing dan Haijing 35111 - berada di perairan di tepi zona ekonomi eksklusif Indonesia pada Selasa, sekitar 200 km (124 mil) dari Provinsi Kepulauan Riau.

Kapal-kapal itu berada di dalam "garis sembilan dasbor" yang dinyatakan secara sepihak China, yang menandai bentangan luas Laut China Selatan yang diklaimnya, termasuk petak besar landas kontinen Vietnam di mana kapal itu telah memberikan konsesi minyak.

Kapal Penjaga Pantai China Haijing 35111 adalah salah satu dari sedikit kapal China yang terlibat dalam perselisihan selama berbulan-bulan dengan kapal-kapal Vietnam tahun lalu di dekat blok minyak lepas pantai di perairan yang disengketakan, yang termasuk dalam zona ekonomi eksklusif Hanoi.

Menko Kemaritiman Luhut Pandjaitan, yang mengawasi sumber daya dan investasi, mengatakan kepada wartawan pada Selasa bahwa kedaulatan Indonesia tidak dapat dinegosiasikan, meskipun ekonomi China penting bagi Indonesia seperti dikutip Reuters yang dilansir MailOnline.

"Saya tidak akan menjual kedaulatan kita untuk investasi, tidak akan pernah," katanya. "Saya tidak bodoh."
INDONESIA'S air force deployed four fighter jets to the South China Sea on Tuesday in a stand-off with Beijing after Jakarta protested over a Chinese violation of its exclusive economic zone.

The stand-off began in mid-December when a Chinese coast guard vessel, accompanying Chinese fishing boats, entered waters off the coast of Indonesia's northern Natuna islands, prompting Jakarta to summon Beijing's ambassador.

The issue has soured Indonesia's generally friendly relationship with China, its biggest trading partner and a major investor in Southeast Asia's largest country.

Fajar Adriyanto, the air force spokesman, said four F-16 jets had been conducting flights over the islands, though he also played down fears of any confrontation with Beijing.

"They're doing standard patrols to protect our sovereign area. It just so happened that they're patrolling Natuna," Adriyanto said. "We don't have the order to start a war with China."

The South China Sea is a global trade route with rich fishing grounds and energy reserves and China claims most of it based on what it says is its historic activity. But Southeast Asian countries, supported by the United States and much of the rest of the world, say such claims have no legal basis.

On Monday, Indonesia said it was mobilising fishermen to the northern Natuna region and had deployed several naval ships.

JOINT RESPONSIBILITY
Chinese foreign ministry spokesman Geng Shuang said on Tuesday Beijing had "opened diplomatic channels" with Indonesia since the latest incident, and said "both countries shoulder responsibility for maintaining regional peace and stability".

There has been no negotiation with the Chinese vessels as of Tuesday, Nursyawal Embun, director of sea operations of Indonesia's Maritime Security Agency, told Reuters.

According to data from Maritime Traffic, a ship tracking website, at least two Chinese ships -- Zhongguohaijing and Haijing 35111 -- were in waters on the edge of Indonesia's exclusive economic zone on Tuesday, approximately 200km (124 miles) off Indonesia's Riau Islands.

The ships were within China's unilaterally-declared "nine-dash line", which marks a vast expanse of the South China Sea that it claims, including large swathes of Vietnam's continental shelf where it has awarded oil concessions.

The China Coast Guard ship Haijing 35111 is one of a handful of Chinese ships that was involved in a months-long standoff with Vietnamese ships last year near the offshore oil block in the disputed waters, which fall within Hanoi's exclusive economic zone.

Luhut Pandjaitan, the coordinating minister in Indonesia's cabinet overseeing resources and investment, told reporters on Tuesday that Indonesia's sovereignty was not negotiable, despite China's economic importance for his country.

"I would not sell our sovereignty for investment, never," he said. "I'm not stupid."