Takut Pulang, Turis China Pilih Perpanjang Visa di Bali Hindari Virus Corona
No Going Back: Bali`s Chinese Tourists Fear Virus-hit Homeland
Editor : Ismail Gani
Translator : Novita Cahyadi

PUBLISHED: Minggu, 01 Maret 2020 , 03:34:00 WIB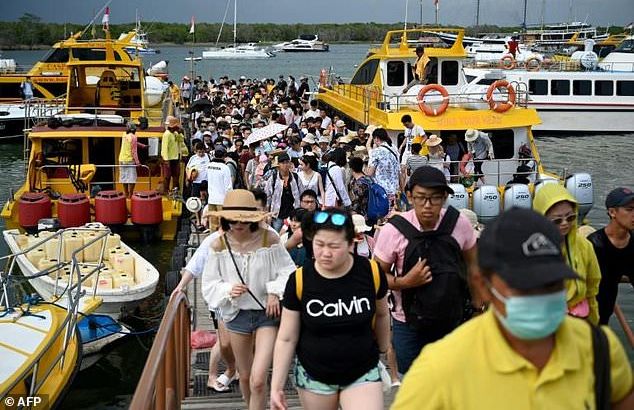 WISATAWAN CHINA: Sekitar satu juta wisatawan Tiongkok mengunjungi Bali setiap tahun - kelompok pendatang asing terbesar kedua setelah warga Australia [Foto: AFP/MailOnline]
RATUSAN wisatawan China yang berlibur di Bali berusaha keras untuk tidak pulang, takut akan infeksi virus Corona baru yang mematikan dan penanganan epidemi di Beijing.

Kekhawatiran atas wabah yang menyebar dengan cepat mendorong Indonesia untuk menutup semua penerbangan ke dan dari China bulan ini, berdampak pada bisnis restoran, hotel, agen perjalanan dan juru bahasa di Bali.

Tetapi dengan lebih dari 2.800 orang meninggal karena penyakit COVID-19 di daratan Cina, dan seluruh kota ditutup, pejabat imigrasi di Bali mengatakan hampir seribu warga negara Cina telah mengajukan permohonan perpanjangan visa darurat.

"Saya seorang pengungsi internasional," Steve Li, manajer sebuah perusahaan Eropa di kota daratan utama, mengatakan kepada AFP di sebuah mal kelas atas di Denpasar.

"China seperti penjara besar, semua kota dikunci," tambahnya.

Li mengatakan dia tidak percaya jaminan Beijing bahwa negara itu mengendalikan epidemi.

Sementara ia berencana untuk kembali bekerja, Li, yang meminta untuk tidak diidentifikasi dengan nama aslinya, meninggalkan istri dan dua anaknya yang masih kecil untuk menunggu krisis kesehatan masyarakat.

"Saya mengelola perusahaan jadi saya tidak bisa meminta karyawan saya untuk terus bekerja sementara saya bersembunyi di sini," katanya.

Sekitar satu juta wisatawan Tiongkok mengunjungi Bali setiap tahun - kelompok pendatang asing terbesar kedua setelah warga Australia - dan menyumbang ratusan juta dolar bagi devisa negara.

Ribuan orang melakukan perjalanan ke sana dari China untuk liburan Tahun Baru Imlek bulan lalu tepat ketika wabah virus mulai melanda, mendorong penguncian provinsi Hubei di Cina di mana infeksi pertama kali terdeteksi.

Beijing menerbangkan kelompok-kelompok wisatawan mancanegara dari seluruh Asia bulan lalu dengan alasan "kesulitan praktis" yang mereka hadapi di luar negeri, karena kekhawatiran penularan itu mendorong beberapa negara untuk menghalangi masuknya para pendatang yang baru-baru ini ke China.

Hanya beberapa lusin wisatawan China di Bali yang menerima tawaran itu.

"Saya tidak terkejut," kata Kepala Dinas Pariwisata Bali Putu Astawa kepada AFP yang dilansir MailOnline.

"Mereka tidak mau pulang."
HUNDREDS OF Chinese tourists on vacation in Bali are scrambling to avoid going home, fearing both infection from the deadly new coronavirus and Beijing's handling of the epidemic.

Concerns over the rapidly-spreading outbreak prompted Indonesia to shut down all flights to and from China this month, hammering the bottom lines of restaurants, hotels, travel agents and interpreters on the popular resort island.

But with more than 2,800 dead from the COVID-19 illness on the Chinese mainland, and entire cities under lockdown, immigration officials in Bali say nearly a thousand Chinese nationals have applied for emergency visa extensions.

"I'm an international refugee," Steve Li, the manager of a European firm in a major mainland city, told AFP at an upscale mall in the island's capital Denpasar.

"China is like a big prison, all the cities are locked down," he added.

Li says he does not believe Beijing's assurances that the country is getting the epidemic under control.

While he plans to return to work, Li, who asked not to be identified by his real name, is leaving his wife and two young children behind to wait out the public health crisis.

"I'm managing the company so I can't ask my guys to continue to work while I hide here," he said.

Around a million Chinese tourists visit Bali each year -- the second-largest group of foreign arrivals after Australians -- and inject hundreds of millions of dollars into the local economy.

Thousands travelled there from the mainland for last month's Lunar New Year holiday just as the virus outbreak was beginning to snowball, prompting the lockdown of China's Hubei province where the infection was first detected.

Beijing flew home groups of overseas tourists from around Asia last month citing the "practical difficulties" they faced abroad, as fears of the contagion prompted several countries to bar entry to arrivals who had recently been in China.

Only a few dozen Chinese travellers in Bali took up the offer.

"I wasn't surprised," Bali Tourism Agency chief Putu Astawa told AFP.

"They don't want to go back."