Media Asing Sorot Skenario Pemerintah Pasca Covid-19
Indonesia Prepares `Exit Strategies` to Reopen Parts of Economy
Editor : Ismail Gani
Translator : Novita Cahyadi

PUBLISHED: Sabtu, 09 Mei 2020 , 03:07:00 WIB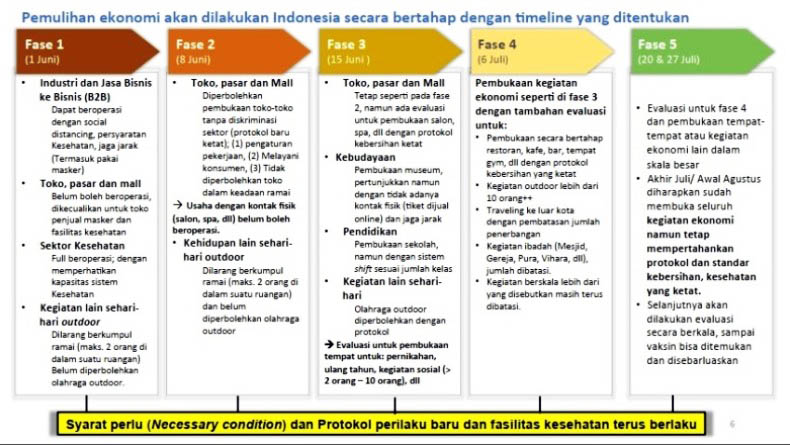 Salon kecantikan, bioskop, dan pusat olahraga mungkin diizinkan beroperasi pada 15 Juni, dengan pembukaan kembali sepenuhnya terlihat pada akhir Juli atau awal Agustus [Foto: istimewa]
PEMERINTAH RI sedang mempertimbangkan rencana untuk memulai kegiatan perekonomian secara bertahap mulai 1 Juni mendatang, dengan pelonggaran aturan Pembatasan Sosial Berskala Besar [PSBB] yang bertujuan memutus mata rantai penyebaran virus Corona di Indonesia, yang terungkap melalui dokumen yang disebar melalui media sosial.
Usulan tersebut muncul ketika para akademisi dan praktisi medis mengritik pemerintah yang dituding lamban dalam menanggapi wabah tersebut. Jumlah kematian akibat Covid-19 per Jumat [8/5] mencapai 930 sebagai yang tertinggi di Asia Timur di luar China seperti diumumkan Gugus Tugas Covid-19.
Upaya mengatasi dampak Covid-19 memicu kekhawatiran yang meningkat tentang dampak ekonomi akibat kebijakan PSBB dengan sedikitnya 2 juta orang kehilangan pekerjaan dalam enam minggu terakhir dan peningkatan kemiskinan.
Staf Ahli Menteri Koordinator Bidang Perekonomian, Raden Pardede mengemukakan rencana lima fase untuk membuka kembali beberapa kota di bawah protokol kesehatan yang ketat, termasuk mengenakan masker dan jarak sosial, dari sebuah dokumen seperti dikutip Reuters.
Rencana pemerintah tersebut mengungkap tentang pusat perbelanjaan dibuka kembali pada 8 Juni, dengan sekolah-sekolah ditetapkan untuk memulai kembali seminggu kemudian, tetapi hanya jika kasus-kasus baru jatuh dan target pengujian terpenuhi, sesuai dengan rencana yang ditetapkan dalam dokumen.
Salon kecantikan, bioskop, dan pusat olahraga mungkin diizinkan beroperasi pada 15 Juni, dengan pembukaan kembali sepenuhnya terlihat pada akhir Juli atau awal Agustus.
Raden Pardede, penasihat kementerian yang menulis dokumen itu, mengatakan dokumen tersebut belum disetujui dan masih berupa proposal.
"Kami harus membuat rencana, tetapi kami juga harus memenuhi persyaratan kesehatan," kata Pardede kepada Reuters yang dilansir MailOnline.
Ditanya tentang jadwal yang disarankan dalam dokumen tersebut, Menko Perekonomian Airlangga Hartarto, mengatakan dalam sebuah pesan teks bahwa pemerintah sedang mengkaji kemajuan dalam koordinasi erat dengan badan mitigasi bencana untuk menyiapkan protokol kesehatan untuk setiap sektor untuk dipatuhi.
Pertumbuhan ekonomi Indonesia merosot ke level terlemah dalam 19 tahun pada kuartal pertama karena coronavirus memberikan pukulan terhadap konsumsi dan investasi, tetapi ekonomi melakukan lebih baik daripada yang lain di wilayah ini.
Beberapa kota terbesar di Indonesia, termasuk ibukota Jakarta, berada di bawah "pembatasan sosial berskala besar" dengan sekolah-sekolah dan banyak bisnis tutup, meskipun pembatasannya tidak seketat yang ada di beberapa negara tetangga.
Secara terpisah, Menteri Koordinator Kelautan dan Investasi Luhut Pandjaitan mengatakan dalam presentasi bahwa sebelum keluar, pengujian besar-besaran, pelacakan dan karantina terpusat diperlukan, dan tidak akan "didasarkan pada tanggal yang ditentukan sebelumnya".
Mungkin ada pembukaan secara bertahap dengan masing-masing wilayah diperlakukan secara berbeda sesuai dengan posisinya pada kurva pandemi, katanya dalam presentasi.
Tetapi strategi keluar akan ditinjau secara berkala dan kuncian dapat diterapkan kembali jika diperlukan, katanya.
INDONESIA is considering plans for a phased resumption of businesses in Southeast Asia's biggest economy from as early as June 1, with the easing of restrictions aimed at curbing the novel coronavirus, government documents showed.
The proposals come as medical experts have criticised Indonesia for being slow to respond to the outbreak. Its official death toll of 930 is the highest in East Asia outside China.
Still, there is mounting concern about the deepening economic impact of restrictions with at least 2 million people losing their jobs in the past six weeks and poverty increasing.
Officials at the Coordinating Ministry of Economic Affairs have looked at a five-phase plan to reopen some cities under strict health protocols, including wearing masks and social distancing, a document reviewed by Reuters showed.
Shopping malls could reopen on June 8, with schools set to restart a week later, but only if new cases fall and testing targets are met, according to the plan set out in the document.
Beauty salons, cinemas and sport centres may be allowed to operate by June 15, with full reopening seen at the end of July or early August.
Raden Pardede, an adviser to the ministry who wrote the document, said it had not been approved and remained a proposal.
"We have to make an exit plan, but we must comply with health requirements as well," Pardede told Reuters.
Asked about timelines suggested in the document, Indonesia's chief economic minister, Airlangga Hartarto, said in a text message the government was reviewing progress in close coordination with the disaster mitigation agency to prepare health protocols for each sector to comply with.
Indonesia's economic growth slumped to the weakest in 19 years in the first quarter as the coronavirus dealt a blow to consumption and investment, but the economy did better than some others in the region.
Some of Indonesia's biggest cities, including the capital Jakarta, are under "large-scale social restrictions" with schools and many businesses shut, though the restrictions are not as tight as those in some neighbours.
Separately, Coordinating Minister for Maritime and Investment Affairs Luhut Pandjaitan said in a presentation that before any exit, massive testing, tracing and centralised quarantine was necessary, and would not be "based on a predetermined set date".
There could be opening in phases with each region treated differently according to its position on the pandemic curve, he said in the presentation reviewed by Reuters.
But the exit strategy would to be reviewed periodically and a lockdown could be reapplied if needed, he said.