Cegah Penularan Corona, Gubernur DKI Serukan Warga Pakai Masker
Jakarta Governor Calls Jakartans to Use of Masks for Prevent Covid-19 Transmission
Reporter : Kevin Cesario
Editor : Cahyani Harzi
Translator : Dhelia Gani

PUBLISHED: Senin, 06 April 2020 , 05:45:00 WIB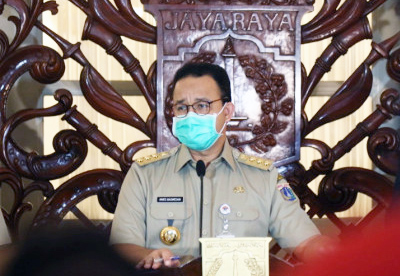 Gubernur DKI Jakarta Anis Baswedan [Foto: istimewa]
Jakarta [B2B] - Gubernur Provinsi DKI Jakarta, Anies Baswedan, mengeluarkan Seruan Gubernur Provinsi DKI Jakarta Nomor 9/2020 tentang Penggunaan Masker untuk Mencegah Penularan Coronavirus Disease [Covid-19] yang diteken pada Jumat [3/4].
Seruan dikeluarkan mengingat peningkatan kasus Covid-19 di Jakarta memerlukan langkah bersama dari tiap warga untuk mengurangi potensi penularan antarmanusia.
"Selain mencegah penularan, persediaan masker medis untuk tenaga medis kini mulai terbatas. Imbauan ini diserukan untuk mengajak masyarakat agar menggunakan masker secara tepat guna, utamanya memprioritaskan masker medis hanya untuk tenaga medis," kata Ketua II Gugus Tugas Covid-19 Pemprov DKI Jakarta, Catur Laswanto.
Seruan Gubernur DKI Jakarta kepada warganya antara lain selalu menggunakan masker ketika berada atau berkegiatan di luar rumah, tanpa kecuali; menggunakan jenis masker kain minimal dua lapis yang dapat dicuci; rutin mencuci masker kain yang digunakan, dikerjakan tiap hari; tidak membeli dan/atau menggunakan masker medis serta menyadari bahwa masker medis diprioritaskan untuk kesehatan; dapat membeli atau membuat sendiri masker kain dua lapis sesuai kebutuhan.
Serukan keenam hingga delapan adalah tetap mengutamakan berada di rumah, menjaga jarak aman; sering mencuci tangan dengan sabun, dan melaksanakan etika batuk atau bersin; bagi yang ingin membantu sesama warga maka bantulah dengan mengadakan, memproduksi, dan membagikan masker kain; bagi pengurus wilayah [Ketua RT, RW, Kader PKK dan lain-lain], mengingatkan warga untuk selalu menggunakan masker di luar rumah.
Catur Laswanto menambahkan bahwa Seruan Gubernur ini untuk menjadi perhatian masyarakat dan dapat dilaksanakan secara bersama.
Untuk diketahui, kasus positif COVID-19 di Jakarta per Minggu, 5 April 2020 tercatat 1.143 orang; 58 sembuh; 110 meninggal; 246 menjalani isolasi mandiri di rumah dan 729 menjalani perawatan.
Sedangkan, 739 orang masih menunggu hasil laboratorium. Sementara itu, untuk tenaga kesehatan yang terinfeksi Covid-19 sebanyak 106 orang (satu di antaranya meninggal, 10 orang sembuh] yang tersebar di 35 rumah sakit dan satu klinik di Jakarta.=
Jakarta [B2B] - Jakarta Governor Anies Baswedan, issued Governor´s Call number 9/2020 on the Use of Masks to Prevent Coronavirus Disease 2019 [Covid-19] was signed here on Friday [April 3].
This policy was made to really protect us amid the possibility of an outbreak occurring in Jakarta.
"We call on citizens to wear masks appropriately that is by prioritizing medical masks for medical workers, considering its supply is very limited," said Jakarta Covid-19 Task Force II Chairman, Catur Laswanto.
Further, the Governor´s Call to the whole community regarding the use of masks to prevent transmission of Covid-19, as follows: Always wear a mask outside or at home, without exception; use cloth mask at least two layers that can be washed; wash masks every day; do not buy and/or use medical masks and realize that medical masks are prioritized for health; buy or make your own two-layer cloth mask as needed; stay home, do physical distancing, wash hands with soap often and do the ethics of coughing or sneezing; those who want to help fellow citizens, then help by holding, producing and distributing cloth masks; regional apparatuses must remind citizens to always wear masks outside the home.
He added that all citizens were expected to obey and implement it together.
As for the information, the number of Covid-19 positive cases in Jakarta every week since April 5, reached 1,143 people. 58 of them recovered, 110 people died, 246 were underging self-isolation at home and 729 were still undergoing treatment.
While the 739 were still waiting for the laboratory results. Then medical workers infected with Covid-19 reached 106 people [1 of whom died, 10 recovered] spread in 35 hospitals and 1 clinic in Jakarta.