Arak Keranda Jenazah, Kiat Sosialisasi Bahaya Covid-19 di Jakarta
In Indonesia, Shock Coffin Tactics Nail Coronavirus Risks
Editor : Ismail Gani
Translator : Novita Cahyadi

PUBLISHED: Senin, 07 September 2020 , 06:56:00 WIB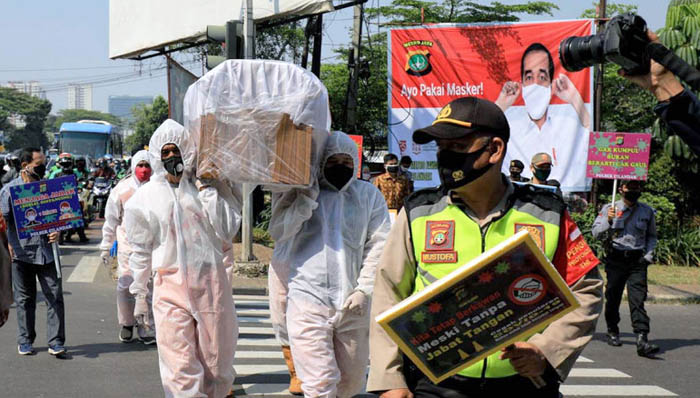 DAMPAK CORONA: Prosesi mengarak keranda jenazah dimulai pekan lalu dan diperkirakan akan berlangsung selama dua minggu hingga Kamis [10/9] Foto: istimewa
ADA YANG tak biasa di kawasan Cilandak setiap pagi sejak pukul 09:00, Ricky Mulyana petugas gabungan dari Kecamatan Cilandak dan tiga rekannya mengenakan alat pelindung diri lengkap, mengangkat peti mati kayu ke bahu mereka, dan memulai prosesi 'pemakaman' di kawasan Fatmawati, Jakarta Selatan.
Peti mati yang dibungkus plastik hanya berisi patung. Salah satu dari beragam cara yang dilakukan Indonesia seperti Pemprov DKI Jakarta yang berupaya menahan lonjakan kasus virus korona, pihak berwenang mencoba taktik mengejutkan untuk menarik perhatian publik dan menyampaikan pesan kesehatan penting di negara dengan jumlah kematian akibat virus tertinggi di Asia Tenggara.
"Ini pekerjaan yang melelahkan karena orang tidak memahami bahaya penyakit Covid-19," kata Mulyana saat prosesi peti mati di sepanjang jalan di kawasan selatan Cilandak Jakarta, pinggiran kota yang luas dengan pusat bisnis, perkantoran dan pemukiman padat penduduk.
Di dekatnya, pejabat lain mengangkat plakat dan menggunakan pengeras suara untuk mendesak warga agar mengikuti protokol kesehatan, termasuk mengenakan masker dan menjaga jarak.
Aksi yang mengkhawatirkan adalah salah satu rangkaian yang dikerahkan di tengah jumlah kasus yang mendesak: Indonesia sejak Kamis pekan lalu mencatat rekor lonjakan infeksi virus corona setiap hari dan sekarang memiliki lebih dari 180.000 kasus dan setidaknya 7.750 kematian.
Jakarta telah menjadi episentrum wabah di Indonesia, terhitung hampir seperempat kasus di negara terpadat keempat di dunia.
Di tempat lain, taktik yang digunakan untuk membangkitkan kesadaran akan virus tersebut bahkan termasuk mengerahkan sekelompok "hantu" untuk berpatroli di jalan-jalan sebuah desa di Jawa, berharap takhayul kuno akan membuat orang tetap di dalam rumah.
"Hingga saat ini masyarakat masih belum sadar bahwa menggunakan masker itu sangat penting," kata Mulyana. Dia berharap melihat peti mati akan membuat orang menyadari bahaya penyakit tersebut.
Beberapa penduduk yang menonton mengatakan pawai peti mati dapat membantu menyampaikan pesan.
"Sekarang masyarakat bisa mengerti (akibatnya). Tanpa ini (inisiatif) orang akan selalu melanggar aturan," kata Masno, 74 tahun, warga Cilandak seperti dikutip Reuters yang dilansir MailOnline.
Prosesi harian dimulai minggu lalu dan diperkirakan akan berlangsung selama dua minggu hingga Kamis [10/9].
"Kami berharap ini bisa membuat warga khawatir dan akan meningkatkan kesadaran mereka, serta warga di Jakarta mau menerima," kata Encu Suhani, Wakil Camat Cilandak.
EACH DAY in Jakarta at 9 a.m. sharp, local government official Ricky Mulyana and three colleagues don full personal protective equipment, hoist a wooden coffin onto their shoulders, and set out on a 'funeral' procession down busy city streets.
The coffin, wrapped in plastic, contains only an effigy. But as Indonesia struggles to contain a surge in coronavirus cases, authorities are trying shock tactics to catch the public's attention and drive home crucial health messages in a country that has the highest virus death toll in Southeast Asia.
"It's a tiring job because people don't understand the danger of the COVID-19 disease," said Mulyana during a coffin procession along a street in Jakarta's southern Cilandak area, a sprawling suburb with business centres and both middle class and poorer districts.
Nearby, other officials held up placards and used loudhailers to urge residents to follow health protocols, including wearing masks and social distancing.
The alarming stunt is one of a string deployed amid desperate case numbers: Indonesia on Thursday recorded a record daily spike in coronavirus infections and now has more than 180,000 cases and at least 7,750 deaths.
Jakarta has been the epicentre of Indonesia's outbreak, accounting for nearly a quarter of cases in the world's fourth most populous country.
Elsewhere, tactics used to draw awareness to the virus have even included deploying a cast of "ghosts" to patrol streets of a village in Java, hoping an age-old superstition will keep people indoors.
"Until now people are still not aware that using a mask is very important," said Mulyana. He said he hoped seeing a coffin would make people realise the danger of the disease.
Some residents watching on said the coffin parade could help get the message across.
"Now, people can understand (the consequence). Without this (initiative) people will always break the rules," said Masno, 74, who uses one name.
The daily procession started last week and is expected to run for two weeks until Sept. 10.
"We hope it will frighten the public and increase their awareness, and that residents in Jakarta will be receptive," said Encu Suhani, deputy chief of Cilandak's local government.