Polisi Bekuk Perekrut ABK Tewas di Kapal Ikan China
Indonesia Makes more Arrests in Sailor`s Torture Killing
Editor : Ismail Gani
Translator : Novita Cahyadi

PUBLISHED: Selasa, 28 Juli 2020 , 00:51:00 WIB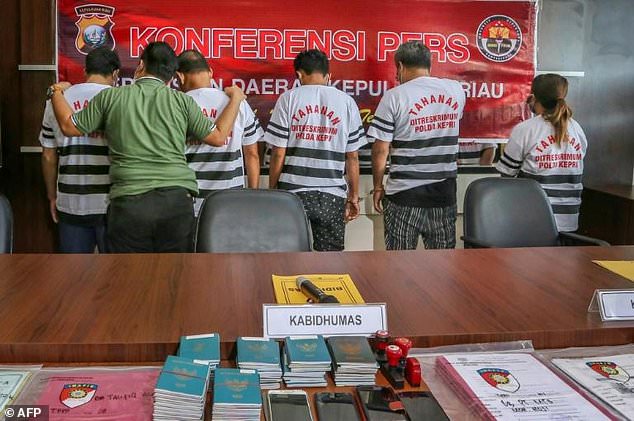 TAMBAHAN TERSANGKA: Para tersangka juga menghadapi dakwaan bahwa mereka secara sadar menempatkan ABK dalam bahaya, dan dapat didakwa maksimal dengan hukuman penjara seumur jika dinyatakan bersalah [Foto: AFP/MailOnline]
POLISI mendakwa empat orang lagi sehubungan dengan dugaan penyiksaan hingga tewasnya seorang anak buah kapal [ABK] asal Indonesia yang ditemukan di sebuah ruang pendingin [freezer] di atas kapal penangkap ikan China, kata pihak berwenang Senin.
Mereka adalah eksekutif di agen perekrutan Indonesia yang mempekerjakan penduduk setempat - seperti Hasan Apriadi yang berusia 20 tahun, yang meninggal bulan lalu - untuk bekerja di kapal-kapal Cina, kata polisi.
Seorang supervisor asal China di kapal Lu Huang Yuan Yu 118 telah didakwa atas kematian Apriadi dan karena menyerang awak Indonesia lainnya.
Secara keseluruhan, enam bos agen perekrutan kini menghadapi dakwaan penyelundupan manusia, termasuk tuduhan mereka berbohong kepada puluhan orang Indonesia yang ditempatkan di kapal penangkap ikan China dengan mengatakan bahwa mereka akan bekerja sebagai pelayan atau staf di toko-toko eceran di luar negeri, kata polisi.
"Para tersangka terlibat dalam perekrutan ilegal dan menipu para korban dengan janji-janji palsu," kata Direktur Ditreskrimum Polda Kepulauan Riau [Kepri], Kombes Pol Arie Darmanto.
Para tersangka juga menghadapi dakwaan bahwa mereka secara sadar menempatkan ABK dalam bahaya, dan dapat didakwa maksimal dengan hukuman penjara seumur jika dinyatakan bersalah, menurut polisi.
Para ahli anti-perdagangan mengatakan industri perikanan penuh dengan kerja paksa dan pekerja yang dieksploitasi menghadapi risiko tidak dibayar, kerja keras, kekerasan dan kematian.
Asia Tenggara adalah sumber utama tenaga kerja seperti itu dan perekrut yang tidak bermoral menargetkan orang miskin dan tidak berpendidikan dengan janji upah yang baik di laut.
Awal bulan ini dua kapal China dicegat di Selat Malaka, yang memisahkan Indonesia dan Malaysia, setelah pihak berwenang menerima informasi bahwa seorang anggota awak tewas di salah satu kapal.
Mereka kemudian menemukan jasad Apriadi yang beku di kapal dan menangkap warga negara Cina Song Chuanyun.
Pihak berwenang mengatakan bahwa Song diduga telah memaksa korban untuk bekerja meski sedang sakit.
Mereka mengatakan dia menyiksa orang Indonesia dan merampas makanan atau air selama beberapa hari sebelum dia meninggal pada akhir Juni seperti dikutip AFP yang dilansir MailOnline.
INDONESIAN police have charged four more people in connection with the alleged torturing to death of an Indonesian crew member found in a freezer aboard a Chinese fishing vessel, authorities said Monday.
They were executives at Indonesian recruitment agencies which hire locals -- such as 20-year-old Hasan Apriadi, who died last month -- to work on Chinese ships, police said.
A Chinese supervisor on the Lu Huang Yuan Yu 118 vessel has been charged in Apriadi's death and for assaulting other Indonesian crew.
In all, six recruiting agency bosses are now facing human-trafficking charges, including allegations they lied to dozens of Indonesians placed aboard Chinese fishing vessels by saying that they would be working as waiters or staff in retail stores overseas, police said.
"The suspects engaged in illegal recruitment and deceived the victims with false promises," said Arie Dharmanto, director of the general crimes unit for Indonesia's Riau Islands province.
The suspects also face charges that they knowingly put the crew members at risk, and could be hit with a maximum life sentence if found guilty, according to police.
Anti-trafficking experts say the fishing industry is riddled with forced labour and exploited workers face non-payment, overwork, violence and death.
Southeast Asia is a major source of such labour and unscrupulous recruiters target the poor and uneducated with promises of good wages at sea.
Earlier this month two Chinese boats were intercepted in the Malacca Strait, which separates Indonesia and Malaysia, after authorities received information that a crew member had died aboard one of the vessels.
They later found Apriadi's frozen body on the vessel and arrested Chinese national Song Chuanyun.
Authorities said that Song allegedly had forced the victim to work despite being ill.
They said he tortured the Indonesian and deprived him of food or water for several days before he died in late June.