Ribuan Pendatang di Wamena Mengungsi pasca Rusuh Tewaskan 32 Orang
Thousands Scramble to Flee Unrest in Indonesia`s Papua
Editor : Ismail Gani
Translator : Novita Cahyadi

PUBLISHED: Minggu, 29 September 2019 , 16:25:00 WIB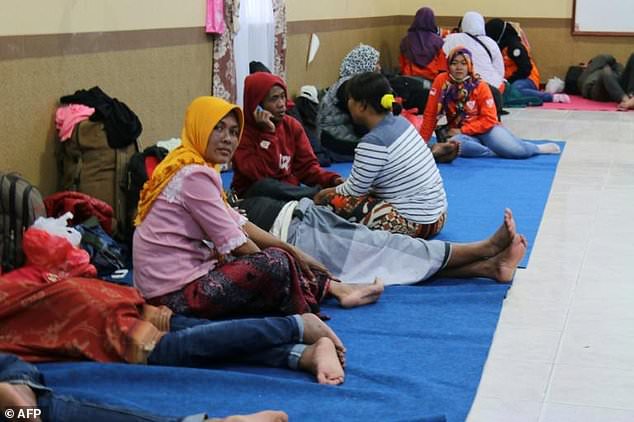 Foto: AFP/MailOnline
RIBUAN penduduk yang ketakutan di Papua, Indonesia, bergegas naik ke pesawat militer pada Jumat, untuk mengungsi dari kerusuhan di Kota Wamena setelah salah satu letusan kekerasan paling mematikan di kawasan ini dalam beberapa tahun.

Kemarahan atas tindak rasisme terhadap penduduk asli Papua oleh penduduk dari bagian lain Indonesia memicu berminggu-minggu protes kemarahan di wilayah miskin, serta seruan baru untuk pemerintahan sendiri.

Kekerasan pecah lagi minggu ini di kota Wamena di mana lebih dari 30 orang tewas.

Pihak berwenang mengatakan bahwa beberapa dibakar hidup-hidup ketika bangunan dibakar, sementara yang lain ditikam selama kekacauan.

Sekitar 700 warga Wamena - kebanyakan pendatang dari luar Papua - dievakuasi keluar dari Papua, kata pihak TNI.

Selanjutnya 1.500 warga berkumpul di bandara setempat pada Jumat dalam upaya untuk pergi, menurut pejabat angkatan udara setempat Arief Sudjatmiko, yang menambahkan bahwa setidaknya 2.500 orang telah mendaftar untuk mendapatkan penerbangan.

"Kehidupan kami berisiko di sini," Debora Sibuea, yang berencana untuk kembali ke kampung halamannya di Sumatra Utara kepada AFP.

"Rumah saya dibakar, kios dibakar, bahkan kantor-kantor pemerintah dibakar," katanya.

Kekerasan baru minggu ini dilaporkan dipicu oleh komentar rasis yang dibuat oleh seorang guru terhadap siswa di Wamena, tetapi polisi membantah akun itu.

Pada Agustus, unjuk rasa meluas ke seluruh Papua dan di wilayah lain di Indonesia setelah penangkapan, pelecehan rasial terhadap puluhan mahasiswa Papua di kota Surabaya.

Mayoritas orang Papua adalah Kristen dan etnis Melanesia dengan sedikit ikatan budaya dengan seluruh Indonesia yang mayoritas Muslim.

Mereka telah menjadi minoritas di Papua setelah penduduk dari luar Papua berbondong datang ke wilayah kaya mineral, dan tambang emas terbesar di dunia seperti dikutip AFP yang dilansir MailOnline.
THOUSANDS of scared residents in Indonesia's Papua scrambled to board military planes Friday, fleeing urban unrest after one of the region's deadliest eruptions of violence in years.

Anger over racism against indigenous Papuans by residents from other parts of Indonesia has fuelled weeks of angry protests in the impoverished region, as well as fresh calls for self-rule.

Violence broke out again this week in Wamena city where over two dozen people were killed.

Authorities said that some were burned alive when buildings were set on fire, while others were stabbed during the chaos.

Some 700 Wamena residents -- mostly migrants from other parts of the country -- were evacuated on Friday to other parts of the country, the military said.

A further 1,500 residents gathered at a local airport Friday in a bid to leave, according to local air force official Arief Sudjatmiko, who added that at least 2,500 people had registered to get aboard flights.

"Our lives are at risk here," Debora Sibuea, who planned to return to her hometown in Sumatra, told AFP.

"My house was set on fire, stalls were set on fire, even government offices were burned," she said.

The fresh violence this week was reportedly sparked by racist comments made by a teacher towards students in Wamena, but police have disputed that account.

In August, protests broke out across Papua and in other parts of the country after the arrest, racial abuse and tear-gassing of dozens of Papuan students, in the city of Surabaya.

The majority of Papuans are Christian and ethnic Melanesian with few cultural ties to the rest of Muslim-majority Indonesia.

They have become a minority in Papua after years of internal migration from other parts of the country to the mineral-rich region, home to the world's biggest gold mine.

A low-level separatist insurgency has simmered for decades in the former Dutch colony after Jakarta took over Papua in the 1960s.

A UN-sponsored vote to stay within the archipelago in 1969 was widely viewed as rigged, but Jakarta has long refused to consider another referendum.