17 Tewas, Ribuan Warga Mengungsi akibat Banjir di Jabodetabek
Jakarta Floods Kill 17 and Force Thousands to Flee
Editor : Ismail Gani
Translator : Novita Cahyadi

PUBLISHED: Kamis, 02 Januari 2020 , 16:54:00 WIB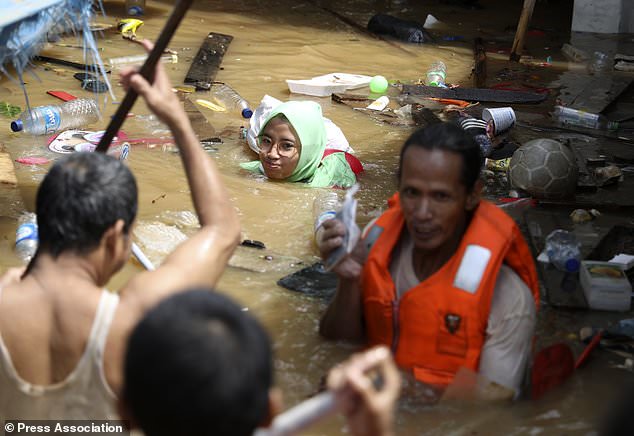 Penduduk Bekasi di Provinsi Jawa Barat Jakarta mengarungi air hingga ke leher mereka atau mengapung di atas rakit darurat yang membawa pakaian dan barang-barang lainnya yang diselamatkan [Press Association/MailOnline]
LUAPAN BANJIR dan tanah longsor yang dipicu oleh hujan deras Jakarta mengakibatkan 17 orang tewas dan memaksa puluhan ribu warga dievakuasi ke tempat pengungsian.
Hujan deras dan meluapnya sungai memicu banjir pada 169 kawasan pemukiman di Jabodetabek dan menyebabkan tanah longsor di Bogor dan Depok di pinggiran kota, kata juru bicara Badan Nasional Penanggulangan Bencana [BNPB] Agus Wibowo.
Banjir melanda ribuan rumah dan bangunan dan memaksa pihak berwenang untuk memutus aliran listrik dan air serta melumpuhkan jaringan transportasi, kata Agus Wibowo. Dia mengatakan lebih dari 31.000 orang berada di tempat penampungan pengungsi sementara banjir mencapai ketinggian 2,5 meter di beberapa tempat.
Bandara domestik Halim Perdanakusumah di Jakarta Timur dibuka kembali setelah operasi dihentikan ketika banjir merendam landasan pacu. Hampir 20.000 penumpang terkena dampak penutupan bandara.
Penduduk Bekasi di Provinsi Jawa Barat Jakarta mengarungi air hingga ke leher mereka atau mengapung di atas rakit darurat yang membawa pakaian dan barang-barang lainnya yang diselamatkan. Banyak warga memilih naik ke atap untuk menunggu penyelamatan dari anggota TNI dan relawan dengan perahu karet.
Menteri Sosial Juliari Peter Batubara mengatakan pemerintah mengirim tim medis dan rakit karet ke daerah-daerah yang paling parah terdampak banjir, sementara relawan menggunakan perahu karet mengirimkan mie instan dan beras kepada warga yang memilih untuk tinggal di lantai atas rumah mereka.
Banjir menjadi sorotan utama infrastruktur Indonesia.
Jakarta dihuni oleh 10 juta penduduk, atau 30 juta termasuk mereka yang berada di wilayah metropolitan. Ibukota RI ini rentan terhadap gempa bumi dan banjir dan tenggelam dengan cepat karena ekstraksi air tanah yang tidak terkendali.
Presiden RI Joko Widodo mengumumkan pada Agustus bahwa ibukota akan pindah ke lokasi di provinsi Kalimantan Timur yang di Kalimantan Timur, yang dikenal dengan hutan hujan dan orangutan.
Jokowi mengatakan kepada pers di Jakarta bahwa salah satu penyebab banjir adalah karena kerusakan ekosistem dan ekologi selain banyak orang yang membuang sampah ke sungai.
Dia mengatakan bahwa pemerintah sedang bekerja untuk mengurangi dan mencegah banjir di seluruh Indonesiai. Khususnya di Jakarta, pembangunan bendungan Cimahi dan Ciawi di Provinsi Jawa Barat diperkirakan akan selesai tahun depan.
"Baik pemerintah pusat dan daerah akan bekerja sama untuk menyelesaikan masalah," kata Widodo seperti dikutip Press Association yang dilansir MailOnline.
SEVERE FLOODING and landslides triggered by torrential rain in Indonesia's capital have killed 17 people and displaced tens of thousands.
Monsoon rains and rising rivers submerged at least 169 neighbourhoods in greater Jakarta and caused landslides in the Bogor and Depok districts on the city's outskirts, National Disaster Mitigation Agency spokesman Agus Wibowo said.
The floods inundated thousands of homes and buildings and forced authorities to cut off electricity and water and paralysed transport networks, Mr Wibowo said. He said more than 31,000 people were in temporary shelters after floodwaters reached as high as 2.5 metres in places.
Jakarta's Halim Perdanakusumah domestic airport reopened after operations were suspended when flood water submerged its runway. Nearly 20,000 passengers had been affected by the closure.
Residents of Bekasi on Jakarta's outskirts waded through water up to their necks or floated on makeshift rafts carrying clothes and other salvaged possessions. Some scrambled onto roofs to await rescue from soldiers and emergency workers in rubber dinghies.
Social affairs minister Juliari Peter Batubara said the government dispatched medical teams and rubber rafts to the worst-hit areas, while rescuers in boats delivered instant noodles and rice to those who chose to stay on the upper floors of their homes.
The flooding has highlighted Indonesia's infrastructure problems.
Jakarta is home to 10 million people, or 30 million including those in its greater metropolitan area. It is prone to earthquakes and flooding and is rapidly sinking due to uncontrolled extraction of ground water.
President Joko Widodo announced in August that the capital will move to a site in sparsely populated East Kalimantan province on Borneo island, known for rainforests and orangutans.
Mr Widodo told reporters in Jakarta that one of the causes of flooding is due to damage to the ecosystem and ecology in addition to many people who throw litter into rivers.
He said that the government is working to mitigate and prevent flooding in regions across the country. Especially in Jakarta, the construction of West Java's Cimahi and Ciawi dams is expected to be completed by next year.
"Both the central and regional governments would work together to solve the problem," Mr Widodo said.