Kuta di Bali seperti `Kota Hantu` lantaran Virus Corona
Kuta Like You`ve Never Seen it Before
Editor : Ismail Gani
Translator : Novita Cahyadi

PUBLISHED: Rabu, 24 Juni 2020 , 16:57:00 WIB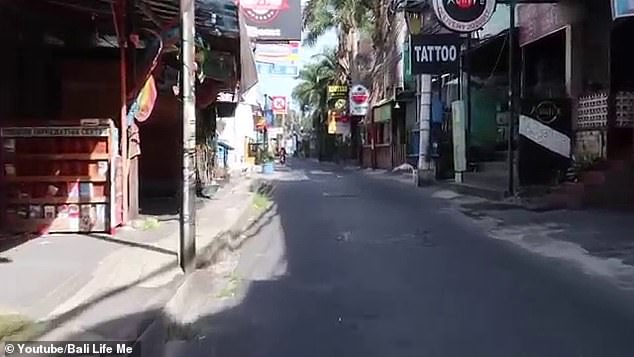 LENGANG: Poppies Lanes, jalan terkenal di Kuta yang biasanya dipenuhi kios-kios penuh warna, kini kosong. Jalan setapak tampak kumuh dengan coretan menutupi dinding abu-abu [Foto: MailOnline]
BALI kini lebih sepi dari biasanya setelah destinasi wisata utama Indonesia tersebut terpukul karena pandemi virus Corona.
Foto di atas menunjukkan jalanan di Kuta yang biasanya tidak pernah sepi dari turis asing, tapi kini lengang mengakibatkan ratusan toko, hotel, dan kafe terpaksa tutup.
Peselancar, penggemar yoga dan wisatawan biasanya membanjiri provinsi berjuluk Pulau Dewata terpaksa menunda perjalanannya.
Penerbangan memang dihentikan oleh otoritas Indonesia untuk ke dan dari Bali pada April, melumpuhkan ekonomi Bali, yang hampir seluruhnya bergantung pada pariwisata.
Seorang turis Australia merekam video saat ia berjalan melalui jalan-jalan Kuta yang kosong menggunakan skuter pada Selasa.
Hanya segelintir mobil yang dapat terlihat di jalan ketika dia naik ke Discovery Mall Beach di pusat Bali.
"Ini aneh dan menarik untuk dikendarai di jalanan kosong ini. Ini seperti taman hiburan, sungguh. Ini Bali sebagai taman hiburan, Bali sebagai wahana. ´
Dia berjalan melalui tempat-tempat wisata, tetapi banyak lokasi yang hampir tidak dikenali.
Poppies Lanes, jalan terkenal di Kuta yang biasanya dipenuhi kios-kios penuh warna, kini kosong. Jalan setapak tampak kumuh dengan coretan menutupi dinding abu-abu.
Ketika sang turis mencoba untuk menuju pantai terpaksa diurungkan lantaran ditutup dengan portal.
Sang turis terdengar mengeluh bahwa pantai-pantai ditutup sebelum menyadari jika pantai-pantai itu mengakibatkan kerumunan manusia.
"Saya kira jika mereka membuka pantai maka orang-orang seperti saya akan datang dan penjual akan datang dan mendekati kita dan ... ya masuk akal kalau ditutup."
Kedatangan wisatawan asing ke Indonesia anjlok lebih dari 60% pada Maret, dibandingkan bulan yang sama tahun lalu, dengan kedatangan turis China melorot lebih dari 97%.
Tahun lalu, 1,23 juta orang Australia mengunjungi Bali - meningkat 5,24% dari 2018.
Ketua Asosiasi Hotel & Restoran Indonesia Rai Suryawijaya mengatakan kepada Financial Review bahwa ekonomi Bali berada di ambang keruntuhan akibat virus Corona.
´Prediksi saya adalah Juli. Bahkan jika kita bisa mendapatkan 10 penerbangan untuk mendarat setiap hari, dengan pembatasan sosial jarak jauh di atas pesawat, mungkin hanya ada 150 orang di pesawat setiap penerbangan sehingga hanya 1.500 kedatangan setiap hari. Kami tahu tingkat hunian akan tetap rendah, setidaknya sampai tahun depan.´
Pemerintah Indonesia telah membuat rencana untuk memulai kembali industri pariwisata dan dilaporkan merencanakan ´travel bubble´ dengan Australia, China, Korea Selatan dan Jepang.
Odo Manuhutu, Deputi Menko Maritim mengatakan Indonesia akan membuka perbatasannya dengan keempat negara sebelum memperluas penawaran ke negara lain.
Dia mengatakan mereka sedang merumuskan kriteria untuk wisatawan asing untuk memasuki Indonesia, menurut media nasional seperti dikutip MailOnline.
Wisatawan akan menghadapi ´protokol kesehatan yang ketat´ tetapi langkah itu idealnya akan menghidupkan kembali pariwisata domestik.
Setelah kriteria dibuat, negosiasi akan diadakan dengan negara-negara itu selama dua, tiga atau empat minggu. Ketika kesepakatan tercapai, gelembung perjalanan akan dibuka," kata Odo Manuhutu.
"Selain kepentingan pariwisata, ada juga kepentingan bisnis dengan keempat negara tersebut."
Rencana ini telah dianggap terlalu dini oleh sejumlah pihak karena jumlah kasus virus Corona di Indonesia terus meningkat.
Ada lebih dari 39.000 kasus positif Covid-19 di Indonesia dan 2.198 kematian tetapi Indonesia tampaknya berupaya mendatangkan kembali wisatawan lebih cepat untuk meningkatkan ekonomi yang lesu.
Bahkan jika Indonesia membuka perbatasannya, turis-turis Australia tidak akan bisa segera datang paling tidak sampai Oktober.
Pemerintah Australia telah memperpanjang larangan orang Australia yang bepergian ke luar negeri hingga akhir September, dan kebijakan memaksa semua orang yang kembali ke Australia untuk menghabiskan dua minggu isolasi hotel akan berlanjut tanpa batas waktu.
BALI has been left virtually abandoned after the tourism industry took a hit due to the coronavirus crisis.
Stunning footage has emerged showing the streets of the once-thriving Indonesian island empty, with hundreds of stores, hotels and cafes closed.
Surfers, yogis and party goers typically flood the holiday island this time of year seeking a winter escape.
But flights have been on hold since Indonesia closed its borders in April, crippling the Bali economy, which is almost entirely dependent on tourism.
An Australian tourist filmed as he made he way through the empty streets of Kuta on a scooter on Tuesday.
Only a handful of cars could be seen on the roads as the tourist rode to Discovery Mall Beach in the centre of Bali.
´It´s just weird and interesting to ride around these empty streets. It´s like a theme park, it really is. It´s Bali as a theme park, Bali as a ride.´
He made his way through tourist hot spots but many of the locations were almost unrecognisable.
Poppies Lanes, a famous market street in Kuta which are usually filled with colourful stalls, are now bare. The laneways appear derelict with graffiti covering the grey walls.
As the tourist tries to make his way to the beach barricades can be sen blocking the entrances.
The tourist can be heard complaining that the beaches were closed before realising if the beaches were to open social distancing would become an issue.
´I suppose if they open the beach then people like me would come and then the sellers would come and approach us and..ok it´s starting to make sense.´
Foreign tourist arrivals into Indonesia plunged more than 60 per cent in March, compared to the same month last year, with Chinese arrivals sliding more than 97 per cent.
Last year, 1.23million Australians visited Bali - a rise of 5.24 per cent on 2018 figures.
Indonesian Hotel & Restaurant Association chairman Rai Suryawijaya told the Financial Review said Bali´s economy was on the brink of collapse with tourists.
´My prediction is July. Even if we could get 10 flights to land each day, with social distancing restrictions on-board, there may be only 150 people on board each flight so that's just 1500 arrivals each day. We know occupancy rates will remain low, at least until next year.´
The Indonesian government has been making plans to restart its tourism industry and is reportedly planning a ´travel bubble´ with Australia, China, South Korea and Japan.
Odo Manuhutu, deputy co-ordinating minister for Maritime Affairs and Investment, said Indonesia would open its borders to those four countries before extending the offer to others.
He said they were formulating criteria for foreign travellers to enter the country, local media reported.
Travellers would face ´strict health protocols´ but the move would ideally revive domestic tourism.
´After the criteria is made, negotiations will be held with those countries for two, three or four weeks. When agreements are reached, the travel bubbles will be opened,´ the deputy minister said.
´In addition to the high level of tourists, there are also business interests with these four countries as well.´
The plan has been slammed as premature by some critics as the number of coronavirus cases in Indonesia continues to climb.
There are more than 39,000 COVID-19 cases in Indonesia and 2,198 people have died but the country is willing to get tourists back sooner rather than later to bolster a flagging economy.
Even if Indonesia does open its borders, the Australian tourists will not be able to come until at least October.
The government has extended its ban on Australians travelling overseas until the end of September, and the policy of forcing all those returning to Australia to spend two weeks in hotel isolation will continue indefinitely.