43 Tewas, 397 Ribu Mengungsi Akibat Banjir Landa Jabodetabek
Indonesia Capital Floods Leave 43 Dead, 397,000 Displaced
Editor : Ismail Gani
Translator : Novita Cahyadi

PUBLISHED: Sabtu, 04 Januari 2020 , 01:08:00 WIB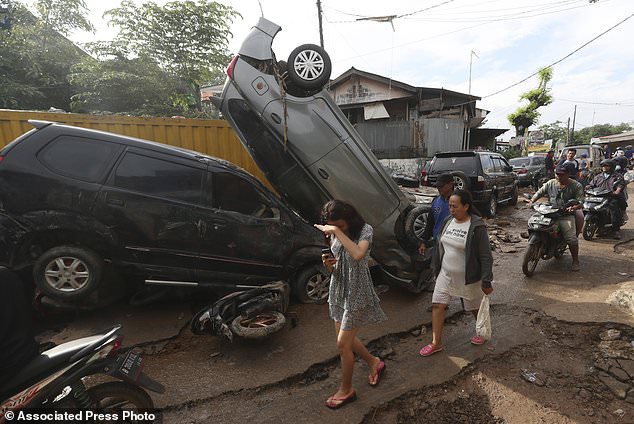 Mobil yang telah diparkir disapu banjir hingga hanyut, berserakan di jalan, taman maupun gang-gang sempit. Trotoar dipenuhi sandal, pot, wajan, dan foto-foto lama [Foto: Associated Press/MailOnline]
KORBAN TEWAS akibat banjir di Jabodetabek meningkat menjadi 43 orang pada Jumat ketika tim penyelamat menemukan lebih banyak jenazah setelah banjir surut, kata Badan Nasional Penanggulangan Bencana [BNPB].

Hujan akibat badai munson dan meluapnya sungai menenggelamkan sedikitnya 182 pemukiman di Jabodetabek dan menyebabkan tanah longsor di Bogor dan Depok dan juga di Lebak Banten, yang menewaskan 12 orang.

Juru bicara BNPB Agus Wibowo mengatakan, korban tewas juga termasuk mereka yang tenggelam atau tersengat listrik setelah air meluap ke pemukiman warga pada Rabu [1/1] setelah hujan lebat yang ekstrem sepanjang Malam Tahun Baru. Tiga orang lanjut usia [Lansia] meninggal karena hipotermia.

Bencana ini adalah banjir terburuk sejak 2013, ketika 57 orang tewas setelah Jakarta dibanjiri oleh hujan munson.

Banjir mulai surut di beberapa bagian kota pada Kamis malam, yang memungkinkan warga untuk kembali ke rumah mereka.

Agus Wibowo mengatakan sekitar 397.000 orang mencari perlindungan di tempat-tempat pengungsian di wilayah metropolitan yang lebih besar karena pada puncaknya genangan banjir mencapai ketinggian 6 meter di beberapa tempat.

Mereka yang kembali ke rumah mereka menemukan jalan-jalan yang tertutup lumpur dan puing-puing. Mobil yang telah diparkir disapu banjir hingga hanyut, berserakan di jalan, taman maupun gang-gang sempit. Trotoar dipenuhi sandal, pot, wajan, dan foto-foto lama. Pihak berwenang mengambil air surut untuk membersihkan lumpur dan menghilangkan tumpukan sampah basah dari jalanan.

Listrik kembali menyala ke puluhan ribu tempat tinggal dan bisnis.

Bandara domestik Halim Perdanakusuma Jakarta dibuka kembali Kamis setelah landasan pacu terendam. Hampir 20.000 penumpang terkena dampak penutupan.

Kepala Badan Meteorologi, Klimatologi, dan Geofisika, Dwikorita Karnawati mengatakan, lebih banyak hujan akan diperkirakan untuk ibukota dalam beberapa hari mendatang dan potensi curah hujan ekstrem akan berlanjut hingga bulan depan di seluruh Indonesia.

Pemerintah pada hari Jumat memulai penyemaian awan dalam upaya untuk mengalihkan awan hujan di atas Jakarta. Pihak berwenang memperingatkan bahwa lebih banyak banjir mungkin terjadi hingga musim hujan berakhir pada April.

Banjir telah menyoroti masalah infrastruktur Indonesia.

Jakarta dihuni 10 juta penduduk, atau 30 juta termasuk mereka yang berada di wilayah metropolitan yang lebih besar. Jakarta rentan terhadap gempa bumi dan banjir dan tenggelam dengan cepat karena ekstraksi air tanah yang tidak terkendali. Kemacetan juga diperkirakan menelan biaya ekonomi US$6,5 miliar per tahun.

Presiden RI Joko Widodo mengumumkan pada Agustus bahwa ibukota akan pindah ke lokasi di Provinsi Kalimantan Timur di Pulau Kalimantan, yang dikenal dengan hutan hujan dan orangutan seperti dikutip Associated Press yang dilansir MailOnline.
THE DEATH TOLL from floods in Indonesia's capital rose to 43 on Friday as rescuers found more bodies amid receding floodwaters, disaster officials said.

Monsoon rains and rising rivers submerged at least 182 neighborhoods in greater Jakarta and caused landslides in the Bogor and Depok districts on the city's outskirts as well as in neighboring Lebak, which buried a dozen people.

National Disaster Mitigation Agency spokesman Agus Wibowo said the fatalities also included those who had drowned or been electrocuted since rivers broke their banks Wednesday after extreme torrential rains throughout New Year's Eve. Three elderly people died of hypothermia.

It was the worst flooding since 2013, when 57 people were killed after Jakarta was inundated by monsoon rains.

Floodwaters started receded in some parts of the city on Thursday evening, enabling residents to return to their homes.

Wibowo said about 397,000 people sought refuge in shelters across the greater metropolitan area as at their peak floodwaters reached as high as 6 meters (19 feet) in places.

Those returning to their homes found streets covered in mud and debris. Cars that had been parked in driveways were swept away, landing upside down in parks or piled up in narrow alleys. Sidewalks were strewn with sandals, pots and pans and old photographs. Authorities took advantage of the receding waters to clear away mud and remove piles of wet garbage from the streets.

Electricity was restored to tens of thousands of residences and businesses.

Jakarta's Halim Perdanakusuma domestic airport reopened Thursday after its runway was submerged. Nearly 20,000 passengers had been affected by the closure.

The head of the Meteorology, Climatology and Geophysics Agency Dwikorita Karnawati said more downpours were forecast for the capital in coming days and the potential for extreme rainfall will continue until next month across Indonesia.

The government on Friday kicked off cloud seeding in an attempt to divert rain clouds from reaching greater Jakarta. Authorities warned that more flooding was possible until the rainy season ends in April.

The flooding has highlighted Indonesia's infrastructure problems.

Jakarta is home to 10 million people, or 30 million including those in its greater metropolitan area. It is prone to earthquakes and flooding and is rapidly sinking due to uncontrolled extraction of ground water. Congestion is also estimated to cost the economy $6.5 billion a year.

President Joko Widodo announced in August that the capital will move to a site in sparsely populated East Kalimantan province on Borneo island, known for rainforests and orangutans.