Warga Natuna Tetap Tolak Karantina WNI dari Wuhan
Indonesians Protest Use of Island for Virus Quarantine
Editor : Ismail Gani
Translator : Novita Cahyadi

PUBLISHED: Senin, 03 Februari 2020 , 20:32:00 WIB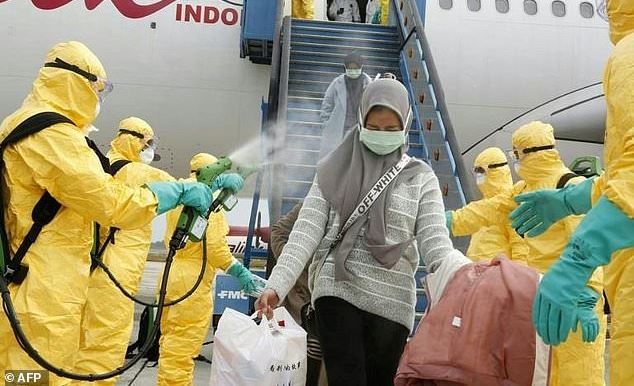 Para pengungsi, sebagian besar mahasiswa, mendarat di Natuna pada Minggu, dan akan menjalani karantina dan observasi selama 14 hari di pulau Natuna, yang terletak di antara Kalimantan dan Semenanjung Malaysia [Foto: AFP/MailOnline]
RATUSAN PENDUDUK di Kabupaten Natuna, Kepulauan Riau kembali melakukan aksi unjuk rasa pada Senin [3/2] untuk memprotes keputusan Pemerintah RI yang memanfaatkan Natuna untuk karantina bagi ratusan warga Indonesia yang dievakuasi dari Wuhan, China, pusat penyebaran wabah virus Corona.
Indonesia telah mengevakuasi 237 warga negara dan satu warga negara asing, menikah dengan seorang Indonesia, dari Wuhan.
Para pengungsi, sebagian besar mahasiswa, mendarat di Natuna pada Minggu, dan akan menjalani karantina dan observasi selama 14 hari di pulau Natuna, yang terletak di antara Kalimantan dan Semenanjung Malaysia.
"Keputusan pemerintah untuk mengkarantina orang Indonesia yang kembali dari China telah membuat warga Natuna merasa tidak nyaman, jadi kami sangat menolaknya," kata Fadillah, salah seorang pengunjuk rasa kepada AFP.
Para pengunjuk rasa, yang mengenakan masker hijau, berdemonstrasi di depan gedung parlemen setempat, menuntut pemerintah setempat untuk memindahkan pusat evakuasi jauh dari pemukiman penduduk.
"Apa pun alasan dan penjelasannya, kami tidak percaya. Kami percaya virus ini sangat berbahaya bagi warga Natuna," kata Fadillah.
Menanggapi protes yang meningkat di pulau itu, Presiden RIJoko Widodo mengatakan para pengungsi harus dikarantina untuk memastikan kesehatan mereka sebelum mereka dapat kembali ke rumah.
"Orang-orang itu sehat, tetapi beberapa tahap diperlukan dalam protokol kesehatan sebelum mereka dapat dikembalikan ke keluarga mereka," kata Widodo.
Setelah kedatangan para pengungsi di Natuna, pemerintah setempat telah menutup sekolah selama dua minggu dan mendesak warga serta pelajar untuk membatasi kegiatan di luar ruangan.
Epidemi virus Corona telah menginfeksi lebih dari 17.000 orang di seluruh China dan tersebar ke 24 negara, meskipun Indonesia belum melaporkan kasus yang dikonfirmasi sejauh ini seperti dikutip AFP yang dilansir MailOnline.
HUNDRED OF RESIDENTS of a remote Indonesian island protested Monday at the government's decision to use it to quarantine evacuees from the Chinese city at the epicentre of the coronavirus outbreak.
Indonesia has evacuated 237 citizens and one foreign national, married to an Indonesian, from Wuhan.
The evacuees, mostly students, landed Sunday and will be quarantined for 14 days on Natuna island, which lies between Borneo and Peninsular Malaysia.
"The government's decision to quarantine Indonesians who returned from China has made people feel uneasy, so we strongly reject it," Fadillah, one of the protesters who like many Indonesians goes with one name, told AFP.
The protesters, wearing green surgical masks, demonstrated in front of the local parliament building, demanding the local authorities relocate the evacuation centre away from a residential area.
"Whatever the reason and the explanation, we don't believe it. We believe this virus is very dangerous for people in Natuna," Fadillah said.
In response to the growing protest on the island, President Joko Widodo said the returnees had to be quarantined to ensure they were in good health before they can return home.
"Those people are healthy, however several stages are needed in health protocol before they can be returned to their family," Widodo said.
Following the evacuees' arrival on Natuna, the local government has shut down schools for two weeks and urged students to limit outdoor activities.
The coronavirus epidemic has infected more than 17,000 people across China and reached 24 nations, although Indonesia has not reported any confirmed cases so far.