Menkes Tuding Harvard Hina Kemampuan Indonesia Cegah Wabah Virus Corona
Indonesia Criticises US Study Concerns over No Coronavirus Cases
Editor : Ismail Gani
Translator : Novita Cahyadi

PUBLISHED: Rabu, 12 Februari 2020 , 22:51:00 WIB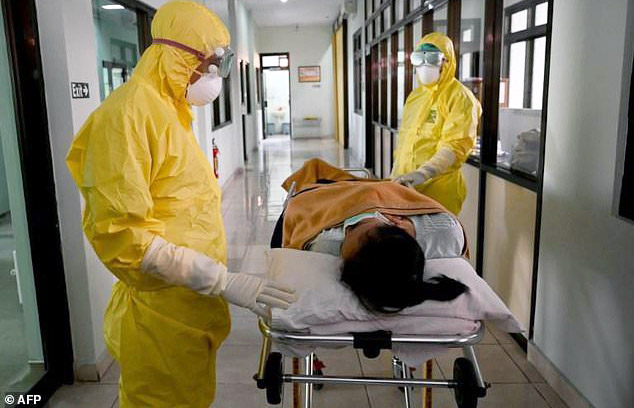 Foto: AFP/MailOnline
INDONESIA mengritik sebuah penelitian AS yang mempertanyakan mengapa negara terpadat keempat di dunia itu belum mencatat kasus virus Corona, dan menyebut hasil penelitian tersebut sebagai penghinaan dan bersikeras bahwa Indonesia dalam siaga tinggi.
Virus Corona telah menewaskan lebih dari 1.100 orang di China dan menyebar ke puluhan negara di seluruh dunia - tetapi Indonesia, negara di Asia Tenggara berpenduduk lebih dari 260 juta belum melaporkan kasus yang dikonfirmasi sejak terjadinya wabah.
Sebuah riset oleh para peneliti kesehatan masyarakat Universitas Harvard pekan ini menemukan bahwa Indonesia seharusnya melaporkan wabah virus Corona dan dapat memiliki kasus yang tidak terdeteksi mengingat hubungan udara yang luas dengan Cina dan kota Wuhan, pusat penyebaran wabah tersebut.
Menteri Kesehatan Indonesia Terawan Agus Putranto menyebut laporan Harvard "menghina" pada Selasa malam dan mengatakan Indonesia memiliki peralatan pengujian yang tepat.
"Mereka bisa dibuat bingung tetapi ini fakta" tidak ada kasus, katanya kepada wartawan di Jakarta.
"Saya hanya ingin mengatakan itu."
"Semoga tidak ada kasus dan kita akan terus berdoa, tetapi kita tetap waspada di tingkat tertinggi."
Studi Harvard juga menambahkan bahwa upaya pengawasan Indonesia harus "diperkuat dengan cepat".
Indonesia - yang memikat lebih dari dua juta turis China per tahun dan menampung ribuan pekerja asing - telah menutup semua penerbangan ke dan dari China daratan sebagai respons atas virus mematikan tersebut.
Dan pemerintah mengatakan telah menguji puluhan kasus yang dicurigai, tetapi tidak ada yang positif.
"Intinya adalah kita mengikuti standar internasional," kata Putranto.
"Kami tidak menyembunyikan apa pun."
Organisasi Kesehatan Dunia [WHO] mengatakan awal bulan ini bahwa mereka sangat prihatin dengan negara-negara berisiko tinggi dengan sistem kesehatan yang lebih lemah, yang mungkin kekurangan fasilitas untuk mengidentifikasi kasus.
Lebih dari satu dekade lalu, Indonesia dihantam keras oleh wabah flu burung, tetapi juga berhasil mengatasi wabah virus Zika yang lebih baru, tidak seperti negara tetangga Singapura, kata seorang pakar kesehatan.
"Ini tidak sama di setiap negara," kata Chairul Anwar Nidom, seorang peneliti biokimia di Universitas Airlangga Indonesia seperti dikutip AFP yang dilansir MailOnline.
"Mungkinkah Indonesia memiliki kasus virus Corona? Tentu saja ... Tetapi mungkin juga tidak."
INDONESIA has criticised a US study questioning why the world's fourth most populous nation had not yet recorded a case of coronavirus, calling the findings an insult and insisting it was on high alert.
The virus has killed more than 1,100 people in China and spread to dozens of countries around the world -- but the Southeast Asian nation of more than 260 million has not reported a confirmed case since the outbreak.
A study by Harvard University public health researchers this week found Indonesia should have reported a coronavirus outbreak and could have undetected cases given its extensive air links to China and the city of Wuhan, the epicentre of the outbreak.
Indonesian health minister Terawan Agus Putranto called the Harvard report "insulting" late Tuesday and said the country had proper testing equipment.
"They can be baffled but it's a fact" there are no cases, he told reporters in Jakarta.
"I am just telling you like it is.
"Hopefully there won't be any cases and we will keep praying, but we're being vigilant at the highest level."
The Harvard study also added that Indonesia's surveillance efforts should be "rapidly strengthened".
The country -- which attracts more than two million Chinese tourists a year and hosts thousands of guest workers -- has shut down all flights to and from mainland China in response to virus fears.
And the government has said it tested dozens of suspected cases, but none were positive.
"The bottom line is that we're following international standards," Putranto said.
"We're not hiding anything."
The World Health Organization said earlier this month it is particularly concerned about high-risk nations with weaker health systems, who may lack the facilities to identify cases.
More than a decade ago, Indonesia was hit hard by an avian influenza outbreak, but it avoided a more recent Zika virus outbreak unlike neighbouring Singapore, a health expert said.
"It's not the same in every country," said Chairul Anwar Nidom, a biochemistry researcher at Indonesia's Airlangga University.
"Is it possible that Indonesia has coronavirus cases? of course... But it's also possible that it doesn't."