Lagi, 30 Pria Lapor Polisi Manchester sebagai Korban Pemerkosaan Reynhard Sinaga
Another 30 Men have Called Police Saying They were Attacked by Reynhard Sinaga
Editor : Ismail Gani
Translator : Novita Cahyadi

PUBLISHED: Rabu, 08 Januari 2020 , 02:32:00 WIB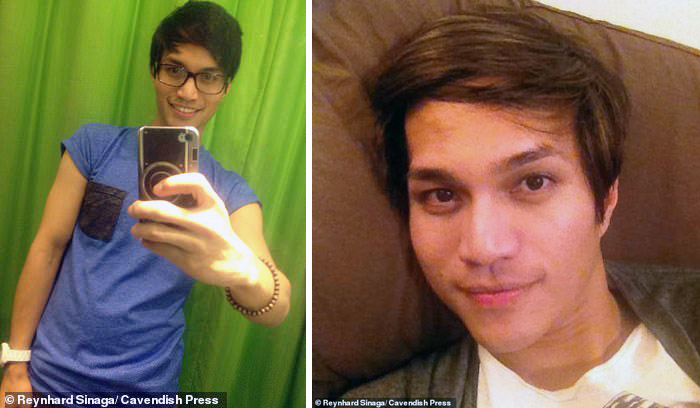 Korbannya berkisar antara 18 hingga 36 tetapi usia rata-rata adalah 21 [Foto2: MailOnline]
SEKITAR 30 pria menuduh seorang mahasiswa Indonesia yang mengikuti kuliah doktoral yang dijuluki 'predator seksual' melakukan pelecehan terhadap mereka sejak kedoknya terbuka sebagai pemerkosa berantai terbesar di dunia, terungkap di Inggris.

Mahasiswa Indonesia, Reynhard Sinaga, 36, memerkosa setidaknya 195 pria muda - sebagian besar dari mereka bukan gay - dan polisi membuat jalur telepon khusus spesialis setelah memperkirakan korban perkosaan lebih banyak dari yang terungkap di Pengadilan Manchester.

Dan saat ini penyidik di kepolisian Manchester, tempat Sinaga membius dan memfilmkan dirinya sendiri saat memperkosa korbannya, mengatakan mereka telah dihubungi oleh 30 orang lagi yang mengaku mereka juga diperkosa.

Duncan Craig, yang memimpin kelompok korban pemerkosaan, Survivors Manchester, mengatakan kepada wartawan BBC Victoria Derbyshire: "jalur khusus kepolisian mendapat panggilan telepon kemarin."

Reynhard Sinaga melumpuhkan korban dengan obat bius sebelum memerkosa korbannya. Senin malam waktu setempat, Sekretaris Rumah Tangga Priti Patel memerintahkan peninjauan kembali apakah kontrol yang lebih keras diperlukan untuk obat Kelas C yang banyak digunakan di kalangan komunitas gay.

Reynhard Sinaga, yang sebagian besar menargetkan siswa heteroseksual di Manchester, dihukum karena 159 serangan, termasuk 136 pemerkosaan, delapan percobaan perkosaan dan 15 serangan tidak senonoh terhadap 48 korban. Empat uji coba diadakan selama 18 bulan.

Rekaman video ditemukan tentang dia menyerang hingga 195 pria yang berbeda, 70 di antaranya belum dilacak.

"Dia hampir pasti akan menjadi pemerkosa terbesar yang pernah disidangkan di Inggris dan sangat mungkin pengadilan mana pun di dunia," kata Ian Rushton, wakil kepala jaksa penuntut.

Video-video serangan yang didakwakan kepada Reynhard Sinaga diyakini berasal dari 2015 hingga 2017 dan Sinaga tiba di Inggris pada 2007. Sumber mengatakan: "Apa yang dia lakukan pada tahun-tahun berikutnya tidak diketahui dan mungkin ada lebih banyak korban."

Reynhard Sinaga kelahiran Indonesia sudah menjalani hukuman minimum 20 tahun setelah dinyatakan bersalah di persidangan pada Juli 2018 dan Mei 2019. Pengadilan pada Oktober dan Desember akan memberikan hukuman lebih lanjut.

Korbannya berkisar antara 18 hingga 36 tetapi usia rata-rata adalah 21, kata Pengadilan Manchester Crown.

Sebagian besar adalah mahasiswa dan beberapa masih di pelajar sekolah, termasuk yang keenam yang berhasil melarikan diri dan menyebabkan Reynhard Sinaga ditangkap.

Setelah menjatuhkan hukuman, Hakim Suzanne Goddard QC mengatakan Sinaga adalah pelaku kejahatan berbahaya.

Dia menambahkan: "Saya tidak mengetahui adanya kasus pelecehan seksual lainnya dalam skala dan besaran ini. Ini adalah kasus pemerkosaan yang, menurut penilaian saya, harus mendapat hukuman terberat.

'Salah satu korban Anda menggambarkan Anda sebagai monster. Skala dan dahsyat pelanggaran Anda menetapkan bahwa itu adalah deskripsi yang akurat. ' Dia menyebut Sinaga sebagai 'individu yang sangat berbahaya, licik dan jahat yang tidak akan pernah aman untuk dibebaskan' - juga menunjukkan bahwa dia bisa membunuh atau melukai korban-korbannya. Dia mengatakan akan memberlakukan seumur hidup - pertama Inggris untuk kasus yang tidak melibatkan pembunuhan - tetapi untuk fakta bahwa Reynhard Sinaga tidak menyiksa korbannya seperti dilansir MailOnline.
30 MORE MEN have already accused a 'monstrous' churchgoing PhD student from Indonesia of abusing them since he was unmasked as the world's worst serial rapist yesterday, it was revealed today.

Gay student Reynhard Sinaga, 36, preyed on at least 195 young men - most of them heterosexual - and police set up a specialist help line after admitting the true figure may be higher.

And now detectives in Manchester, where Sinaga drugged and filmed himself abusing his victims, say they have already been contacted by 30 more men who fear they were also raped.

Duncan Craig, who runs rape support group Survivors Manchester, told the BBC's Victoria Derbyshire show: 'The police incident room had around 30 calls yesterday'.

Sinaga incapacitated victims with the date rape drug GHB before filming his attacks. Last night Home Secretary Priti Patel ordered a review into whether tougher controls are needed for the Class C drug widely used recreationally among the gay community.

Sinaga, who mostly targeted heterosexual students in Manchester, was convicted of 159 attacks, including 136 rapes, eight attempted rapes and 15 indecent assaults against 48 victims. Four trials were held over 18 months.

Footage was found of him assaulting up to 195 different men, 70 of whom have not been traced.

'He would almost certainly be the most prolific sex offender to have gone through the British courts and quite possibly any court in the world,' said Ian Rushton, North West deputy chief crown prosecutor.

The videos of the attacks Sinaga was charged with are believed to date from 2015 to 2017 and Sinaga arrived in Britain in 2007. A source said: 'What he did in the intervening years is unknown and it is possible there are many more victims.'

As the authorities faced questions about how Sinaga was able to get away with his crimes for so long:

Manchester University and police set up support helplines;
- Detectives appealed for other victims to come forward;
- It emerged that two men targeted by Sinaga attempted suicide;
- Jurors were offered counselling after having to watch videos of Sinaga's rapes.
- The shocking case can finally be reported after the lifting of court reporting restrictions.

Indonesian-born Sinaga was already serving a minimum of 20 years after being found guilty at trials in July 2018 and May 2019. Trials in October and December saw further convictions.

He posed as a 'good Samaritan' to men who had become separated from their friends on nights out in central Manchester. The slightly-built sex attacker, who described himself in court as an effeminate gay man, would strike up conversation and invite them to his nearby flat.

His victims ranged from 18 to 36 but the average age was 21, Manchester Crown Court was told.

Most were students and some were still at school, including the sixth former whose escape from his vile clutches led to Sinaga being arrested.

Passing sentence, Judge Suzanne Goddard QC said Sinaga was a dangerous offender who had committed evil crimes.

She added: 'I'm not aware of any other case of sexual offending on this scale and magnitude. This was a campaign of rape which, in my judgement, justifies the highest of sentences.

'One of your victims described you as a monster. The scale and enormity of your offending establishes that is an accurate description.' She called Sinaga a 'highly dangerous, cunning and deceitful individual who will never be safe to release' – also pointing out that he could have killed or seriously injured his victims by spiking their drinks.

She said she would have imposed a whole life term – a UK first for a case not involving murder – but for the fact that Sinaga did not torture his victims.