Menkes Terawan Jawab Tudingan Harvard tentang Virus Korona di Indonesia
Indonesia Says Nothing to Hide after No Coronavirus Cases Detected
Editor : Ismail Gani
Translator : Novita Cahyadi

PUBLISHED: Rabu, 12 Februari 2020 , 02:08:00 WIB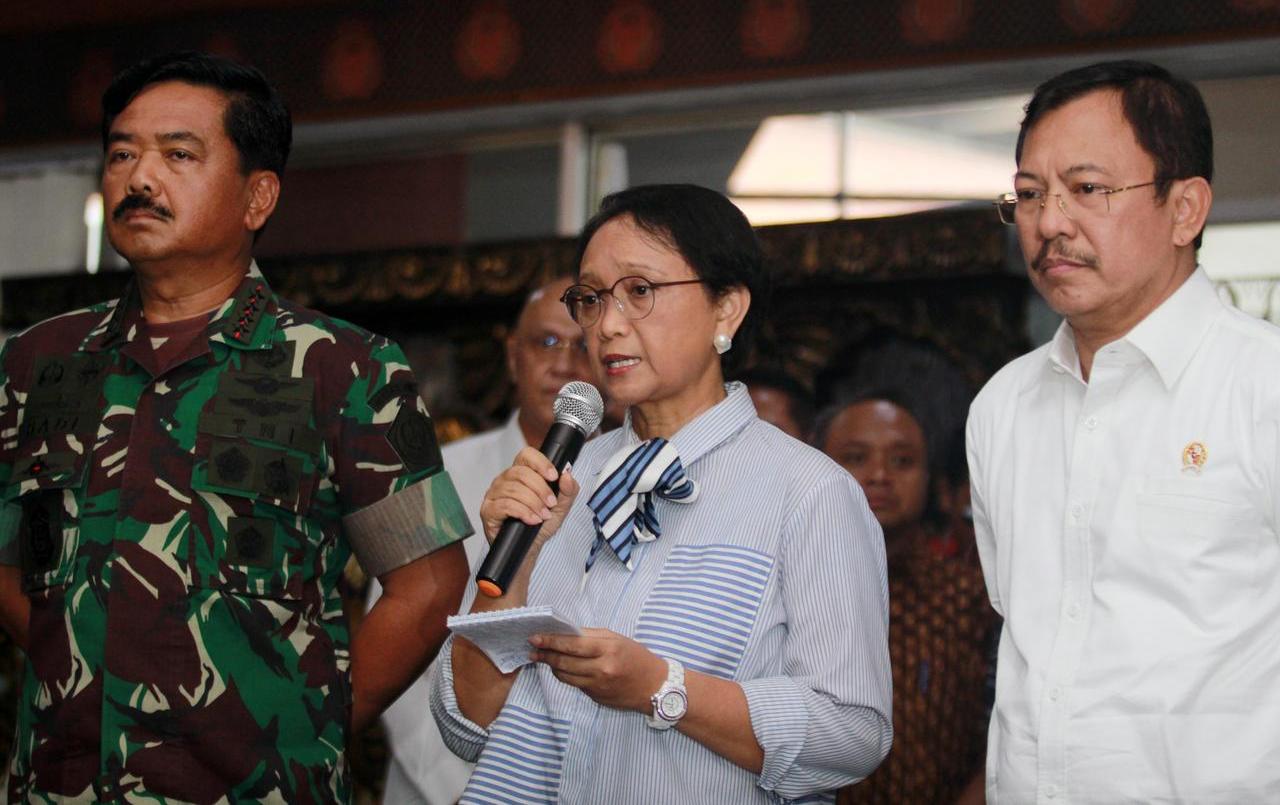 Menkes Terawan Agus Putranto [kanan] bersama Menlu Retno Marsudi dan Panglima TNI Jenderal Hadi Cahyanto [Foto: Reuters]
INDONESIA tidak menyembunyikan apa pun atas virus Corona, kata Menteri Kesehatan RI Terawan Agus Putranto, setelah beberapa peneliti medis menyatakan keprihatinan bahwa kasus-kasus mungkin tidak terdeteksi di negara dengan jumlah penduduk terbesar keempat di dunia.
Sementara virus dengan cepat menyebar dari China ke sebagian besar wilayah lain dan lebih, negara Asia Tenggara yang berpenduduk lebih dari 260 juta orang belum mencatat kasus sejauh ini.
Lusinan kasus telah dicatat di negara-negara kawasan lain termasuk Singapura, Malaysia, Thailand, Vietnam, dan Filipina, di mana satu orang telah meninggal, menimbulkan kecurigaan di media sosial khususnya tentang kemungkinan kurangnya kewaspadaan di Indonesia.
Peneliti di Harvard T.H. Chan School of Public Health, di Amerika Serikat, kemudian mengatakan dalam sebuah penelitian pekan lalu bahwa Indonesia harus dengan cepat memperkuat pengawasan dan pengendalian wabah - terutama mengingat bahwa Indonesia membuka penerbangan langsung dari kota Wuhan di Cina tengah, pusat virus.
Tim Harvard mengatakan bahwa kurangnya kasus yang dikonfirmasi di Indonesia "mungkin menunjukkan potensi kasus yang tidak terdeteksi" karena perjalanan udara dapat berkontribusi pada kasus yang berasal dari China.
Virus ini telah membunuh lebih dari 1.000, dengan lebih dari 42.000 kasus dikonfirmasi di Cina dan 319 kasus di 24 negara lainnya. Banyak kasus di luar China terjadi pada orang yang memiliki sejarah bepergian ke negara itu.
"Kami memiliki kit untuk memeriksa virus Corona dan mereka bersertifikat ... Tidak ada yang disembunyikan," Menkes Terawan Agus Putranto mengatakan setelah pertemuan kabinet di Istana Bogor, Selasa [11/2].
Indonesia telah menguji 64 sampel dari dugaan infeksi coronavirus - 62 di antaranya dinyatakan negatif dengan dua masih diuji, kata Kepala Badan Penelitian dan Pengembangan Kemenkes Siswanto di Jakarta.
Navaratnasamy Paranietharan, Perwakilan WHO di Indonesia, mengatakan pada Selasa: "Indonesia telah mengambil langkah nyata dan Organisasi Kesehatan Dunia cukup yakin bahwa Indonesia siap untuk dapat menanggapi situasi ini."
Indonesia telah melarang masuk pada penumpang yang telah berada di China selama 14 hari dan menghentikan semua penerbangan ke dan dari China.
Vivi Setiawaty, seorang pejabat kementerian kesehatan lainnya, mengatakan tidak jelas mengapa Indonesia tidak melihat adanya kasus tetapi mengatakan pihak berwenang lebih siap sejak menghadapi flu burung H5N1 sejak 2005. "Kami tetap berhati-hati," katanya kepada wartawan.
Pemerintah RI telah menyiapkan 100 rumah sakit di seluruh Indonesia termasuk tiga di Jakarta dan juga telah mengkarantina lebih dari 240 warganya yang dievakuasi dari Wuhan di Provinsi Hubei, China ke pulau Natuna, utara Kalimantan.
Paranietharan dari WHO mengatakan tampaknya tidak mungkin, seperti yang telah disarankan oleh beberapa orang, bahwa iklim tropis yang panas dapat menjadi faktor dalam meredam kasus-kasus meskipun diperlukan lebih banyak data untuk memastikan.
"Tidak masuk akal pada titik ini apakah itu bisa menjadi alasan mengapa tidak ada kasus virus Corona di Indonesia," kata Paranietharan seperti dikutip Reuters yang dilansir MailOnline.
INDONESIA is not hiding anything over the coronavirus, the health minister said on Tuesday, after some medical researchers expressed concern that cases may have gone undetected in the world's fourth most populous country.
While the virus has quickly spread from China throughout much of the rest of the region and beyond, the sprawling Southeast Asian country of more than 260 million people has not recorded any cases so far.
Dozens of cases have been recorded in other regional countries including Singapore, Malaysia, Thailand, Vietnam and the Philippines, where one person has died, raising suspicions on social media in particular over a potential lack of vigilance in Indonesia.
Researchers at the Harvard T.H. Chan School of Public Health, in the United States, then said in a study last week that Indonesia should rapidly strengthen outbreak surveillance and control - especially given that it had direct flights from the central Chinese city of Wuhan, the epicentre of the virus.
The Harvard team said that Indonesia's lack of confirmed cases "may suggest the potential for undetected cases" as air travel may contribute to cases being exported from China.
The virus has killed over 1,000, with more than 42,000 confirmed cases in China and 319 cases in 24 other countries. Many of the cases outside China have been in people who have a history of travelling to the country.
"We have the kits to check coronavirus and they're certified ... Nothing is concealed," Health Minister Terawan Agus Putranto said after a cabinet meeting at the Bogor presidential palace outside Jakarta, in response to the concerns.
Indonesia has tested 64 samples from suspected coronavirus infections - 62 of which were declared negative with two still being tested, health ministry Research and development agency head Siswanto said during a tour of its laboratory in Jakarta.
Navaratnasamy Paranietharan, the WHO's Indonesia representative, told a conference on Tuesday: "Indonesia has taken concrete measures and the World Health Organization is quite confident that Indonesia is ready to be able to respond to this situation."
Indonesia has barred entry to visitors who have been in China for 14 days and stopped all flights to and from there.
Vivi Setiawaty, another health ministry official, said it was unclear why Indonesia had not seen any cases but said authorities were better prepared since facing H5N1 avian influenza from 2005. "We remain cautious," she told reporters.
Indonesia has readied 100 hospitals across the archipelago including three in Jakarta and has also quarantined more than 240 of its citizens evacuated from Hubei province, home to Wuhan, to the island of Natuna, north of Borneo.
The WHO's Paranietharan said it appeared unlikely, as some have suggested, that the hot tropical climate could be a factor in curbing cases though more data would be required to be sure.
"It doesn't make sense at this point whether that could be the reason why we don't have coronavirus cases in Indonesia," Paranietharan said.