Tommy Soeharto dan Partai Berkarya Coba Peruntungan Politik di Pemilu 2019
Soeharto`s Youngest Son in New Push to get into Indonesian Politics
Editor : Ismail Gani
Translator : Novita Cahyadi

PUBLISHED: Sabtu, 17 Maret 2018 , 01:10:00 WIB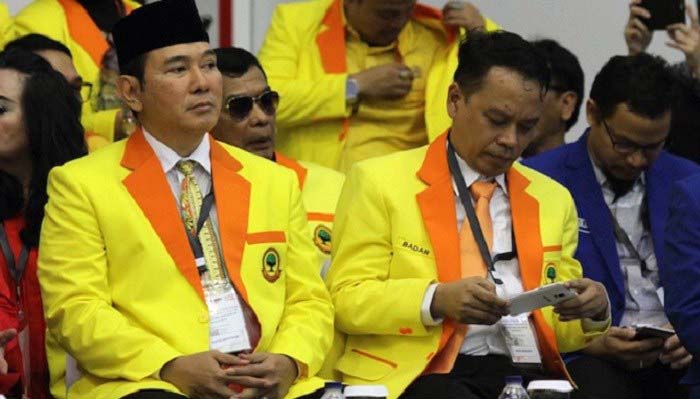 Tommy Soeharto (kiri) Foto: istimewa
PUTRA BUNGSU mantan Presiden RI Suharto, Hutomo "Tommy" Mandala Putra, mulai menapaki karier di bidang politik sebagai pimpinan partai politik yang diyakini dapat mengingatkan rakyat pada sosok mendiang ayahnya.

Soeharto, yang memerintah Indonesia dengan tangan besi selama 32 tahun, dirubuhkan oleh demonstrasi pada 1998, di tengah tuduhan korupsi dan nepotisme yang luas yang menguntungkan keluarga dan kroninya.

Meskipun demikian, keluarga Suharto telah berulang kali mencoba kembali ke politik, dengan menyebarkan nostalgia tentang persatuan dan keamanan di bawah pemerintahan Soeharto, yang didukung oleh militer yang berhasil menumpas pemberontakan komunis.

"Visi dan misi partai ini adalah menyiapkan pilihan alternatif untuk Pemilu 2019," kata Badaruddin Andi Picunang, yang bertindak sebagai ketua umum Partai Berkarya, dalam sebuah wawancara di kantor pusatnya di Jakarta.

Banyak orang masih mendambakan stabilitas dan pertumbuhan ekonomi dan perkembangan yang kuat, setidaknya pada dekade sebelumnya, era Suharto, kata Picunang.

"Tapi sekarang kita melihat pembunuhan di mana-mana, pencopet dan pemimpin agama diserang," katanya.

Tommy Soeharto menggemakan tema ini dalam sebuah konferensi pers setelah terpilih sebagai Ketua Umum Berkarya, dalam sebuah pertemuan partai akhir pekan lalu di kota Solo.

"Tidak mungkin kita kembali ke Orde Baru, ini telah menjadi bagian dari sejarah," kata Hutomo, yang dikenal luas sebagai Tommy, mengacu pada pemerintahan ayahnya.

"Tapi apa yang ingin kita kembangkan dan teruskan adalah hal baik yang dilakukan oleh Orde Baru," katanya, menyoroti rencana pembangunan lima tahun Suharto yang bergulir.

Berkarya memiliki target ambisius untuk memenangkan 80 kursi, atau sekitar 14 persen dari 575 kursi di parlemen. Sebagian besar didanai oleh Tommy dan rekan kerja, menurut Picunang.

Mesin Politik
Seorang mantan pembalap dengan reputasi playboy, Tommy, 55, menghasilkan banyak uang di bawah patronase ayahnya yang kuat.

Kelompok perusahaan Humpuss-nya memegang monopoli nasional atas distribusi cengkeh, bahan utama rokok kretek manis khas India.

Dia dijatuhi hukuman pada tahun 2002 sampai 15 tahun di penjara karena membayar seorang pembunuh bayaran untuk menembak hingga menewaskan seorang hakim pengadilan tinggi, yang telah memvonisnya dalam kasus korupsi. Hukumannya kemudian dikurangi karena menang banding dan remisi dan dia dibebaskan pada 2007.

Dalam sambutannya di Solo, Tommy mengatakan bahwa mereka yang telah dihukum dan menjalani hukuman mereka, seperti dirinya sendiri, memiliki hak yang sama dengan orang lain.

Banyak anggota Berkarya adalah mantan anggota Golkar, mesin politik lama ayahnya dan masih merupakan partai terbesar kedua di parlemen.

Tommy gagal dalam upaya untuk memenangkan jabatan puncak di Golkar dan juga mendapat dukungan dari pihak lain untuk maju sebagai calon presiden.

Saudaranya, Siti Hediati, yang dikenal sebagai Titiek, masih bertahan di Golkar dan kini menjadi anggota DPR.

Tobias Basuki, seorang analis politik di Pusat Studi Strategis dan Internasional, merasa skeptis terhadap Tommy dan anggota keluarga lainnya yang mendapatkan daya tarik dari hubungan dengan warisan Soeharto.

Partai Gerindra nasionalis, yang dipimpin oleh seorang mantan menantu Soeharto, Prabowo Subianto, telah berhasil menargetkan banyak pemilih yang mungkin mendukung mereka, katanya.

"Saya pikir ini adalah salah satu upaya terakhir mereka, mereka telah berusaha untuk tetap berada di arus utama namun tidak ada yang bisa mengendalikan Golkar dan jika mereka tidak bergerak cepat mereka akan menjadi sejarah," kata Basuki seperti dikutip Reuters yang dilansir MailOnline.
THE YOUNGEST son of former Indonesian president Suharto, Hutomo "Tommy" Mandala Putra, is making a new push to launch a career in politics at the helm of a party that believes it can cash in on his late father´s legacy.

Suharto, who ruled Indonesia with an iron fist for 32 years, was brought down by protests in 1998, amid accusations of vast corruption and nepotism benefiting his family and cronies.

Nonetheless, family members have made repeated attempts to get into politics, often seeking to tap into nostalgia about the unity and security under Suharto´s government, which was backed by a military that crushed any sign of revolt.

"The vision and mission of this party is to prepare an alternative option for the 2019 elections," Badaruddin Andi Picunang, acting sectary general of the Berkarya Party, said in an interview at its Jakarta headquarters.

Many people still yearned for the stability and the robust economic growth and development, at least in the earlier decades, of the Suharto era, said Picunang.

"But now we see killings everywhere, pickpockets and religious leaders attacked," he said.

Hutomo echoed this theme in a news conference after being elected chairman of Berkarya, which means "working" in Indonesian, at a party meeting last weekend in the city of Solo.

"It is impossible for us to return to the New Order, it has become part of the history," said Hutomo, who is widely known as Tommy, referring to his father´s government.

"But what we want to develop and continue are the good things that were carried out by the New Order," he said, highlighting Suharto´s rolling five-year development plans.

Berkarya has an ambitious target of winning 80 seats, or about 14 percent of the 575 seats in parliament. It is mostly being funded by Tommy and associates, according to Picunang.

Political Machine
A former racing driver with a playboy reputation, Tommy, 55, made a fortune under his father´s powerful patronage.

His Humpuss Group of companies held the national monopoly on clove distribution, the key ingredient in Indonesia´s favourite sweet-smelling kretek cigarettes.

He was sentenced in 2002 to 15 years in jail for paying a hitman to gun down and kill a supreme court judge, who had convicted him in a graft case. His term was later reduced on appeal and by remissions and he was released in 2007.

In his speech in Solo, Tommy said those who had been convicted and served their sentence, like himself, had the same rights as anyone else.

Many of the members of Berkarya are former members of Golkar, his father´s old political machine and still the second-biggest party in parliament.

Tommy failed in an attempt to win the top job at Golkar and also to get backing from other parties for a bid at the presidency.

His sister, Siti Hediati, popularly known as Titiek, has stuck by Golkar and is a member of parliament.

Tobias Basuki, a political analyst at the Centre for Strategic and International Studies, was sceptical about Tommy and other family members getting much traction from a link to the Suharto legacy.

The nationalist Gerindra party, led by a former son-in-law of Suharto, Prabowo Subianto, had been able to successfully target many of the voters who might support them, he said.

"I think this is one of their last attempts. They have been trying to stay in the mainstream but none could take control of Golkar and if they don´t move fast they will be irrelevant," said Basuki.