Dekadensi Moral Barat, Perayaan ´Hari Kasih Sayang´ Dilarang di Banyak Kota
Goodbye to Romance: Indonesian Cities Ban Valentine´s Day
Editor : Ismail Gani
Translator : Novita Cahyadi

PUBLISHED: Kamis, 15 Februari 2018 , 05:31:00 WIB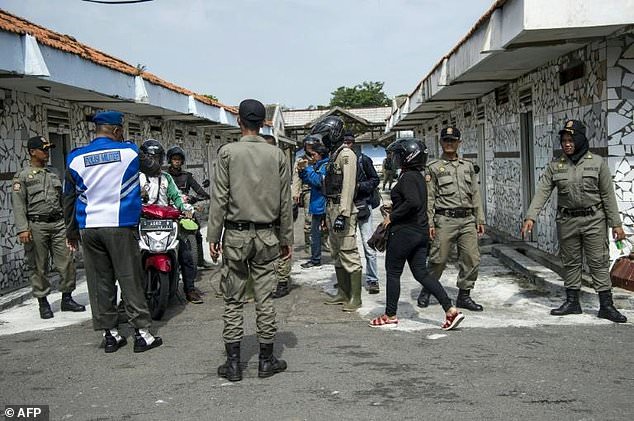 Foto: AFP/MailOnline
PERAYAAN Hari Valentine dilarang di beberapa kota di Indonesia pada Rabu setelah polisi menggrebek pasangan tanpa ikatan nikah, dan tindakan asusila lainnya yang tidak pantas dilakukan sebelum menikah.
Pada Rabu pihak berwenang di kota Surabaya, mengamankan sekitar 24 pasangan saat terindikasi mereka akan merayakan Hari Valentine.
Kota Mataram di Nusa Tenggara Barat mengeluarkan larangan Hari Valentine sendiri dan memerintahkan polisi untuk mendatangi sekolah-sekolah untuk mencegah kegiatan perayaan Hari Valentine. Namun aturan pelarangan tersebut tidak berlaku di hotel dan kafe, menurut pihak berwenang.
Syamsu Rizal, Wakil Walikota Makassar, Sulawesi Selatan, mengatakan bahwa kotanya melarang perayaan Valentine, sementara Depok di pinggiran kota Jakarta mengikutinya.
"Tidak pernah dinyatakan oleh pemerintah untuk menjadi perayaan resmi di Indonesiai" dan larangan tersebut akan mencegah perbuatan zina, kata Rizal.
Makassar telah memberlakukan larangan perayaan Hari Valentine selama beberapa tahun terakhir.
Pada 2017, pihak berwenang di Makassar menggerebek toko swalayan untuk merampas kondom dalam upaya mencegah remaja melakukan hubungan seks pada 14 Februari.
Sedikitnya 10 kota di seluruh negara berpenduduk mayoritas Muslim terbesar di dunia mengeluarkan larangan penuh atau sebagian pada perayaan Hari Valentine.
Provinsi Aceh, satu-satunya tempat di Indonesia yang menerapkan hukum Islam, mengeluarkan larangan Valentine yang baru pada Rabu, dengan mengutip norma-norma agama. Ini telah memerintahkan larangan di tahun-tahun sebelumnya.
"Hari Valentine mencerminkan budaya yang tidak sesuai dengan hukum Aceh dan Islam," kata Gubernur provinsi Irwandi Yusuf dalam sebuah pernyataan.
Ulama Islam Muslim mengritik perayaa Valentine Day sebagai dekadensi Barat seperti dikutip AFP yang dilansir MailOnline.
VALENTINE´S DAY was banned in some Indonesian cities Wednesday as police rounded up amorous couples, giving the official kiss-off to a tradition which critics say doesn´t deserve any love in the Muslim-majority nation.
The prohibitions come amid concerns that traditionally tolerant Indonesia is taking a sharp fundamentalist turn, by pushing to make pre-marital sex -- including gay sex -- illegal and punishable with jail time.
On Wednesday authorities in the country´s second-biggest city Surabaya briefly detained about two dozen couples during a raid to sniff out any sign of Valentine´s Day celebrations. They were expected to be released with a reprimand.
Mataram city on the tourist island of Lombok issued its own Valentine´s Day ban and ordered police to raid schools in the hunt for passionate students unable to keep their hands off each other. Romantic parties at hotels and cafes were left alone, according to authorities.
Syamsu Rizal, the deputy mayor of Makassar on the island of Sulawesi, said his city prohibited Valentine´s celebrations, while Depok on the outskirts of Jakarta followed suit.
"It has never been declared by the government to be a celebration in the country" and the ban would prevent hanky-panky among students, Rizal said.
Makassar has imposed bans on Valentine´s Day for the past several years.
In 2017 city authorities raided convenience stores to seize condoms in a bid to stop teenagers from having sex on February 14.
At least 10 cities across the world´s biggest Muslim-majority nation issued full or partial bans on Valentine´s Day celebrations.
Aceh province, the only place in Indonesia that imposes Islamic law, issued a fresh Valentine´s prohibition Wednesday, citing religious norms. It has ordered bans in previous years.
"Valentine´s Day reflects a culture which is not in line with Aceh´s and Islamic law," provincial governor Irwandi Yusuf said in a statement.
Islamic clerics and some pious Muslims use the occasion to criticise what they see as Western decadence.
But many Indonesians practise a moderate form of Islam and celebrate Valentine´s Day with cards, chocolates and flowers for their loved ones.