Prajurit TNI Kenalkan Penghijauan pada Warga Darfur Sudan
Indonesian Soldiers of Peace Mission in Darfur Sudan Introduced Farming to Local Residents
Editor : M. Achsan Atjo
Translator : Dhelia Gani

PUBLISHED: Rabu, 25 November 2015 , 15:37:02 WIB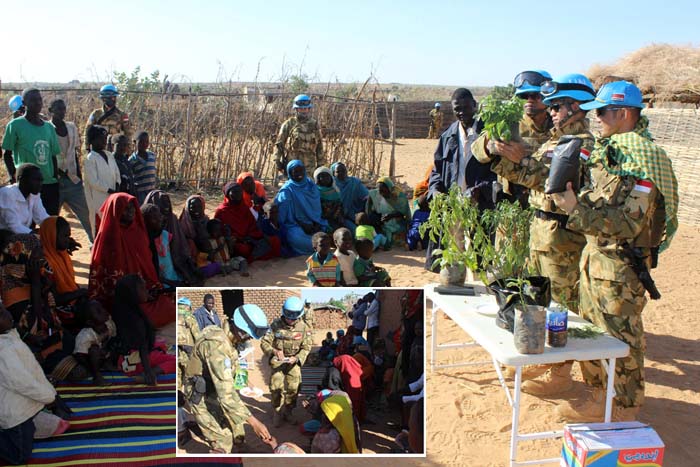 Kegiatan tersebut sebagai bagian dari kegiatan Cimic atau civil military coordination dari Satgas Batalyon Komposit TNI Konga XXXV-A/Unamid, yang rutin dilaksanakan oleh Prajurit Garuda TNI yang bertugas di Darfur Barat (Foto2: Puspen TNI)
Jakarta (B2B) - Di tengah kegiatan rutin berpatroli, para prajurit TNI dari Satgas Batalyon Komposit TNI Konga XXXV-A/Unamid (United Nations African Union Mission in Darfur) yang melaksanakan misi pasukan perdamaian di Darfur Sudan melakukan pengenalan penghijauan dan penanaman bibit tumbuhan kepada warga Desa Krinding, Darfur Barat, Sudan, Afrika pada Selasa (24/11).

Dalam kegiatan tersebut, Pasukan Garuda TNI di Darfur membagikan bibit tanaman seperti timun, cabai, labu, semangka, dan tanaman lain yang dapat tumbuh di desa tersebut.

"Kegiatan tersebut sebagai bagian dari kegiatan Cimic atau civil military coordination dari Satgas Batalyon Komposit TNI Konga XXXV-A/Unamid, yang rutin dilaksanakan oleh Prajurit Garuda TNI yang bertugas di Darfur Barat," kata Perwira Penerangan Konga XXXV-A/Unamid, Lettu Laut (Kh) Eldhira Respati melalui pernyataan tertulisnya.

Menurutnya, para prajurit TNI juga memberikan sumbangan berupa peralatan ibadah, dan pakaian kepada warga setempat.

"Terimakasih kepada Prajurit TNI Kontinge Garuda, semoga ilmu yang dibagikan akan dapat bermanfaat bagi warga di desa kami, dan bantuan yang diberikan akan membawa manfaat kepada warga lokal," kata Syeh Abdul Karim selaku tokoh masyarakat setempat.
Jakarta (B2B) - In the midst of a routine military patrol, the Indonesian soldiers from Task Force Battalion Composite TNI Konga XXXV-A / UNAMID (United Nations African Union Mission in Darfur) who carry out peacekeeping mission in Darfur Sudan did the introduction of reforestation and farming to Krinding village residents of West Darfur in Sudan on Tuesday (11/24).

In these activities, TNI personnel in Darfur to distribute seeds such as cucumbers, peppers, pumpkins, watermelons, and other crops that can be grown in the area.

"Such activities as part of activities of civil military coordination TNI soldiers of Garuda Contingent in West Darfur," "spokesman Konga XXXV-A/UNAMID, First Lieutenant of Navy, Eldhira Respati through the written statement.

According to him, the TNI personnel also donated equipment of worship, and clothing to local residents.

"Thanks to the Indonesian soldiers, hopefully shared knowledge that will be beneficial for the people in our village, and the assistance provided will bring benefits to local residents," said Sheikh Abdul Karim as local community leaders.