Sejarah Indonesia dalam Gelar Museum Nusantara
Indonesian History in National Museum Exposition
Reporter : Gusmiati Waris
Editor : Ismail Gani
Translator : Intan Permata Sari

PUBLISHED: Jum'at, 23 November 2012 , 16:10:43 WIB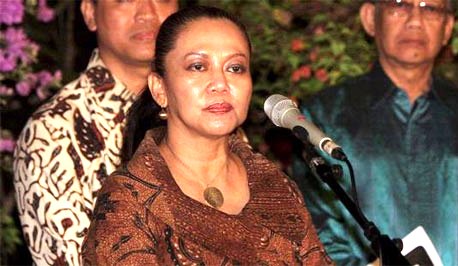 Wakil Menteri Pendidikan dan Kebudayaan, Wiendu Nuryanti (Foto: rri.co.id)
Jakarta (B2B) - Perjalanan dan tumbuh kembang Indonesia dijelaskan secara singkat dan padat dalam pameran "Gelar Museum Nusantara 2012" yang berlangsung di Balai Sidang Jakarta (JCC), 23--25 November.

Pameran ini telah resmi dibukan Wakil Menteri bidang Kebudayaan, Kementerian Pendidikan dan Kebudayaan RI, Wiendu Nuryanti, Kamis siang.

Pameran dimaksudkan sebagai langkah untuk meningkatkan citra sekaligus mengajak masyarakat untuk lebih dekat dengan museum. Pameran ini juga ditujukan untuk mensosialisasikan program Tahun Kunjungan Museum dan Gerakan Nasional Cinta Museum yang dicanangkan sejak tahun 2010 lalu.

Mengusung tema "Rumah Peradaban Nusantara", pameran yang untuk pertama kali diselenggarakan oleh Kemendikbud ini memamerkan ratusan koleksi artefak dari 280 museum yang ada di Indonesia.

"Museum tidak sekadar menyimpan benda-benda tua yang dianggap mati, namun di sinilah tersimpan kronologis peradaban Indonesia. Tanpa sejarah, masa kini tidak akan ada," ujar sejarawan Anhar Gonggong.

Pameran ini menjelaskan peradaban Indonesia yang terbagi ke dalam tiga bagian, Bagian pertama menjelaskan masa prasejarah, yang memamerkan artefak-artefak pada masa itu seperti alat berburu, alat menangkap ikan, serta fosil.

Pada bagian kedua, berbagai artefak pilihan dan penjelasan singkat mengenai zaman kerajaan kuno ditampilkan. Aneka simbol kebesaran kerajaan pada masa pemerintahaan berupa panji-panji, senjata, pakaian kebesaran, perabot, alat kesenian, karya sastra hingga perhiasan dipamerkan.

Bagian terakhir adalah zaman perjuangan yang memamerkan berbagai artefak pada masa perjuangan melawan penjajah. Berbagai pernak-pernik yang digunakan untuk mempertahankan kemerdekaan, serta surat-surat perjanjian dan aneka simbol perjuangkan dipamerkan pada bagian ini.
Jakarta (B2B) - Indonesia's biography and development was briefly and concisely explained in an exposition dubbed 'National Museum Exposition 2012' in Jakarta Convention Center, on November 23-25.

The exposition was officially opened by Deputy Minister of Culture, Ministry of Education and Culture, Wiendu Nuryanti, on Thursday afternoon.

It aimed to polish image and invite people to get familiar with museum and also to popularize Museum Visit Year program and National Action of Caring for Museum set since 2010.

Bearing the theme of 'The Home of National Civilization', the exposition, firstly organized by the Ministry, displayed hundreds of artifacts from 280 museums in the country.

"Museum does not only keep ancient things, but it also keeps the chronology of Indonesian civilization. Without history, there will be no present time," said Anhar Gonggong, a historian.

This exposition revealed about Indonesian civilization in three parts. The first part was about pre-historic era, displaying artifacts such as hunting tools, fishing tools, and fossils.

The second part was about brief explanation on ancient kingdoms and it displayed certain artifacts. Various kinds of emblems such as flags, weapons, royal attire, appliances, art tools, literary works, and jewelry were displayed.

The last part was about the era of fighting for independence, displaying various artifacts typical of that era, letters of agreement, and symbols of the struggle.