10 Ribu Pengunjuk Rasa Protes Donald Trump di Kedubes AS Jakarta
Thousands of Indonesians Rally at US Embassy over Jerusalem
Editor : Ismail Gani
Translator : Novita Cahyadi

PUBLISHED: Minggu, 10 Desember 2017 , 21:43:00 WIB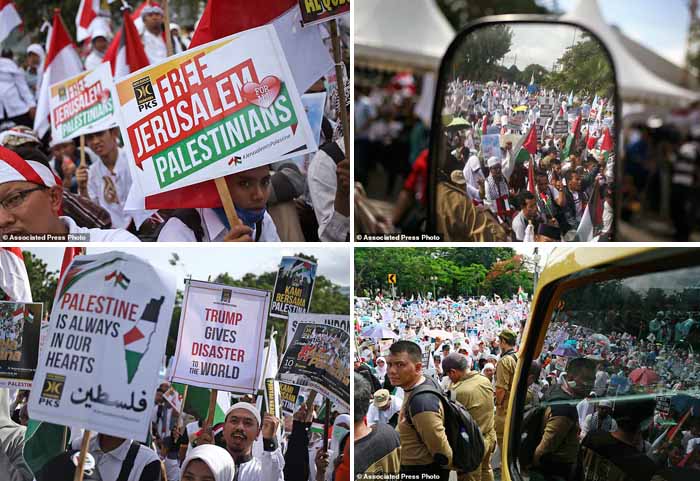 Foto2: Associated Press/MailOnline
SEKITAR 10.000 orang berkumpul pada Minggu di luar Kedutaan Besar AS di Jakarta, untuk mengecam keras Presiden Donald Trump untuk mengakui Yerusalem sebagai ibukota Israel.

Protes serupa, yang sebagian besar diorganisir oleh Partai Keadilan Sejahtera (PKS), juga berlangsung di beberapa kota di Indonesia, negara berpenduduk Muslim terbesar di dunia.

Protes tersebut merupakan yang ketiga dan terbesar di Indonesia sejak keputusan Trump diumumkan pada Kamis.

Di Jakarta, para pengunjuk rasa membawa spanduk bertuliskan "Kedutaan Besar AS, Keluar dari Al Quds," 'Bebaskan Yerusalem dan Palestina' dan 'Kami bersama warga Palestina". Al-Quds adalah nama Arab untuk kota Yerusalem.

Dengan mengenakan jubah putih tradisional Islam, para pengunjuk rasa juga membentangkan bendera Indonesia dan Palestina.

Sebuah pernyataan tertulis dari PKS menyebut keputusan Trump sebagai "bentuk penghinaan dan provokasi terhadap umat Islam di seluruh dunia."

Dikabarkan bahwa demonstrasi serupa dan akan berlangsung simultan juga diadakan pada Minggu di 10 ibukota provinsi dan kota-kota di seluruh Indonesia.

Sebelumnya pada hari itu, kelompok lain, yang menamakan dirinya Volunteers Society Indonesia, mengadakan demonstrasi serupa di Jakarta, ratusan meter dari kedutaan.

Presiden Indonesia RI Joko Widodo mengecam keras langkah Trump, yang dia gambarkan sebagai pelanggaran terhadap resolusi Perserikatan Bangsa-Bangsa (PBB).

Indonesia telah lama menjadi pendukung kuat Palestina dan tidak memiliki hubungan diplomatik dengan Israel seperti dikutip Associated Press yang dilansir MailOnline.
ABOUT 10,000 people rallied Sunday outside the U.S. Embassy in the Indonesian capital of Jakarta to denounce President Donald Trump's decision to recognize Jerusalem as Israel's capital.

Similar protests, mostly organized by the Islamist Prosperous Justice Party, or PKS, also were held in many other cities in Indonesia, the world's most populous Muslim country.

The protests were the third and biggest in Indonesia since Trump's decision on Thursday.

n the capital, protesters carried banners reading "U.S. Embassy, Get Out from Al Quds," ''Free Jerusalem and Palestinians" and "We are with the Palestinians." Al-Quds is the Arabic name for Jerusalem.

Wearing traditional Islamic white robes, the protesters also unfurled Indonesian and Palestinian flags.

A written statement from PKS described Trump's decision as "a form of humiliation and provocation against Muslims all over the world."

It said similar and simultaneous protests also were held Sunday in at least 10 provincial capitals and cities across Indonesia.

Earlier in the day, another group, calling itself Indonesia's Volunteers Society, held a similar rally in Jakarta, hundreds of meters (yards) from the embassy.

Indonesian President Joko "Jokowi" Widodo has strongly condemned Trump's move, which he described as a violation of U.N. resolutions.

Indonesia has long been a strong supporter of Palestinians and has no diplomatic ties with Israel.