Kalijodo Digusur oleh Pemprov DKI Jakarta Disorot Media Asing
Infamous Jakarta Red-light District Razed to the Ground
Editor : Ismail Gani
Translator : Novita Cahyadi

PUBLISHED: Selasa, 01 Maret 2016 , 02:09:41 WIB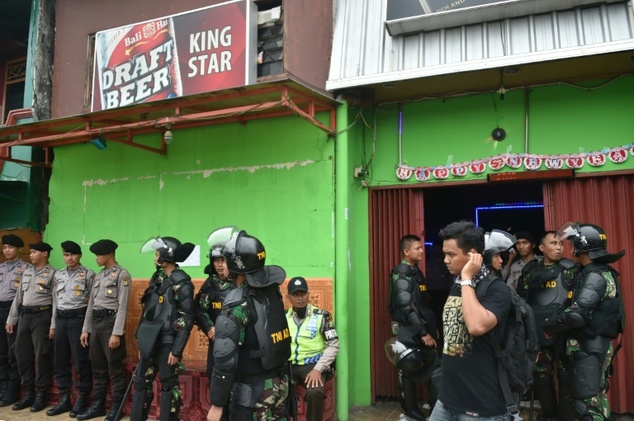 Personel polisi dan anggota TNI melakukan penggeledahan di kafe-kafe di Kalijodo sebelum tindak penggusuran oleh Pemprov DKI Jakarta (Foto: MailOnline)
SALAH satu kawasan prostitusi tertua di Indonesia telah diratakan dengan bumi pada pada Senin dalam operasi penggusuran dan pembongkaran yang didukung oleh ratusan polisi dan tentara, setelah Pemerintah Provinsi DKI Jakarta berupaya menutup kawasan prostitusi di Indonesia.

Puluhan kafe ilegal dan rumah bordil sepanjang tepi sungai di utara Jakarta - yang dikenal dengan julukan Kalijodo - menjadi puing-puing setelah dihancurkan menggunakan excavator.

Kafe ilegal - banyak ditandai dengan lampu warna-warni dan gambar wanita cantik untuk memikat laki-laki hidung belang - dirubuhkan oleh alat berat hanya dalam hitungan menit, tanpa ada yang tersisa kecuali serpihan kayu, batu bata dan kasur tua.

Di tempat lain polisi menggeledah sebuah bangunan tiga lantai yang masih dihuni warga sebelum alat-alat berat merubuhkannya rata dengan tanah.

Walikota Jakarta Utara Rustam Effendi, yang mengawasi pembongkaran, mengatakan bangunan itu ilegal dan pembongkaran akan membuat jalan untuk taman umum.

"Selama ini berlangsung praktik prostitusi ilegal dan segala macam hal lainnya seperti minuman keras," katanya kepada AFP yang dikutip MailOnline.

Menjelang kegiatan penggusuran dan pembongkaran berlangsung selama sepekan terakhir, polisi menyita dan menghancurkan sejumlah besar minuman keras.

Warga yang menolak digusur dan dikhawatirkan terjadi aksi unjuk rasa penolakan dan mencoba untuk menghambat kegiatan penggusuran. Namun ternyata ribuan warga yang bermukim di Kalijodo memilih untuk direlokasi ke rumah susun sebelum pembongkaran hari ini dan operasi pun berjalan lancar.

Pihak berwenang di Jakarta memutuskan untuk menutup Kalijodo setelah kecelakaan mobil yang fatal awal bulan ini yang dituduhkan pada seorang pria setelah minum di Kalijodo yang berada di tepi sungai.

Ratusan warga sekitar yang penasaran menyaksikan aksi penggusuran dan para pemulung berkumpul untuk menyaksikan tontonan, meskipun hujan deras.

Salah satu penjual makanan lansia menyambut baik gagasan sebuah taman di Kalijodo, tapi yang lain khawatir kehancuran Kalijodo akan memukul bisnisnya.

"Usaha saya pasti terkena dampaknya," kata Agus Cendol AFP.

Prostitusi dinyatakan ilegal di Indonesia tetapi masih merajalela di kota-kota besar.

Pemerintah Indonesia pekan lalu memerintahkan pemerintah daerah untuk menutup sekitar 100 kawasan lampu merah di seluruh Indonesia sebagai negara dengan penduduk Muslim terbanyak di dunia.

Beberapa pemerintah daerah, yang memiliki kekuatan yang besar, sudah menutup puluhan kawasan prostitusi dalam beberapa tahun terakhir.
ONE OF Indonesia's oldest red-light districts was demolished on Monday in an operation overseen by hundreds of police and troops, as authorities press on with a plan to close all brothel areas in the Muslim-majority country.

Dozens of illegal bars and brothels along a polluted riverside strip in north Jakarta -- known locally as Kalijodo -- were reduced to rubble by excavators.

The bars -- many marked by neon beer signs and illustrations of beautiful women luring men -- were torn down by the machines in a matter of minutes, leaving behind nothing but splintered wood, brick and old mattresses.

Elsewhere police searched a three-storey hotel for any remaining residents before a digger ripped the entire structure to the ground with a spectacular crash.

North Jakarta Mayor Rustam Effendi, who oversaw the demolition, said the buildings were illegal and the demolition would make way for a public park.

"There was open prostitution there and all kinds of other things as a result, like liquor," he told AFP.

During the eviction of residents over the past week, police seized and destroyed large quantities of alcohol.

The plan angered long-time residents and there had been fears that protesters would try to disrupt the demolition. But thousands living in the area agreed to leave in the days beforehand and the operation went smoothly.

Jakarta authorities decided to take action after a fatal car accident early this month blamed on a man who had been drinking in the riverside shanty area.

Hundreds of curious onlookers from neighbouring areas and trash collectors seeking scrap materials gathered to watch the spectacle, despite heavy rain.

One elderly food vendor welcomed the idea of a park in the area, but another was worried the destruction of Kalijodo would hit his business.

"For sure it will be less," Agus Cendol told AFP.

Prostitution is illegal in Indonesia but is rampant in major cities.

The government last week instructed local authorities to shut down an estimated 100 red-light districts across the world's most populous Muslim-majority country.

Local governments, which have substantial power, have already closed dozens of red-light districts in recent years.