ISIS Akhirnya Serang Israel untuk Pertama Kalinya dari Dataran Tinggi Golan
ISIS Fighters Target Israel for the First Time
Editor : Ismail Gani
Translator : Novita Cahyadi

PUBLISHED: Senin, 28 November 2016 , 21:54:52 WIB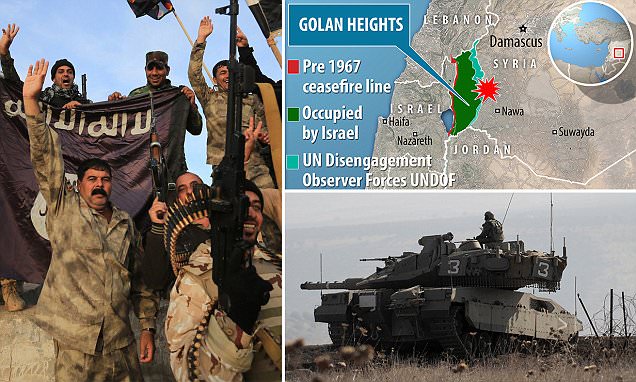 Serangan itu diduga merupakan ide dari pejuang lokal yang mengarah pada perubahan kebijakan seperti diperintahkan oleh pemimpin ISIS Abu Bakr al-Baghdadi (Foto2 & Peta: MailOnline)
EMPAT orang bersenjata anggota ISIS tewas hari ini setelah mereka menembaki tentara Israel dalam serangan pertama mereka di Dataran Tinggi Golan yang diduduki Israel.

Para tentara Israel yang menjadi target ditembaki dengan senapan mesin dan mortir tapi mereka tidak terluka malahan melakukan serangan balik.

Namun orang-orang bersenjata - diyakini berasal dari sebuah kelompok yang disebut Shuhada al-Yarmouk, yang berafiliasi dengan ISIS - tewas oleh serangan udara Israel pada kendaraan mereka.

Juru bicara Angkatan Bersenjata Israel, Letnan Kolonel Peter Lerner, mengatakan tentaranya dari Brigade Golani.

Sejak awal perang sipil Suriah pada 2011, sejumlah serangan telah menghantam Israel tapi hari ini adalah serangan yang disengaja pertama mengarah pada pasukan Israel.

Nitzan Nuriel, pensiunan jenderal Israel, mengatakan: 'Serangan langsung seperti itu pada aktivitas militer Israel di perbatasan Israel - ini adalah pertama kalinya."

Ia mengaku bingung apa yang terjadi di balik serangan itu dan mengatakan: "Mereka tahu persis bagaimana respon Israel. Berhadapan dengan pasukan Israel pada akhirnya."

General Nuriel, mantan direktur Badan Anti Terorisme Israel, mengatakan ia menduga serangan itu merupakan ide dari pejuang lokal yang mengarah pada perubahan kebijakan seperti diperintahkan oleh pemimpin ISIS Abu Bakr al-Baghdadi.

Perdana Menteri Israel Benjamin Netanyahu mengucapkan selamat kepada prajurit yang 'berhasil memukul mundur atas serangan percobaan di perbatasan."

Dia menambahkan: 'Pasukan kami siap di perbatasan utara kami, dan kami tidak akan membiarkan elemen ISIS atau elemen bermusuhan lainnya memanfaatkan perang di Suriah untuk membangun kekuatan di dekat perbatasan kita."

Israel menduduki 460 mil persegi dari Dataran Tinggi Golan sebagai strategi penting dalam Perang Enam Hari pada 1967 dan kemudian mencaploknya. Mereka selalu menolak untuk mengembalikan wilayah tersebut kepada Suriah dan tidak pernah sekali pun ditentang oleh sekutu terdekat Israel, Amerika Serikat.

Israel berupaya menahan diri untuk tidak terlibat pada perang sipil di Suriah.

Meskipun banyak politisi Israel telah mengingatkan kesulitan yang ditimbulkan oleh Presiden Suriah Bashar al-Assad - yang menjadi musuh bebuyutan Israel - telah bersiap, ketidakstabilan di kawasan itu mengakibatkan banyak warga Israel gemetar ketakutan seperti dilansir MailOnline.
FOUR ISIS gunmen were killed today after they opened fire on Israeli soldiers in their first attack on the occupied Golan Heights.

The Israeli soldiers were targeted with machine gun fire and mortars but were unhurt and fired back.

But the gunmen - believed to come from a group called Shuhada al-Yarmouk, which is affiliated to ISIS - were killed by an Israeli air strike on their vehicle.

Israel Defence Force spokesman, Lieutenant Colonel Peter Lerner, said the soldiers were from the Golani Brigade.

Since the beginning of the Syrian civil war in 2011, stray shells have hit Israel but today was the first deliberate attack on Israeli forces.

Nitzan Nuriel, a retired Israeli general, said: 'A direct attack like that on Israeli activities on Israeli side of border - this is the first time.'

He said he was baffled what lay behind the attack and said: 'They know exactly what the Israeli response would be. An Israeli front is the last thing ISIS needs at this stage.'

General Nuriel, a former director of Israel's Counter Terrorism Bureau, said he suspected the attack was the idea of local hotheads rather than a change of policy ordered by ISIS leader Abu Bakr al-Baghdadi.

Israel's Prime Minister Benjamin Netanyahu congratulated the soldiers who 'successfully repelled an attempted attack on the convergence point of three borders'.

He added: 'Our forces are prepared on our northern border, and we won't let ISIS elements or other hostile elements use the cover of the war in Syria to establish themselves next to our borders.'

Israel seized 460 square miles of the strategically important Golan Heights in the Six-Day War of 1967 and later annexed it. They have always refused to return it to Syria and have never come under pressure to do so from their closest allies, the United States.

Israel has assiduously avoided being drawn into the Syrian civil war.

Although many Israeli politicians have gloated at the trouble Syria's President Bashar al-Assad - a long-time Israeli enemy - has faced, the instability in the region has given many ordinary Israelis the jitters.