Buron 18 Tahun, Teroris Bom Bali I Zulkarnaen Divonis Penjara 15 Tahun
Indonesian Militant Gets 15 Years in Jail over Bali Attacks
Editor : Kemal A Praghotsa
Translator : Dhelia Gani

PUBLISHED: Rabu, 19 Januari 2022 , 22:29:00 WIB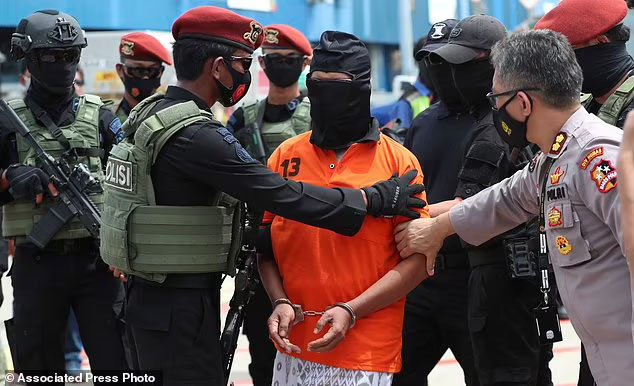 PENANGKAPAN: Jaksa sebelumnya menuntut hukuman seumur hidup untuk Aris Sumarsono, 58, yang bernama asli Arif Sunarso tetapi lebih dikenal sebagai Zulkarnaen, atas perannya dalam Bom Bali Oktober 2002 [Foto: Associated Press/MailOnline]
TERDAKWA tindak pidana terorisme kasus Bom Bali I Zulkarnaen alias Arif Sunarso yang lolos dari penangkapan selama 18 tahun divonis hukuman 15 tahun penjara, Rabu [19/1] setelah Majelis Hakim Pengadilan Negeri (PN) Jakarta Timur memutuskan bersalah karena menyembunyikan informasi tentang Bom Bali 2002 dari pihak berwenang dan menyembunyikan tersangka lainnya.
Jaksa sebelumnya menuntut hukuman seumur hidup untuk Aris Sumarsono, 58, yang bernama asli Arif Sunarso tetapi lebih dikenal sebagai Zulkarnaen, atas perannya dalam Bom Bali Oktober 2002 yang menewaskan 202 orang, sebagian besar turis asing termasuk 88 warga Australia dan tujuh warga Amerika.
Namun, tiga hakim di Pengadilan Negeri Jakarta Timur mengatakan mereka mengabaikan tuntutan pertama jaksa karena masa penuntutan telah berakhir, dan mereka memvonis Zulkarnaen 15 tahun penjara karena menyembunyikan tersangka lain, termasuk pembuat bom Upik Lawanga, dan menyembunyikan informasi dari pihak berwenang tentang serangan mematikan itu.
KUHP Indonesia menetapkan bahwa kewenangan untuk mengadili para penjahat dihapuskan setelah 18 tahun.
"Terdakwa dinyatakan bersalah secara sah dan meyakinkan melakukan tindakan terorisme dakwaan ketiga," kata hakim ketua dalam sidang yang digelar dari jarak jauh karena pandemi, seraya menambahkan bahwa Zulkarnaen mengetahui tentang serangan terorisme. tetapi "tidak memberi tahu pihak berwenang; sebaliknya, dia menyembunyikan seorang tersangka teror."
Zulkarnaen ditahan sejak 10 Desember 2020. Majelis hakim memerintahkan agar masa hukumannya dikurangi seperti dikutip Associated Press yang dilansir MailOnline.
AN ISLAMIC militant who eluded capture for 18 years was sentenced to 15 years in prison on Wednesday after an Indonesian court found him guilty of hiding information about the 2002 Bali bombings from authorities and harboring other suspects.
Prosecutors previously demanded a life sentence for Aris Sumarsono, 58, whose real name is Arif Sunarso but is better known as Zulkarnaen, for his role in the October 2002 Bali bombings that killed 202 people, mostly foreign tourists including 88 Australians and seven Americans.
However, the panel of three judges in East Jakarta District Court said they ignored the prosecutors´ first charge because the prosecution period had expired, and they sentenced Zulkarnaen to 15 years in jail for harboring other suspects, including bomb-maker Upik Lawanga, and for hiding information from authorities about the deadly attacks.
Indonesia´s Criminal Code stipulates that the authority to prosecute criminals is abolished after 18 years.
"The accused is found guilty in a legal and convincing manner of carrying out an act of terrorism of third charge," the presiding judge told the court in a session that was held remotely due to the pandemic, adding that Zulkarnaen knew about the terrorism attacks but "did not inform authorities; instead, he harbored a terror suspect."
Zulkarnaen has been detained since Dec. 10, 2020. The judges ordered that the time he has already served be deducted from his sentence.