Barantan Cegah dan Musnahkan Bakteri Sangat Berbahaya Masuk RI via Soetta
Indonesian`s AQA Prevent and Destroy Harmful Bacteria into Indonesia
Reporter : Gusmiati Waris
Editor : Cahyani Harzi
Translator : Dhelia Gani

PUBLISHED: Rabu, 07 Maret 2018 , 03:19:00 WIB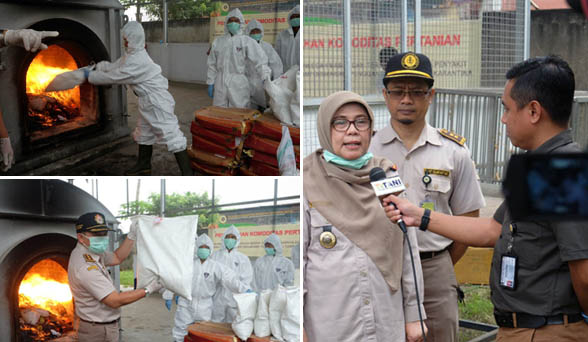 TINDAK PEMUSNAHAN: Kasubbag Humas Barantan, drh Arief Cahyono turun tangan langsung mewawancarai Kepala BBKP Soekarno - Hatta, Eliza Suryati Roesli (kanan) dan tindakan pemusnahan di fasilitas karantina (Foto2: Humas Barantan)
Jakarta (B2B) - Badan Karantina Pertanian (Barantan) Kementerian Pertanian RI kembali menunjukkan ketangguhannya ´mengawal republik´ setelah Balai Besar Karantina Pertanian Soekarno Hatta berhasil menemukan bakteri tumbuhan berbahaya yang belum pernah ada di Indonesia, dan tidak dapat dibebaskan dengan cara perlakuan karantina pada komoditas pertanian yang masuk melalui Bandara Internasional Soekarno - Hatta Cengkareng, Banten.

Kepala Balai Besar Karantina Pertanian - BBKP Soekarno - Hatta, Eliza Suryati Roesli mengatakan pihaknya kembali mendapati organisme pengganggu tumbuhan karantina (OPTK) golongan A1, pseudomonas firidiflava yang terbawa oleh media pembawa bibit sawi putih asal Korea Selatan, dan tobacco streak virus (TSV) yang terbawa oleh media pembawa biji kedelai asal Kanada.

"Kedua jenis bakteri ini belum pernah ditemukan di wilayah Indonesia, dan jika tersebar pada tanaman inang dapat merusak produksi tanaman tersebut," kata Eliza SR melalui pernyataan tertulis dari Humas Barantan pada Selasa (6/3).

Menurutnya, media pembawa 300 kg bibit sawi putih diimpor oleh PT East West Seed, salah satu importir yang telah memiliki instalasi karantina tumbuhan, sementara satu kg biji kedelai diimpor oleh PT Exindo Karsa Agung. Sebenarnya kedua jenis media pembawa ini telah dilengkapi sertifikat phytosanitary dari negara asal oleh kedua importir, namun sesuai SOP, BBKP Soekarno Hatta (Soetta) tetap wajib melakukan pemeriksaan karantina.

"Ternyata terbukti hasil dari pemeriksaan laboratorium, positif ditemukan OPTK golongan satu pseudomonas firidiflava dan TSV pada media pembawa tersebut.

Meskipun media pembawa telah disertifikasi oleh negara asal, Barantan tidak boleh lengah atau percaya begitu saja, tanpa melakukan uji laboratorium," kata Eliza.

Dia mengandaikan Barantan tidak melakukan pemeriksaan lab, karena merasa sudah ada sertifikat phytosanitary maka bisa dibayangkan bagaimana dampaknya, bakteri berbahaya yang belum ada di Indonesia dapat merugikan produksi pertanian kita. Fatal bukan," katanya.

Nilai Ekonomis
Secara ekonomis, 300 kg bibit sawi putih dapat ditanam untuk lahan seluas 600 hektar dan produktivitas 60 ton per hektar, dengan kata lain BBKP Soekarno - Hatta dapat menyelamatkan 36.000 ton sawi putih hasil petani Indonesia, atau sekitar Rp252 miliar merunut pada patokan harga sawi di pasar Rp7.000 per kg, dari data perdagangan Komoditas Pertanian per 6 Maret 2018.

"Terlebih lagi apabila bibit sawi impor tersebut diperuntukkan menjadi indukan tanaman, bisa dibayangkan berapa akumulasi kerugian yang harus ditanggung petani kita," kata Eliza.

Sesuai ketentuan undang-undang, bahwa sudah menjadi SOP dari Barantan untuk melakukan pemeriksaan terhadap semua komoditas pertanian baik tumbuhan dan hewan beserta produk turunannya yang masuk ke wilayah Indonesia. Hal ini dilakukan untuk mencegah masuk dan tersebarnya hama penyakit hewan karantina (HPHK) dan organisme pengganggu tumbuhan karantina (OPTK) ke wilayah Indonesia.

Pada pemusnahan kali ini turut dimusnahkan 401,15 kg media pembawa HPHK dan 7,2 kg media pembawa OPTK yang masuk secara illegal tanpa dokumen karantina, dari periode penahanan Januari sampai Februari 2018.
"Pemusnahan dilakukan dengan menggunakan incenerator dan disaksikan oleh para pemilik barang," katanya.
Jakarta (B2B) - Indonesian Agriculture Quarantine Center at Soekarno - Hatta International Airport or BBKP Soetta found harmful plant bacteria that had never existed in Indonesia, and can not be waived by the quarantine treatment, senior official said.

The Head of BBKP Soetta Eliza Suryati Roesli said the office she leads to find the organism of plant pests quarantine class A1, pseudomonas firidiflava carried by carrier media of white mustard seed from South Korea, and tobacco streak virus or TSV carried by Canadian soybean carrier media.

"Both types of bacteria have never been found in Indonesia, and if scattered could damage crop production," Mrs Roesli said in a written statement from IAQA public relation office on Tuesday (March 6).

According to her, 300 kg of white mustard seeds are imported by East West Seed company, one of the importers who already have plant quarantine installations, while one kg of soybean is imported by Exindo Karsa Agung company.

Actually, both types of carrier media have been completed with phytosanitary certificate from the country of origin by importers, but according to operational standard procedure, BBKP Soekarno Hatta still have to do quarantine inspection.

"It turns out proven results from laboratory tests, positively found bacteria pseudomonas firidiflava and TSV. Although the carrier has been certified by the country of origin, Barantan should not be careless or just believe, without laboratory tests," Mrs Roesli said.

She assumed the Barantan did not conduct lab tests because there was already a phytosanitary certificate, how the impact, bacteria that do not exist in Indonesia can endanger our agricultural production," she said.

Economic Value
Economically, 300 kg of white mustard seeds are grown on 600 hectares and productivity of 60 tons per hectare, means BBKP Soetta has saved 36,000 tons of Indonesian chicory, or about 252 billion rupiahs referring to the price of mustard in the market of 7,000 rupiah per kg, from Agricultural Commodity trade data as of March 6, 2018.

"If the imported mustard seeds become plant crops, our farmers will lose a lot," Mrs Roesli said.

As per law, standard operational procedures of the Barantan to examine all agricultural commodities of both plants and animals and their derivative products entering Indonesia. The goal, to prevent the entry and spread of quarantine animal pests and quarantine plant pests into Indonesia.

Barantan destroys 401.15 kg of disease-carrying media and 7.2 kg of carrier media who entered illegally without quarantine documents, the period of detention from January to February 2018. "Culling is done by using the incinerator and witnessed by the owner of the goods," she said.