Ekspor Buah, Barantan Teken Protokol Kerjasama Karantina dengan Ukraina
Indonesia and Ukraine Signed a Partnership for Quarantine
Reporter : Gusmiati Waris
Editor : Cahyani Harzi
Translator : Dhelia Gani

PUBLISHED: Kamis, 19 April 2018 , 08:31:00 WIB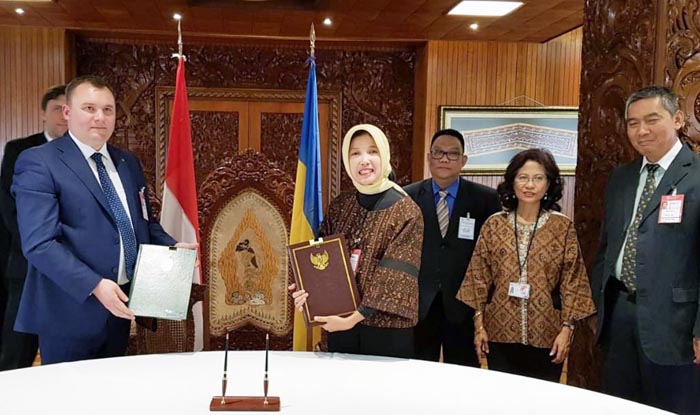 Pelaksana Duta Besar Ukraina Oleg Volovnykov (kiri) menandatangani protokol karantina dengan Kepala Barantan, Banun Harpini (ke-3 kanan) di Roma, Italia (Foto: Humas Barantan)
Jakarta (B2B) - Duta Besar RI untuk Italia Esti Andayani di Roma, Italia menyaksikan penandatanganan protokol kerjasama Indonesia dan Ukraina oleh Kepala Badan Karantina Pertanian - Barantan, Banun Harpini dan Pelaksana Duta Besar Ukraina di Italia, Oleg Volovnykov. Kerjasama perkarantinaan yang menandai dibukanya peluang ekspor buah ke negara eks taklukan Uni Soviet seperti pisang, nenas, salak, manggis, jeruk nipis, buah naga dan mangga.
Banun Harpini mengatakan Kementerian Pertanian terus mendorong akselerasi ekspor komoditas pertanian, khususnya buah-buahan tropis ke pasar Eropa melalui Ukraina. Barantan mendukung upaya pencegahan masuk dan menyebarnya organisme pengganggu tumbuhan karantina; koordinasi dalam tindakan fitosanitari; penerapan konsistensi standar untuk tindakan fitosanitari.
"Tak kalah penting adalah penguatan hubungan ekonomi dan perdagangan berazaskan implementasi bidang perkarantinaan dan perlindungan tumbuhan," kata Banun Harpini, Senin (17/4) di sela sidang tahunan ke-13 ´Commision for Phytosanitary Measures, International Plant Protection Convention´ di kantor pusat Organisasi Pangan Dunia (FAO) di Roma, Italia.
Selain itu, diteken pula protokol kerjasama bidang karantina dan perlindungan tumbuhan dan inital signing oleh Kepala Pusat Karantina Tumbuhan dan Keamanan Hayati, Antarjo Dikin dengan Chief State Phytosanitary Inspector of Ukraine, Chelombitko Andrii.
Antarjo Dikin menambahkan dokumen Arrangement on Phytosanitary Requirement menandai mulai dibukanya akses pasar tujuh jenis buah tropis asal Indonesia: pisang, nenas, buah salak, manggis, jeruk nipis, buah naga dan mangga.
Sertifikasi Fitosanitari
Kementerian Pertanian RI mengharapkan dengan telah resmi dibuka peluang pasar baru buah tropis ini, diharapkan masing-masing pihak baik para kelompok tani buah, pengelola buah tropis (packaging house), eksportir, para kepala dinas pertanian provinsi/kabupaten/kota untuk mempersiapkan diri dalam memberikan jaminan kesehatan tumbuhan dan keamanan pangan guna memenuhi persyaratan ekspor.
"Dalam persyaratan ekspor, buah tropis harus memenuhi persyaratan sertifikasi fitosanitari antara lain buah berasal dari kebun yang teregistrasi berikut rumah kemas untuk pemrosesan buah, bebas dari cemaran kotoran tanah, bahan organik sisa tanaman, dan bebas dari organisme pengganggu tumbuhan karantina disingkat OPTK," kata Antarjo Dikin.
Tak kalah penting, katanya, buah untuk ekspor selama dalam pengangkutan harus bebas dari infestasi OPTK, diberikan perlakuan standar bila ditemukan OPTK saat pemeriksaan petugas karantina serta wajib disertai dokumen phytosanitary certificate yang dikeluarkan oleh Barantan yang berada di tempat pengeluaran seperti pelabuhan laut dan bandar udara.
Jakarta (B2B) - Indonesian Ambassador to Italy Esti Andayani in Rome, Italy witnessed the signing of cooperation Indonesia and Ukraine by the Director General of Indonesia Agricultural Quarantine Agency or Barantan, Banun Harpini and Acting Ambassador Ukraine for Italy, Oleg Volovnykov. The quarantine cooperation marks the opening of fruit export opportunities to Ukraine such as bananas, pineapples, salak, mangosteen, lime, dragon fruit and mango.
Mrs Harpini said the Indonesian Agriculture Ministry continues to encourage accelerated exports of agricultural commodities, especially tropical fruits to the European market through Ukraine. Barantan supports the prevention of entry and spread of quarantine plant disturbing organisms; coordination of phytosanitary measures; the application of the standard consistency of phytosanitary measures.
"The main purpose of strengthening trade relationships through the quarantine subsector and plant protection, "said Mrs Harpini, Monday (April 17) on the sidelines of the 13th annual ´Commision for Phytosanitary Measures, International Plant Protection Convention´ in Rome, Italy.
In addition, also signed protocol cooperation quarantine and plant protection, and inital signing by Director of the Center for Plant Quarantine and Biosafety, Antarjo Dikin with Chief State Phytosanitary Inspector of Ukraine, Chelombitko Andrii.
Mr Dikin said the document Arrangement on Phytosanitary Requirement marks opening of export opportunity seven tropical fruits from Indonesia: banana, pineapple, fruit bark, mangosteen, lime, dragon fruit and mango.
Phytosanitary Certification
The Indonesian Agriculture Ministry expects support of interested parties for export opportunities especially fruit farming groups, packaging houses, exporters, heads of local agricultural offices supporting plant health insurance, and food safety to meet export requirements.
"In export terms, tropical fruits shall comply with the requirements of phytosanitary certification such as fruits from registered gardens, packed houses, free from soil contamination, crop residual materials, and free from quarantine plant pests," Mr Dikin said.