Ditjen Peternakan Didukung TNI AD Capai Target Upsus Siwab
Indonesian Army Support Government Increase Cattle Population
Reporter : Gusmiati Waris
Editor : Cahyani Harzi
Translator : Dhelia Gani

PUBLISHED: Sabtu, 29 April 2017 , 10:47:00 WIB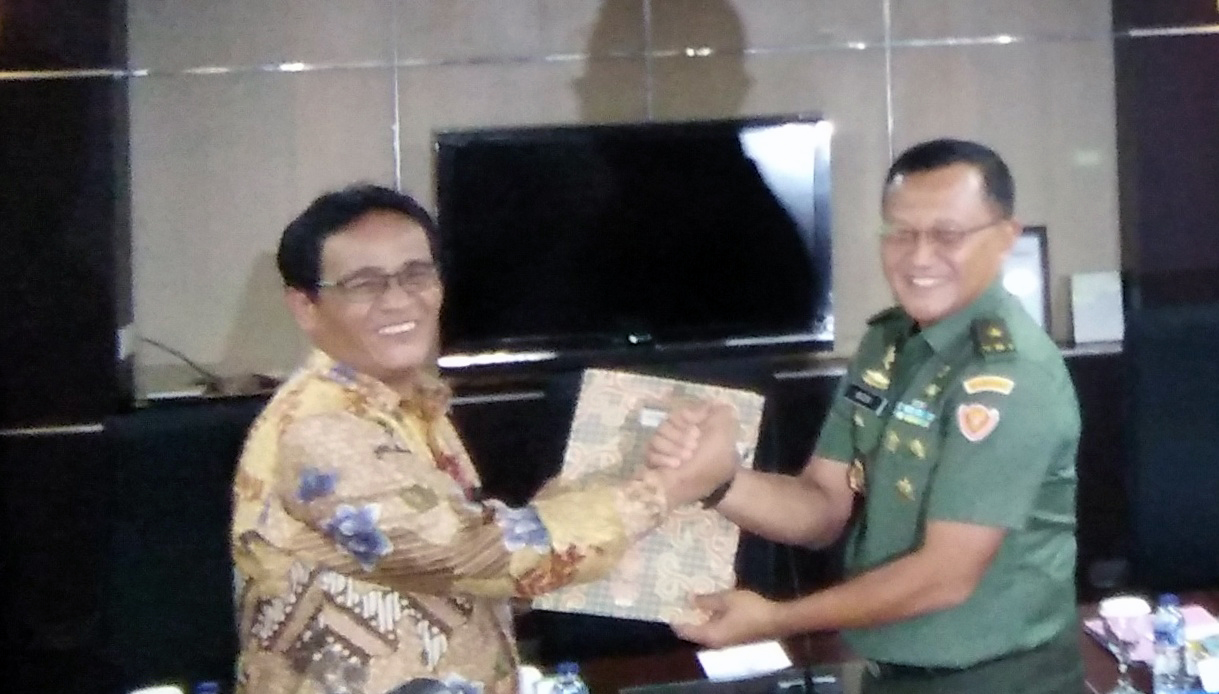 Dirjen Peternakan I Ketut Diarmita (kiri) dan Waaster Kasad Brigjen TNI Budi Sulistijono (Foto: B2B/Gusmiati Waris)
Jakarta (B2B) - Kementerian Pertanian RI dan TNI AD akan bekerja sama menggerakkan peternak dan petugas teknis dalam pelayanan Upaya Khusus Sapi Indukan Wajib Bunting (Upsus Siwab), diikuti peningkatan kapasitas aparatur, personel bintara pembina desa (Babinsa) untuk peningkatan populasi sapi dan kerbau khususnya dengan pengembangan perbibitan sapi Brahman Cross eks impor di Aceh, Sumatera Utara dan Riau.

"Kerjasama ini dilakukan untuk mempercepat pencapaian kecukupan pangan hewani asal ternak, termasuk keberhasilan Upsus Siwab, sebagai tindak lanjut dari nota kesepahaman Menteri Pertanian Andi Amran Sulaiman dengan Panglima TNI Jenderal Gatot Nurmantyo," kata Dirjen Peternakan I Ketut Diarmita usai meneken kerjasama dengan Wakil Aster Kasad, Brigjen TNI Budi Sulistijono di Jakarta pada Jumat (29/4).

Menurutnya, Upsus Siwab merupakan suatu kegiatan yang terintegrasi untuk mempercepat peningkatan poupulasi sapi dan kerbau secara masif dan serentak dengan pendekatan sistem manajemen reproduksi, yang mengacu pada pemeriksaan status dan gangguan reproduksi, pelayanan inseminasi buatan, kawin alam, pemenuhan semen beku dan nitrogen cair, pengendalian pemotongan sapi dan kerbau betina produktif dan pemenuhan hijauan pakan ternak dan konsentrat.

Langkah tersebut, kata Diarmita, dilakukan sebagai wujud komitmen pemerintah dalam mewujudkan kemandirian pangan asal ternak dan meningkatkan kesejahteraan peternak sekaligus mengejar swasembada sapi 2026 seperti ditargetkan oleh Presiden RI Joko Widodo.

"Tahun ini, kita targetkan kebuntingan ternak sapi dan kerbau mencapai tiga juta ekor. Selain dari kelahiran anak sapi dan kerbau, target lain yang akan dicapai yaitu menurunnya angka penyakit gangguan reproduksi dan menurunnya pemotongan sapi betina produktif," kata Ketut Diarmita.

Menurutnya, untuk mensukseskan pelaksanaan Upsus Siwab maka Ditjen Peternakan memerlukan dukungan dan sinergi dengan program dan kegiatan TNI AD yang bertujuan untuk meningkatkan populasi dan produksi sapi dan kerbau di seluruh Indonesia," kata Dirjen Peternakan.

"TNI AD sebagai instansi negara bidang pertahanan dan keamanan memiliki tugas pokok dalam pemberdayaan wilayah pertahanan di darat, serta menciptakan kondisi sosial wilayah yang kondusif dan ketersediaan logistik wilayah, sehingga dapat mendukung program pemerintah dalam mewujudkan percepatan peningkatan populasi sapi dan kerbau," kata Diarmita.
Jakarta (B2B) - Indonesian Agriculture Ministry and the Army cooperate mobilize farmers and technical officers support the artificial insemination program for cattle or called the Upsus Siwab for increase the cattle population in Indonesia, the capacity of apparatus and non-commissioned officers for development of ex-Brahman Cross cattle in Aceh, North Sumatra and Riau.

"This cooperation is done to accelerate beef self-sufficiency as an success indicator of Upsus Siwab, as follow-up memorandum of understanding of Agriculture Minister Andi Amran Sulaiman and Armed Forces Commander General Gatot Nurmantyo," said the Director General of Livestock I Ketut Diarmita after signed cooperation agreement with Territorial Assistant Deputy Chief of Staff, Brigadier General Budi Sulistijono here on Friday (April 29).

According to him, the Upsus Siwab is an integrated activity to accelerate the increase of cattle population, with the approach of reproduction management system, which refers to the examination of conditions and reproductive disorders, artificial insemination services, natural mating, frozen semen and liquid nitrogen, monitoring of productive female cattle and buffalo, and animal feed and concentrate.

Diarmita said, the step is done as a form of government commitment to achieve beef self-sufficiency and improve the welfare of farmers and reach cattle self-sufficiency in 2026 as target by President Joko Widodo.

"This year, Indonesia targets three million calves and suppresses the number of reproductive diseases, and other targets is reducing the number of reproductive disorders," he said.

According to him, to support successful of the Upsus Siwab, the Directorate General of Livestock needs synergy with programs and activities of Army increase livestock population across the country," Diarmita said.

"Army as an institution in defense and security state has a fundamental duty to empowering the defense area on land, and social conditions conducive and availability of logistics, so as to support the government´s program to realize increased livestock population," he said.