Tragedi Danau Toba, Puluhan Penumpang yang Hilang masih Dicari
Search on for Dozens Missing after Ferry Sinks on Indonesian Crater Lake
Editor : Ismail Gani
Translator : Novita Cahyadi

PUBLISHED: Rabu, 20 Juni 2018 , 00:03:00 WIB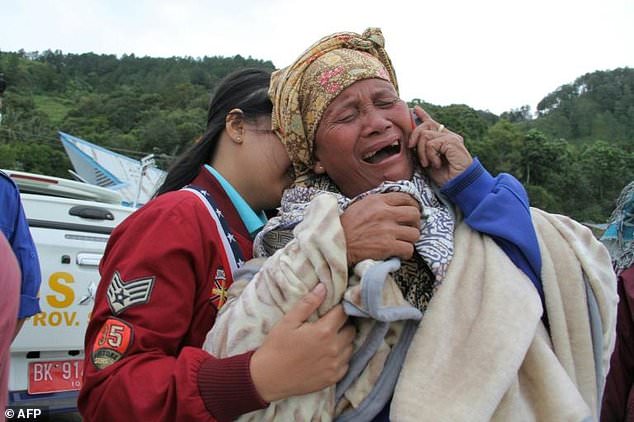 Di antara kerabat yang berduka menunggu di tepi pantai adalah Juwita, seorang yang selamat yang kehilangan anaknya dan kebingungan karena belum mendapat kepastian tentang nasib anaknya (Foto: AFP/MailOnline)
BADAN SAR mengerahkan tim pencari dan penyelamat di Danau Toba, Sumatera Utara pada Selasa untuk mencari puluhan penumpang kapal kayu yang dilaporkan hilang setelah terbalik di tengah danau.

Keluarga korban menunggu di pantai untuk mengetahui kabar sanak saudara setelah SAR dan polisi melakukan tindak penyelamatan dan pencarian di Danau Toba.

Kapal kayu itu tenggelam Senin sore dengan perkiraan mengangkut 80 orang penumpang, kata polisi, yang berlangsung hanya beberapa hari setelah lebih dari belasan orang tewas dalam musibah serupa.

Setidaknya satu orang ditemukan tewas setelah kapal kayu tenggelam dan 18 lainnya berhasil diselamatkan.

Pejabat setempat mengatakan, puluhan penumpang masih hilang sehari setelah kecelakaan terjadi.

Sekitar 130 orang telah dilaporkan hilang oleh kerabat di daerah itu tetapi tidak jelas apakah mereka semua berada di kapal itu, kata pihak berwenang.

"Apakah mereka semua penumpang di kapal atau tidak, kami tidak tahu," kata pejabat kementerian transportasi Sri Hardianto kepada AFP. "Kami belum menemukan penumpang baru hari ini."

Kapal kayu diyakini beroperasi secara ilegal, tanpa tiket manifes atau penumpang. Tidak jelas apakah ada orang asing di kapal atau apa yang menyebabkannya terbalik.

Korban selamat Rahman Saputra mengatakan tragedi dimulai sekitar setengah perjalanan atau 40 menit setelah kapal kayu mengairi danau dari sebuah pulau di tengah danau ke darat.

"Ombak mulai ganas dan angin kencang. Kemudian perahu mulai bergetar," katanya.

"Banyak penumpang mencoba keluar tetapi banyak yang terjebak di dalam perahu. Tidak lama setelah itu terbalik."

Di antara kerabat yang berduka menunggu di tepi pantai adalah Juwita, seorang yang selamat yang kehilangan anaknya dan kebingungan karena belum mendapat kepastian tentang nasib anaknya.

"Terjadi begitu cepat," katanya.

"Saya ingin menyelamatkan anakku tapi tidak bisa. Ada tiga orang bertumpuk di atasnya."

Pencarian dibatalkan Senin malam karena cuaca buruk dan jarak pandang rendah, tetapi dilanjutkan Selasa pagi dengan sekitar 350 personel yang terlibat.

Hardianto mengatakan operasi akan berlanjut setidaknya satu minggu mengingat luasnya area pencarian.

Danau besar mengisi kawah gunung berapi yang diyakini telah meletus puluhan ribu tahun yang lalu.

Ini adalah salah satu danau terdalam di dunia dan mencakup sekitar 1.145 kilometer persegi.

Mayoritas Muslim Indonesia telah merayakan Idul Fitri atau Lebaran sejak Jumat dan jutaan pergi berlibur untuk merayakan Lebaran, dan Danau Toba menjadi salah satu destinasi wisata utama di Sumatera Utara.

Kecelakaan maritim umum terjadi di Indonesia, negara kepulauan 17.000-pulau di mana banyak bergantung pada feri dan kapal lain untuk berkeliling, meskipun standar keamanan yang longgar.

Minggu lalu sebuah perahu kayu tradisional dengan sekitar 40 orang terbalik di perairan Makassar, Sulawesi Selatan, menewaskan lebih dari belasan orang.

Pada 2015, sebuah feri tenggelam di dekat Sulawesi dan menyebabkan 78 orang tewas seperti dikutip AFP yang dilansir MailOnline.
RESCUERS searched Indonesia´s Lake Toba on Tuesday for dozens of passengers still missing after a ferry capsized at the popular tourist destination.

Anguished relatives waited by the shore for news as several hundred personnel fanned out across the huge body of water on Sumatra island.

The wooden vessel sank Monday afternoon with an estimated 80 people aboard, authorities have said, just days after more than a dozen people were killed in another maritime accident across the country.

At least one person has been found dead in the latest sinking and 18 were rescued.

Local officials said dozens more passengers are still missing a day after the accident.

About 130 people have been reported missing by relatives in the area but it was not clear if they were all on the vessel, authorities said.

"Whether they were all passengers on the boat or not, we don´t know," transport ministry official Sri Hardianto told AFP. "We haven´t found any new passengers today."

The ferry was believed to be operating illegally, with no manifest or passenger tickets. It was not clear if any foreigners were on board or what caused it to capsize.

Survivor Rahman Saputra said trouble started about halfway into the 40-minute trip from an island in the middle of the lake to shore.

"The waves started getting rough and the wind picked up. Then the boat started shaking," he told Kompas TV.

"Many passengers tried to get out but a lot were trapped inside the boat. Not long after that it capsized."

Among the grief-stricken relatives waiting by the shore was Juwita, a survivor who lost hold of her child in the confusion.

"It happened so quickly," she told TVOne.

"I wanted to grab my child but I couldn´t. There were three people stacked on top of him."

The search was called off Monday evening due to bad weather and low visibility, but it resumed Tuesday morning with about 350 personnel involved.

Hardianto said operations would continue for at least a week given the size of the search area.

The enormous lake fills the crater of a supervolcano that is believed to have erupted tens of thousands of years ago.

It is one of the deepest lakes in the world and covers some 1,145 square kilometres (440 square miles).

Muslim-majority Indonesia has been celebrating the Islamic festival of Eid since Friday and millions go on holiday during the festivities, with Lake Toba a key tourist destination.

Maritime accidents are common in Indonesia, a 17,000-island archipelago nation where many depend on ferries and other boats to get around, despite lax safety standards.

Last week a traditional wooden boat with about 40 people capsized in the island of Sulawesi, killing more than a dozen people.

In 2015 a ferry sank near Sulawesi island and left 78 people dead.