Lion Air PK-LQP Jatuh, KNKT Didukung TNI AL Lanjutkan Pencarian CVR
Indonesia to Resume Search for Crashed Lion Air Jet`s Cockpit Voice Recorder
Editor : Ismail Gani
Translator : Novita Cahyadi

PUBLISHED: Rabu, 09 Januari 2019 , 00:08:00 WIB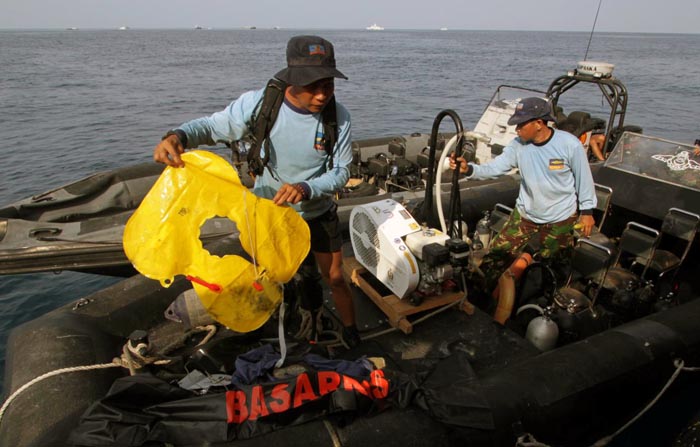 Foto: Reuters
KOMITE Nasional Keselamatan Transportasi (KNKT) hari ini mengumumkan untuk melanjutkan pencarian rekaman percakapan di kokpit atau cockpit voice recorder (CVR) pesawat Lion Air PK-LQP yang jatuh di perairan Karawang, Jawa Barat pada Oktober 2018, kata Ketua KNKT. "Kalau cuacanya bagus, kapal akan mulai berangkat hari ini," kata Soerjanto Tjahjono kepada Reuters, Selasa.
Kecelakaan pesawat, jet Boeing Co 737 MAX pertama di dunia dan yang paling mematikan pada 2018, menewaskan 189 orang di dalamnya. Penyelidik KNKT pekan lalu mengatakan mereka berencana untuk menggunakan kapal TNI AL untuk melanjutkan pencarian ´kotak hitam´ kedua setelah kegiatan serupa selama 10 hari yang didanai oleh Lion Air gagal menemukan perekam suara kokpit.
Sebuah sumber KNKT, yang berbicara dengan syarat anonim, mengatakan kepada Reuters bahwa tim akan memiliki waktu tujuh hari menggunakan kapal KRI Spica untuk menemukan CVR, yang menyimpan petunjuk penting yang memberi para penyelidik wawasan tentang tindakan pilot jet pesawat naas tersebut. Namun Soerjanto Tjahjono menolak berkomentar apakah ada batas waktu pencarian.
Kontak dengan penerbangan JT610 hilang 13 menit setelah lepas landas pada 29 Oktober setelah lepas landas dari Bandara Soekarno - Hatta di Jakarta menuju Pangkal Pinang di Provinsi Bangka Belitung.
Kotak hitam lainnya, perekam data penerbangan, ditemukan tiga hari setelah kecelakaan.
Laporan pendahuluan oleh KNKT berfokus pada pemeliharaan dan pelatihan maskapai penerbangan dan respons sistem anti-bangkai Boeing terhadap sensor yang baru saja diganti tetapi tidak memberikan alasan bagi kecelakaan itu seperti dilansir MailOnline.
INDONESIA will launch a renewed search effort as early as Tuesday to find the cockpit voice recorder from a Lion Air jet that crashed into the Java Sea in October, the head of its accident investigation agency said. "If the weather is good, the ship will start to depart today," National Transporation Safety Commission (KNKT) Chief Soerjanto Tjahjono told Reuters on Tuesday.
The crash, the world´s first of a Boeing Co 737 MAX jet and the deadliest of 2018, killed all 189 people on board. Investigators last week said they planned to use a navy ship for a fresh search for the crashed jet´s second "black box" after a 10-day effort funded by Lion Air failed to find the cockpit voice recorder (CVR).
A KNKT source, speaking on condition of anonymity, told Reuters the team will have seven days using the ship KRI Spica to find the CVR, which could hold vital clues giving investigators insight into the actions of the doomed jet´s pilots. Tjahjono declined to comment on whether there was a time limit on the search.
Contact with flight JT610 was lost 13 minutes after it took off on Oct. 29 from the capital Jakarta heading north to the tin-mining town of Pangkal Pinang.
The other black box, the flight data recorder, was recovered three days after the crash.
A preliminary report by KNKT focused on airline maintenance and training and the response of a Boeing anti-stall system to a recently replaced sensor but did not give a cause for the crash.