30 Menit sebelum Jatuh, Pengantin Baru Kirim Selfie dari Kabin Lion Air pada Istrinya
Passenger Killed in Indonesian Plane Disaster Sent Selfie to His Wife just before Take-off
Editor : Ismail Gani
Translator : Novita Cahyadi

PUBLISHED: Selasa, 30 Oktober 2018 , 01:04:00 WIB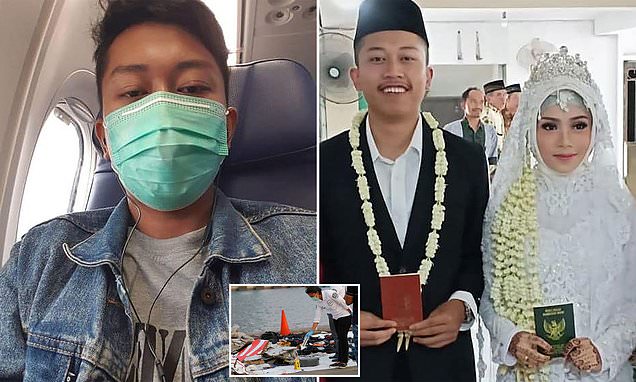 SELFIE TERAKHIR: Deryl Fida Febrianto (kiri)mengirim foto selfie pada istrinya sebelum Lion Air JT-610 lepas landas, dan saat menikah dua pekan lalu (kanan) dan sejumlah barang milik penumpang (inset) Foto2: MailOnline
DERYL Fida Febrianto, 22, mengirim swafoto (selfie) kepada istrinya dari kabin pesawat naas Lion Air JT-610. Beberapa menit kemudian pesawat itu lepas landas sebelum jatuh dari ketinggian 5.000 kaki (1.524 meter)
di Tanjung Karawang, Jabar, Senin pagi (29/10). Deryl dan istrinya Lutfinani Eka Putri, 23, baru saja menikah dua pekan lalu. Sementara tim SAR ragu dapat menemukan korban selamat dari 189 penumpang.

Seorang penumpang yang dikhawatirkan tewas dalam pesawat naas mengirimkan foto selfie kepada istrinya sebelum lepas landas.

Deryl Fida Febrianto mengirim foto tersebut pada pukul 06 pagi sesaat sebelum pesawat Lion Air JT-610, mengangkut 189 orang, lepas landas dari Jakarta dan jatuh dari ketinggian 5.000 kaki di Laut Jawa.

Pemuda berusia 22 tahun ini tampak mengenakan masker hijau seraya menatap kamera untuk selfie menjelang keberangkatan pesawat naas ke Pangkal Pinang, ibukota Provinsi Bangka Belitung.

Febrianto dan istrinya Lutfinani Eka Putri, 23, menikah dua pekan lalu dan dia sedang dalam perjalanan untuk bekerja di kapal pesiar.

Lutfinani mengatakan bahwa suaminya mengirim pesan kepadanya dari pesawat pada pukul 06.12 tetapi pada pukul 06:15 berhenti membalas pesan-pesannya.

Mereka bahagia setelah menikah, katanya kepada wartawan, menunjukkan foto bahagia mereka saat melaksanakan pernikahan.

"Ketika saya melihat berita itu, saya mencocokkan nomor penerbangan dengan foto tiket yang Deryl kirimkan," katanya. "Saya langsung menangis karena sedih."

Ledakan di Laut
Saat pesawat jatuh, seorang saksi mata menggambarkan bagaimana pesawat naas itu jatuh dari langit tanpa suara sebelum terjadi kecelakaan yang memekakkan telinga ketika menghantam permukaan laut.

Seorang nelayan, bernama Gauk mengatakan dia bisa ´merasakan ledakan di dalam laut karena kencangnya getaran di permukaan laut.´

Petugas SAR dan polisi bekerja bahu-membahu dengan perahu karet dan menyiagakan mobil ambulans yang berbaris di tepi pantai, tapi tidak ada yang bisa menjawab apakah ada korban selamat dari 189 orang di pesawat JT-610 ditemukan dalam keadaan hidup.

Yusuf Latief, juru bicara Badan SAR Nasional mengatakan kemungkinan tidak ada penumpang yang selamat. Belum dapat dipastikan penyebab kecelakaan pesawat.

Transportasi udara sangat vital di Indonesia, karena luasnya Indonesia dengan lebih dari 17.000 pulau yang membentang sekitar 5.100 km (3.170 mil) dari timur ke barat, hampir sama dengan jarak antara New York dan London. Meskipun merupakan salah satu pasar penerbangan yang tumbuh paling cepat di dunia, kerap terjadi kecelakaan pesawat terbang.

Lion Air, maskapai penerbangan bertarif murah yang mendominasi pasar perjalanan udara domestik, telah mengalami lebih dari selusin kecelakaan setelah hampir 20 tahun berdiri, tetapi tidak ada korban tewas sejak 2004.

Kapten pilot JT610 adalah Bhavye Suneja, seorang warga negara India berusia 31 tahun yang berasal dari New Delhi. Dia dan seorang penumpang Italia adalah warga negara asing yang diketahui berada di pesawat.

Menurut akun Linkedin-nya, Bhavye bekerja untuk Lion Air sejak 2011, dengan catatan 6.000 jam terbang. Di Facebook ada foto-foto dirinya dengan seragam Lion Air-nya, seraya tersenyum.

Beberapa menit setelah take-off pada pukul 06:20, Bhavye melaporkan masalah teknis dan mendapat izin dari petugas Air Traffic Control (ATC) untuk kembali Bandara Soekarno - Hatta Cengkareng seperti dilansir MailOnline.
DERYL Fida Febrianto, 22, sent selfie to his wife from inside doomed Lion Air jet. Minutes later the plane took off before plunging from 5,000ft into the Java Sea. Febrianto and wife Lutfinani Eka Putri, 23, had been married just two weeks ago. Rescuers say they do not expect to find any of the 189 people on board alive.

A passenger feared dead in the Indonesian plane disaster sent a selfie to his wife just before take-off, it has emerged.

Deryl Fida Febrianto sent the picture at 6.01am shortly before flight JT-610, carrying 189 people, set off from Jakarta and plunged 5,000ft into the Java Sea off Indonesia.

The 22-year-old is shown wearing a green mask and looking into the camera ahead of the ill-fated flight to Pangkal Pinang, an island north of the capital.

Febrianto and wife Lutfinani Eka Putri, 23, had been married just two weeks ago and he was on his way to work on a cruise ship.

Lutfinani said that her husband messaged her from the aircraft at 6.12am but by 6.15am had stopped replying to her messages.

They had grown up together, she told reporters, showing a picture of the smiling couple on their wedding day.

´When I saw the news, I matched the flight number with the ticket photo Deryl had sent,´ she said. ´I immediately started crying.´

It comes as eyewitnesses described how the stricken aircraft fell out of the sky silently before a deafening crash as it smacked into the sea.

A fisherman, named as Gauk said he could ´feel the explosion from the shockwave in the water´.

Police busied themselves with rubber dinghies and ambulances were lined up on the shoreline, but no one pretended that any of the 189 people on board flight JT610 would be found alive.

Yusuf Latief, spokesman of national search and rescue agency, said there were likely no survivors. There was no word on any probable cause for the accident.

Air travel is crucial in Indonesia, a vast archipelago of more than 17,000 islands that stretches about 5,100 km (3,170 miles) from east to west, almost the distance between New York and London. Although it is one of the world´s fastest-growing aviation markets, it has been plagued by air disasters.

Lion Air, a low-cost airline that dominates the domestic air travel market, has had more than a dozen accidents in its nearly 20-year history, but none with fatalities since 2004.

The captain of Monday´s flight JT610 from Jakarta to Pangkal Pinang, the main town on Bangka, a beach-fringed island off Sumatra, was Bhavye Suneja, a 31-year-old Indian citizen originally from New Delhi. He and an Italian passenger were the only known foreigners on board.

According to his Linkedin account, Suneja had worked for Lion Air since 2011, clocking up some 6,000 flight hours. On Facebook there are photos of him in his Lion Air uniform, smiling.

Minutes after take-off at 6.20am, Suneja reported technical difficulties and obtained permission from ground officials to turn back.