Foto Mencekam Penumpang KM Lestari Maju Bertaruh Nyawa di Perairan Selayar
Dozens of People Clinging to the Side of a Ferry as it Sinks Off the Coast of Indonesia
Editor : Ismail Gani
Translator : Novita Cahyadi

PUBLISHED: Kamis, 05 Juli 2018 , 01:46:00 WIB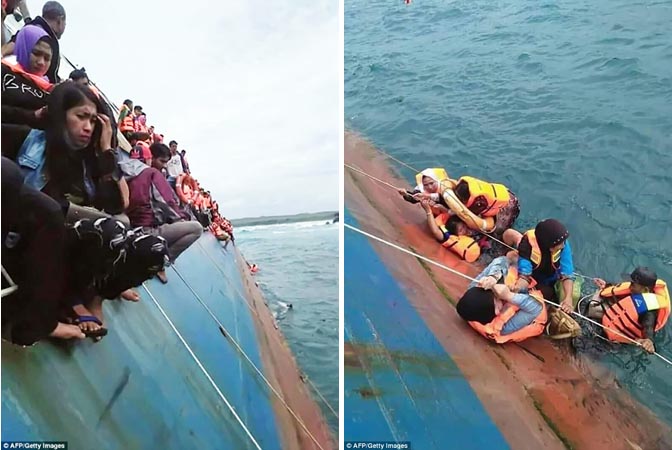 Foto2: MailOnline Australia
INI ADALAH momen dramatis ketika 29 penumpang feri tewas setelah kapal yang tumpangi kandas dan tenggelam di lepas pantai Pulau Selayar, Sulawesi Selatan.
Foto-foto mencekam ini memperlihatkan puluhan orang yang mengenakan jaket pelampung bersandar di jendela feri KM Lestari Maju setelah kapal dihantam badai.
Foto lain memperlihatkan beberapa penumpang menuruni dinding kapal dan mengambang di laut dekat Pulau Selayar di Sulawesi Selatan. Dari 139 penumpang kapal, 29 orang ditemukan tewas.
Tim penyelamat berupaya keras menyelamatkan lebih dari 60 penumpang, tetapi 41 orang masih belum ditemukan.
´Upaya pencarian masih berlangsung,´ kata Badan Penanggulangan Bencana Daerah (BPBD) Bulukumba.
´Tidak semua penumpang mendapatkan jaket pelampung [ketika kecelakaan itu terjadi]."
Nakhoda Agus Susanto mengakui kapal bocornya dan langsung mengarahkan perahu membawa 139 penumpang mengarah ke lokasi yang dinilainya dapat menyelamatkan penumpang sekitar 300 meter dari Pantai Padabilang, Kepulauan Selayar.
Beberapa orang yang selamat terdengar menangis ´Tuhan Maha Besar´, 9 News melaporkan.
Kecelakaan mematikan itu terjadi setelah pemerintah Indonesia mengakhiri pencarian lebih dari 160 orang yang masih hilang setelah kapal KM Sinar Bangun tenggelam di Danau Toba, Sumatera Utara dua pekan lalu.
Tiga orang ditemukan tewas sementara 22 orang yang diketahui selamat seperti dilansir MailOnline Australia.
THIS IS the moment 29 people lost their lives when a ferry ran aground and sank off the coast of Indonesia.
Harrowing images show dozens of passengers in life jackets clinging to the side of the KM Lestari Majuas after the ship ran into bad weather.
Others can be seen floating in the sea near Selayar island in South Sulawesi province. Of the 139 people on board the boat, 29 have now been found dead.
Rescuers raced to save more than 60 people, but 41 are still unaccounted for.
´Search efforts are still ongoing,´ BPBD Bulukumba told the Jakarta Post.
´Not all passengers could get life jackets [when the accident occurred].
Captain Agus Susanto acknowledged the leaking and then immediately directed the boat carrying 139 passengers to be about 300meters away from Padabilang Beach, Selayar Islands.
Some of the survivors were heard crying ´God is great´, 9 News reported.
The deadly accident comes as Indonesia officials called off a search for more than 160 people still missing after another ferry sank on a lake in Sumatra two weeks ago.
Three people have been found dead while there are 22 known survivors.