KM Sinar Bangun Karam, Nakhoda dan 3 Pegawai Dishbub jadi Tersangka
Indonesia Names Captain, Three Officials as Suspects in Deadly Ferry Disaster
Editor : Ismail Gani
Translator : Novita Cahyadi

PUBLISHED: Rabu, 27 Juni 2018 , 01:48:00 WIB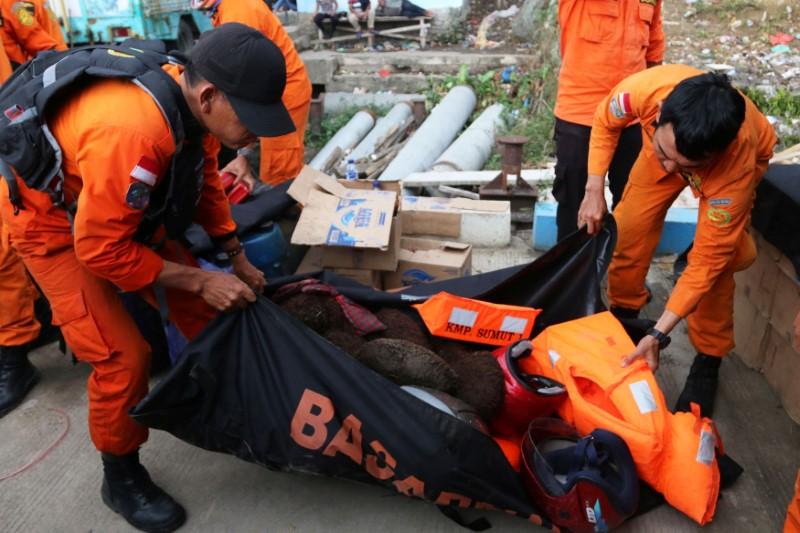 Foto: Reuters
POLDA Sumut menetapkan empat orang sebagai tersangka dalam penyelidikan atas kasus tenggelamnya kapal yang kelebihan muatan di Danau Toba yang diyakini mengakibatkan 200 orang tewas.
Kapal tenggelam akibat cuaca buruk di Danau Toba di Sumatra Utara pekan lalu, mengakibatkan tiga korban tewas dan hampir 200 orang hilang, sebagai salah satu bencana kapal feri paling mematikan di Indonesia dalam hampir satu dekade.
Kapolda Sumatera Utara Irjen Paulus Waterpau mengonfirmasi kepada Reuters bahwa kapten kapal dan tiga pegawai dinas perhubungan setempat sedang diselidiki karena patut diduga melanggar UU tentang layanan pelayaran.
"Modus mereka adalah untuk mendapatkan keuntungan sebanyak mungkin dengan mengangkut penumpang melebihi kapasitas kapal," katanya.
Dia menambahkan kapal, KM Sinar Bangun, tidak memiliki izin berlayar, tidak layak berlayar, dan tidak memenuhi standar keselamatan.
Kapal diperkirakan mengangkut penumpang hampir lima kali dari kapasitas yang dirancang untuk manusia dan puluhan sepeda motor. Delapan belas orang, termasuk kapten, selamat dari kecelakaan itu.
Para tersangka terancam hukuman penjara hingga 10 tahun dan denda 1,5 miliar rupiah.
Tim Badan SAR Nasional (Basarnas) mengerahkan drone bawah laut pada akhir pekan memperkirakan lokasi feri yang tenggelam berada pada kedalaman sekitar 450m.
Sebagian besar korban diyakini terperangkap di dalam. Pihak berwenang belum memutuskan apakah akan menaikkan kapal, karena penyelam tidak akan bisa turun ke kedalaman seperti itu, kata para pejabat yang berwenang seperti dilansir MailOnline.
INDONESIAN police have named four people as suspects in a criminal probe into the sinking of an overloaded ferry on a volcanic lake in which it is believed some 200 people died.
The vessel sank in rough weather on Lake Toba on Sumatra island last week, leaving three confirmed dead and nearly 200 missing, in one of Indonesia´s deadliest ferry disasters in nearly a decade.
North Sumatra police chief Paulus Waterpauw confirmed to Reuters the vessel´s captain and three port and transportation officials were being investigated for violating laws on shipping services.
"Their method was to make as much profit as possible by stuffing the vessel beyond capacity," he said, according to media.
He added the ferry, called Sinar Bangun, did not have a sailing permit, was not seaworthy, and did not fulfill safety standards.
The ferry may have been carrying nearly five times the number of passengers it was designed for and dozens of motorcycles. Eighteen people, including the captain, survived the accident.
If prosecuted the suspects face up to 10 years in prison and a 1.5 billion rupiah ($105,000) fine.
Recovery teams using underwater drones on the weekend estimated the location of the sunken ferry at a depth of around 450m (1,476 feet).
Most victims are believed to be trapped inside. Authorities have yet to decided whether to raise the boat, as divers will not be able to descending to such depths, officials said.