Penumpang Lion Air Pontang-panting oleh Isu Bom Disorot Dunia
Panic Broke Out on Lion Air Boeing 737 when a Man said a Bomb was on Board
Editor : Ismail Gani
Translator : Novita Cahyadi

PUBLISHED: Rabu, 30 Mei 2018 , 02:07:00 WIB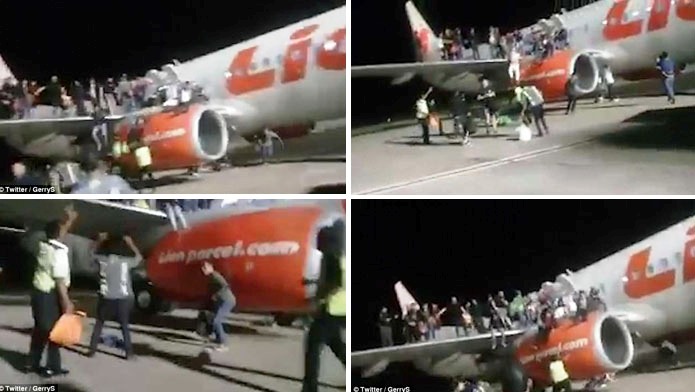 Foto2: MailOnline
PENUMPANG pesawat Lion Air di bandara Supadio, Pontianak lari pontang-panting menyelamatkan diri, dengan memecahkan kaca jendela dan menjebol pintu darurat untuk melarikan diri di tengah-tengah ancaman bom.
Sedikitnya sepuluh orang terluka - sebagian besar karena patah tulang dan luka di kepala - di tengah kekacauan ketika pesawat sedang bersiap lepas landas dari bandara Supadio di kota Pontianak, Kalimantan Barat.
Rekaman video yang dilansir MailOnline memperlihatkan puluhan penumpang berdiri di sayap kanan pesawat saat kepanikan terjadi pada Lion Air Boeing 737, yang akan mengangkut 189 penumpang ke Jakarta pada Senin malam.
Kepanikan terjadi setelah para penumpang mendengar pernyataan seorang pria berusia 26 tahun, Frantinus Nirigi, mengatakan kepada seorang pramugari bahwa ada sebuah bom di pesawat itu, kata Kabid Humas Polda Kalbar, AKBP Nanang Purnomo. Sementara hasil investigasi dan pemeriksaan di pesawat tidak ditemukan adanya bahan peledak atau bom.
Setelah Nirigi menyatakan ada bom, para penumpang langsung menjebol pintu darurat, dan berupaya menyelamatkan diri keluar dari pesawat, kata Purnomo. Penumpang yang memicu kepanikan dan Nirigi sudah diamankan polisi.
Video yang diposting online menunjukkan lusinan orang berdiri di sayap kanan pesawat. Beberapa meluncur di mesin kanan dan mendarat di landasan.
Purnomo mengatakan delapan penumpang dirawat di rumah sakit dengan tulang patah dan luka kepala, sementara dua lainnya mengalami luka ringan. Polisi tidak memberikan rincian tentang bagaimana para penumpang terluka.
Dalam video yang diambil oleh penumpang dan diposting online, seorang pramugari diidentifikasi hanya karena Cindy mengatakan kepada pihak berwenang bandara bahwa penumpang saling mendorong setelah kapten meminta mereka untuk segera meninggalkan pesawat.
"Saya meminta penumpang untuk segera meninggalkan pesawat dengan tenang dan teratur, tetapi sebaliknya mereka mendorong satu sama lain dan bergegas keluar dari pesawat," katanya.
Juru bicara maskapai penerbangan Lion, Danang Mandala mengatakan dalam sebuah pernyataan bahwa penerbangan satu jam itu tertunda karena penumpang yang panik membuka kedua pintu keluar darurat di sisi kanan pesawat tanpa instruksi dari awak kabin.
Dia mengatakan ´lelucon bom´ bukanlah alasan yang sah bagi seseorang untuk memaksa membuka pintu keluar darurat tanpa instruksi awak kabin.
Tidak ada barang yang mencurigakan ditemukan setelah pemeriksaan menyeluruh pesawat oleh polisi dan petugas keamanan di bandara Supadio di kota Pontianak. Pesawat akhirnya bertolak ke Jakarta, setelah tertunda tiga jam, kata Lukman Nurjaman, manajer distrik Lion Air di Pontianak.
Isu bom ini tergolong jarang terjadi di pesawat komersial Indonesia. Pada Minggu, Lion Air memindahkan seorang penumpang berusia 25 tahun dari sebuah pesawat yang bertolak dari Jakarta menuju Malaysia setelah dia bergurau tentang adanya bom di pesawat. Maskapai nasional Garuda menunda penerbangan pada Maret setelah penumpang mengklaim bahwa dia membawa bom.
Karo Penmas Divisi Humas Polri, Brigjen Muhammad Iqbal mengatakan dua orang yang dtangkap dalam insiden Senin diancam hukuman delapan tahun penjara, seperti dilansir MailOnline.
THIS IS the moment terrified plane passengers tumbled from the wing of their aircraft after breaking an emergency window to escape amid an on board bomb scare in Indonesia.
At least ten people were injured - most with broken bones and head wounds - amid chaos as the plane was preparing to take off from Supadio airport in Pontianak city West Kalimantan.
Footage shows dozens standing on the right wing as panic broke out on the Lion Air Boeing 737, which was due to carry 189 passengers to Jakarta on Monday night.
Passengers had overheard a 26-year-old man, Frantinus Nirigi, telling a flight attendant there was a bomb on the flight, said West Kalimantan police spokesman Nanang Purnomo. An eventual inspection of the plane found no explosives.
After Nirigi made the bomb claim, another passenger broke open the emergency exits, enabling panicked passengers to flee the aircraft, Purnomo said. That passenger and Nirigi were both arrested.
Video posted online showed dozens of people standing on the plane´s right wing. Some slid down the right engine and landed on the tarmac.
Purnomo said eight passengers were hospitalized with broken bones and head wounds, while two others had minor injuries. Police did not provide details on how the passengers were injured.
In video taken by a passenger and posted online, a flight attendant identified only as Cindy told the airport authorities that passengers were pushing each other after the captain asked them to leave the plane immediately.
´I asked passengers to immediately leave the plane calmly and orderly, but instead they pushed each other and scrambled out of the plane,´ she said.
Airline spokesman Danang Mandala said in a statement that the one-hour flight was delayed because a panicked passenger opened both emergency exits on the right side of the aircraft without instructions from the cabin crew.
He said a ´bomb joke´ was not a valid reason for someone to force open an emergency exit without the crew´s instructions.
No suspicious items were found after a thorough inspection of the plane by police and security personnel at Supadio airport in Pontianak city. The flight departed for Jakarta, Indonesia´s capital, after a three-hour delay, said Lukman Nurjaman, Lion Air´s district manager in Pontianak.
The incident is the latest bomb hoax on flights in Indonesia. On Sunday, Lion Air removed a 25-year-old passenger from a flight departing from Jakarta bound for Malaysia after he joked about the presence of a bomb on board. Indonesian flag carrier Garuda delayed a flight in March after a passenger claimed he was carrying a bomb.
National police spokesman Muhammad Iqbal said the two men arrested in Monday´s incident face up to eight years in prison.