Fortuga dan ADPII Gelar `Waste Wise Design Competition 2018`
Indonesian`s ITB Alumni Held Waste Wise Design Competition 2018
Reporter : Gusmiati Waris
Editor : Cahyani Harzi
Translator : Dhelia Gani

PUBLISHED: Sabtu, 12 Mei 2018 , 02:16:00 WIB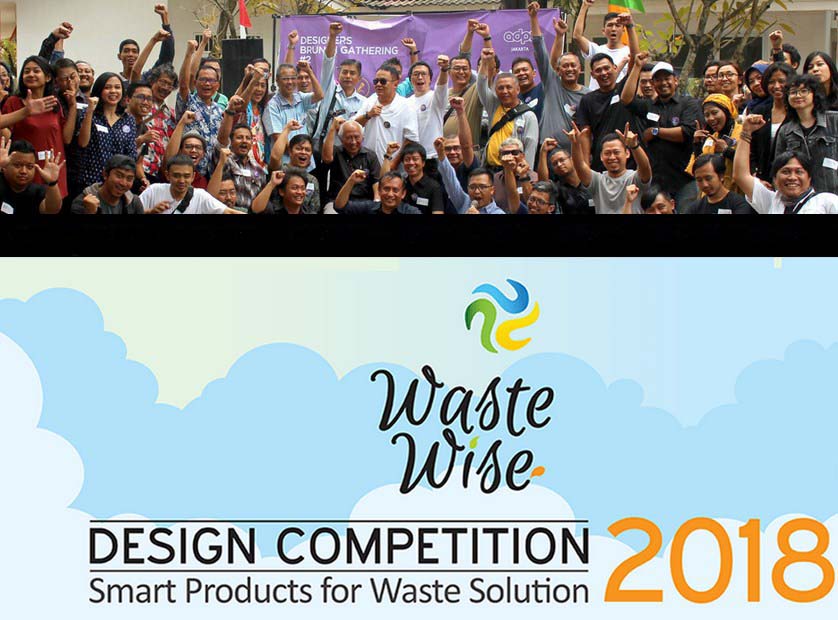 Foto: istimewa
Jakarta (B2B) - Forum Alumni ITB Angkatan 1973 (Fortuga) mencanangkan gerakan ´Fortuga Peduli Sampah´ untuk mendukung program Indonesia Bebas Sampah 2020, menggandeng dan Aliansi Desain Produk Industri Indonesia (ADPII) untuk pertama kalinya menggelar kompetisi desain produk yang dinamai Waste Wise Design Competition 2018 yang didukung Greenation Indonesia.

Ketua penyelenggara Waste Wise Design Competition 2018, Arie Bastaman mengatakan kompetisi desain merupakan upaya Fortuga dan ADPII mendukung terciptanya solusi desain produk yang edukatif, inovatif, kreatif, dan aplikatif terkait permasalahan sampah dalam lingkup rumah tangga dan lingkungan perumahan perkotaan.

"Maksimum dalam kurun lima tahun ke depan dan mendorong sistem tata kelola sampah rumah tangga menjadi lebih baik, lebih efektif dan efisien serta ramah manusia dan lingkungan," kata Arie Bastaman kepada pers di Jakarta, Jumat (11/5).

Kegiatan dimulai sejak kemarin dengan talkshow seminar di Indonesia Design Development Center dilanjutkan dengan seminar roadshow di beberapa kampus Desain Produk di Indonesia.

"Para peserta akan memperebutkan hadiah senilai Rp75 juta, termasuk pajak hadiah, berupa empat hadiah utama dan dukungan sebagian biaya pembuatan mockup atau properti, setelah melalui dua tahap seleksi, keempat pemenang akan diumumkan pada Fortuga Day di Bandung yang dijadwalkan pada 22 September 2018," kata Chairman ADPII, Dino Fabriant kepada pers di tempat yang sama.

Menurutnya seleksi tahap dua, batas waktu 21 September 2018 adalah seleksi untuk lima peserta yang terpilih sebagai finalis, yang diminta melakukan presentasi dan menunjukkan mockup atau prototipe sebagai evaluasi akhir penjurian.

"Penyelenggara Waste Wise Design Competition 2018 akan memberi dukungan sebagian biaya pembuatan mockup kepada lima finalis maksimum Rp5 juta per orang," katanya.
Jakarta (B2B) - Forum Alumni Bandung Institute of Technology of 1973 or Fortuga proclaimed ´Fortuga care garbage´ to support the Indonesia free of waste 2020 program with the Indonesian Industrial Design Products Alliance or ADPII for the first time held a product design competition called Waste Wise Design Competition 2018 supported by Greenation Indonesia.

Committee Chairman Arie Bastaman said the design competition by Fortuga and ADPII for support creation of innovative, innovative, creative, and applicable product design solutions related to garbage issues in household and urban housing environments.

"Maximum over the next five years, and strive to promote a better, more effective, efficient, human-friendly and environmental waste management system," Mr Bastaman told reporters here on Friday (May 11).

The activity started since yesterday with seminar talkshow in Indonesia Design Development Center followed by roadshow seminar in several campus of Product Design in Indonesia.

"Participants will compete for prizes of 75 million rupiah, including prize taxes, four main prizes and some support for mockup or property expenses, after two stages of selection, the four winners will be announced at Fortuga Day in Bandung scheduled for September 22, 2018," ADPII Chairman Dino Fabriant told reporters here.

According to him, the second stage selection, the deadline of September 21, 2018 is a selection for five participants who were selected as finalists, who was asked to make a presentation and show the mockup as the final evaluation of the jury.

"The organizers will give some support to the cost of making the mockup to five finalists maximum of 5 million rupiah per person," he said.