Indo Pet Expo 2016 Digelar pada 23-25 September 2016 di ICE BSD City
Indonesia`s 2nd International Pet Show will be Held 23 to 25 September 2016 at the ICE BSD City
Reporter : Gusmiati Waris
Editor : Cahyani Harzi
Translator : Dhelia Gani

PUBLISHED: Rabu, 06 April 2016 , 02:20:00 WIB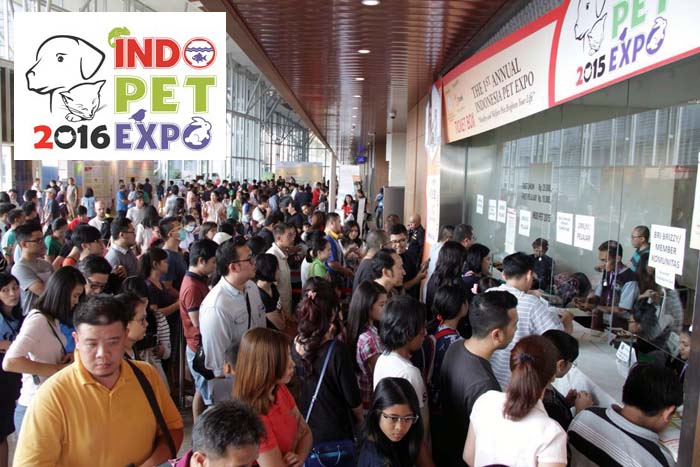 Sambutan masyarakat sangat antusias pada 1st Indo Pet Expo 2015, dan tercatat pengunjung pameran lebih 16.000 orang atau 125% dari target yang ditetapkan (Foto2: istimewa)
Jakarta (B2B) - Menyusul sukses pameran pakan hewan peliharaan, 1st Indo Pet Expo 2015 yang berhasil menjaring 16.000 pengunjung, Perhimpunan Dokter Hewan Indonesia (PDHI) dan Temali akan menggelar 2nd Indonesia Pet Expo 2016 di Indonesia Convention Exhibition (ICE) BSD City, Tangerang Selatan, Banten pada 23 - 25 September 2016 dengan target 25.000 pengunjung.

Direktur PT Temali Indonesia, Didit Siswodwiatmoko mengatakan The 1st Indo Pet Expo 2015, berhasil diselenggarakan dengan sukses. Sambutan masyarakat sangat antusias, dan tercatat pengunjung pameran di atas 16.000 orang atau 125% dari target yang ditetapkan.

"Indo Pet Expo 2016 memberikan kesempatan pertukaran informasi antara pecinta hewan peliharaan, membuka kesempatan pengusaha atau pebisnis menampilkan produk dan memperkenalkan produknya terhadap para pecinta hewan peliharaan dan memberi akses lansung pengusaha kepada puluhan ribu pelanggan potensial," kata Didit melalui pernyataan tertulis pada Selasa (5/4).

Menurutnya, kegiatan ekspo akan menggelar sejumlah agenda acara seperti awareness &educational talkshow, scientific conference, pet show & contest dan atraksi aneka hewan koleksi komunitas pencinta hewan.

Didit menambahkan, meningkatnya pendapatan masyarakat memicu lahirnya komunitas-komunitas pecinta hewan peliharaan sebagai bagian dari gaya hidup masyarakat Indonesia. khususnya pada masyarakat kelas menengah. Mengacu pada pertumbuhan ekonomi Indonesia terus melaju yang ditandai dengan menguatnya pendapatan per kapita masyarakat dari US$3.181 pada 2010 menjadi US$3.533 pada 2014.

"Komunitas-komunitas pecinta hewan peliharaan sebagai hobi, sebagai hewan pendamping serta untuk tujuan bisnis tumbuh dan tersebar di berbagai tempat," kata Didit.

Pangsa Pasar Indonesia
Indonesia menjadi salah satu negara dengan jumlah hewan peliharaan yang cukup tinggi. Pangsa pasar hewan peliharaan di Indonesia mencapai 15,6% di Asia Tenggara. Meningkatnya jumlah hewan peliharaan ini mendorong pengembangan layanan profesional, meningkatnya permintaan kebutuhan hewan peliharaan serta industri dan bisnis yang terkait di dalamnya.

"Indonesia dinilai sebagai pasar potensial terhadap pertumbuhan sektor hewan peliharaan. Pertumbuhan hewan peliharaan di Indonesia diperkirakan akan mencapai 7,1% hingga 2020," kata Didit.

Menurutnya, meningkatnya geliat bisnis di sektor ini ditandai meningkatnya pangsa pasar pakan hewan peliharaan berdasarkan jenisnya: makanan anjing 51,8%, makanan kucing 20,2%, produk terkait hewan peliharaan 16,9% dan produk lainnya 11,1%.

"Produk internasional menguasai pangsa pasar makanan hewan peliharaan hingga 95% sedangkan produk lokal hanya 5%. Ini peluang besar hadirnya industri makanan hewan peliharaan dalam negeri," kata Didit.
Jakarta (B2B) - Following the success of the first Indo Pet Expo, which was visited by 16,000 visitors, the Indonesian Veterinary Medical Association (PDHI) and Temali will hold the Indonesia´s 2nd International Pet Expo in Indonesia Convention Exhibition (ICE) BSD City of Tangerang South district, Banten province on 23 to 25 September 2016 are targeting 25,000 visitors.

Direktur of Temali Indonesia Corp Didit Siswodwiatmoko said the 1st Indo Pet Expo 2015 was a success with 16,000 visitors or 125% of the target set by the organizers.

The 2016 Indo Pet Expo as Indonesia's 2nd International Pet Show will hold a number of activities such as wareness and educational talkshow, scientific conference, pet show and contest, various attractions of pets by animal-loving community.

Mr. Siswodwiatmoko added, the increase in income of the Indonesian encourage pet lovers community presence, which became part of the lifestyle of the urban community. especially in middle-class society. Refers to the economic growth in Indonesia marked by an increase per capita income from US$3,181 in 2010 to US$3,533 in 2014.

"Communities pet lovers either as a hobby, as companion animals, and for business purposes," Mr. Siswodwiatmoko said.

Indonesia Market Share
Indonesia became one of the countries with the number of pets is quite high. Pet market share in Indonesia reached 15.6% in Southeast Asia. The increasing number of pet encourages the development of professional services, increased demand for pet supplies, industrial and business-related in it.

"Indonesia is considered as a potential market to the growth of the pet sector. Growth of pets in Indonesia is expected to reach 7.1% by 2020," Mr. Siswodwiatmoko said.

According to him, the growth of its business marked by increasing market share by type of feed pets: dog food 51.8%, 20.2% of cat food, pet related products 16.9% and other products 11.1%.

"International products dominate the market up to 95% but only 5% of local products. It´s a big chance for the pet food industry in the country," he said.