4 Prajurit TNI AD Gugur dalam Insiden Heli Jatuh di Kendal
Four Soldiers Killed in Helicopter Crash in Indonesia
Editor : Ismail Gani
Translator : Novita Cahyadi

PUBLISHED: Minggu, 07 Juni 2020 , 00:30:00 WIB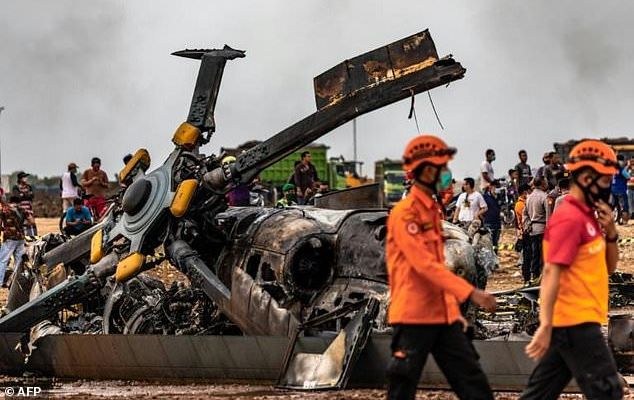 KONDISI BAIK: Brigjen TNI Nerfra Firdaus mengatakan bahwa sebelum kecelakaan, helikopter telah menjalani pemeriksaan pra-penerbangan dan ditemukan dalam kondisi baik [Foto: AFP/MailOnline]
EMPAT prajurit TNI AD tewas dan lima lainnya cedera setelah sebuah helikopter jatuh di Kawasan Industri Kendal [KIK] pada Sabtu [6/6] saat helikopter naas MI-17 melaksanakan misi latihan terbang.
Para prajurit tersebut tengah menjalani program pendidikan calon perwira penerbang ketika helikopter MI-17 dari Pusat Penerbangan TNI AD [Penerbad] jatuh dan terbakar di provinsi Jawa Tengah.
"Insiden itu menewaskan empat anggota awak dan melukai lima lainnya," kata Kepala Dinas Penerangan TNI AD [Kadispenad] Brigjen TNI Nefra Firdaus dalam keterangannya, Sabtu [6/6].
Prajurit yang terluka dievakuasi dan dibawa ke rumah sakit.
Brigjen TNI Nerfra Firdaus mengatakan bahwa sebelum kecelakaan, helikopter telah menjalani pemeriksaan pra-penerbangan dan ditemukan dalam kondisi baik.
Penyebab kecelakaan masih dalam penyelidikan seperti dikutip AFP yang dilansir MailOnline.
FOUR SOLDIERS were killed and five others were injured after a helicopter crashed during a training exercise on Indonesia's Java island on Saturday, an army official said.
The men were in the middle of a flying lesson when the MI-17 helicopter crashed and caught fire in central Java province.
"The incident killed four crew members and injured five others," said Nefra Firdaus, Indonesian Army spokesman, in a statement.
The injured were evacuated and taken to hospital.
Firdaus said that prior to the accident the helicopter had undergone a pre-flight check and was found to be in good condition.
The cause of the accident is still under investigation.