Ekspor CPO Terancam, Prancis Bertekad Stop Impor Minyak Sawit Indonesia
France Seeks Freeze on Palm Oil Use, Imports
Editor : Ismail Gani
Translator : Novita Cahyadi

PUBLISHED: Selasa, 12 Juni 2018 , 03:27:00 WIB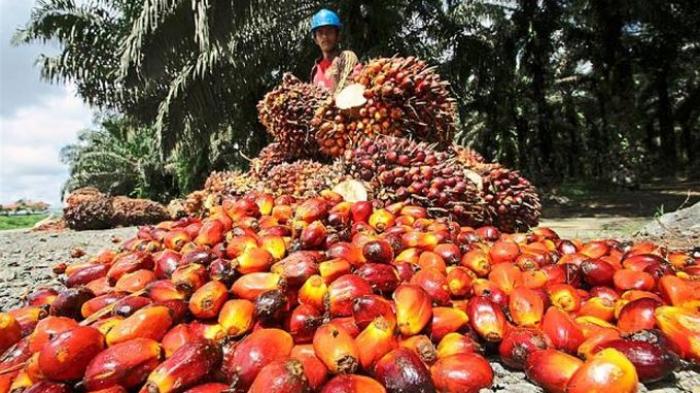 Foto: istimewa
PRANCIS bertekad membatasi dan secara bertahap akan memangkas impor minyak sawit (CPO) dan akan mengusulkan kebijakan serupa di seluruh Eropa, kata seorang menteri muda pada Senin, menyusul aksi petani Prancis memblokir kilang minyak di seluruh negara tersebut sebagai protes terhadap penggunaan minyak nabati sebagai bahan bakar.
"Kami akan berkomitmen pada level Uni Eropa untuk membatasi, untuk membekukan ... berdasarkan total volume 2017, volume minyak impor (sawit) untuk menguranginya secara bertahap di tahun-tahun mendatang," kata Menteri ekologi junior Prancis Sebastien Lecornu di Eropa 1 radio.
Kebijakan tersebut bertujuan untuk mengurangi penggunaan minyak sawit yang dituding mengakibatkan penggundulan hutan di Asia Tenggara, katanya.
Petani Prancis memblokir akses ke depo minyak dan setidaknya tiga tempat penyulingan minyak ditutup dengan ribuan ton bawang, kayu dan puing pada Senin sebagai bagian dari protes tiga hari atas rencana untuk memungkinkan Total menggunakan minyak sawit di pabrik biofuel.
Secara terpisah, menteri muda Brune Poirson, yang melapor kepada menteri lingkungan Nicolas Hulot, mengatakan di Twitter bahwa "Prancis ingin menghentikan peningkatan penggunaan dari tahun ke tahun" untuk minyak sawit dan minyak kedelai.
Brune ada di Luksemburg tempat para menteri energi Eropa bertemu untuk membahas kebijakan energi dan iklim dari kawasan Eropa.
Kemudian akan merevisi kebijakan tersebut tergantung pada kondisi hutan dan mengembangkan strategi untuk melawan deforestasi, tulisnya, tanpa memberikan rincian lebih lanjut.
Hulot mengatakan tahun lalu Prancis akan mengambil langkah-langkah untuk membatasi penggunaan minyak sawit dalam memproduksi bahan bakar nabati untuk mengurangi deforestasi di negara-negara asal, tanpa merinci langkah-langkahnya.
Petani kecil di Malaysia, produsen minyak sawit terbesar kedua di dunia setelah Indonesia, mengatakan langkah untuk membatasi ekspor minyak sawit pada tingkat Uni Eropa akan bersifat diskriminatif dan "pengkhianatan".
"Proposal ini adalah pengkhianatan terhadap janji yang dibuat oleh Pemerintah Perancis, dan lainnya di Eropa, kepada rakyat Malaysia," kata mereka dalam sebuah pernyataan yang dikirim oleh kelompok lobi Faces Palm Oil.
"Janji-janji itu harus dihormati. Upaya untuk menyamarkan diskriminasi ini di belakang perhitungan teknis adalah tipu daya."
Menteri Pertahanan Prancis Florence Parly mengatakan dalam komentar yang dilaporkan dalam pers Malaysia pada Januari bahwa Malaysia dapat "bergantung pada Prancis" untuk mendukung larangan yang diajukan seperti dikutip Reuters yang dilansir MailOnline.
FRANCE WANTS to cap and progressively cut palm oil imports and will propose to do so at a European level, a junior minister said on Monday, as farmers block refineries across the country in protest against use of the vegetable oil in biofuels.
"We will commit at EU level to cap, to freeze ... based on the total 2017 volumes, the volume of imported (palm) oil to reduce it gradually in the coming years," French junior ecology minister Sebastien Lecornu said on Europe 1 radio.
The move is aimed at reducing the use of palm oil blamed for causing deforestation in southeast Asia, he said.
French farmers were blocking access to oil depots and at least three refineries using tonnes of onions, wood and rubble on Monday as part of a three-day protest over plans to allow Total to use palm oil at a biofuel plant.
Separately, junior minister Brune Poirson, who reports to environment minister Nicolas Hulot, said on Twitter that "France wants to stop the rise in use from one year to the other" for both palm oil and soybean oil.
Brune is in Luxembourg where European energy ministers are meeting to discuss the bloc´s energy and climate goals.
It would then revise that cap depending on the conditions of forests and develop a strategy to fight deforestation, she wrote, without giving further details.
Hulot had said last year France would take steps to restrict the use of palm oil in producing biofuels in order to reduce deforestation in the countries of origin, without detailing the measures.
Small farmers in Malaysia, the world´s second largest palm oil producer after Indonesia, said a move to cap palm oil exports at an EU level would be discriminatory and a "betrayal".
"This proposal is a betrayal of promises made by the French Government, and others in Europe, to the people of Malaysia," they said in a statement sent by Faces of Palm Oil lobby group.
"Those promises must be honoured. Attempts to camouflage this discrimination behind technical calculations are deceitful."
French Defence Minister Florence Parly said in comments reported in the Malaysian press in January that Malaysia could "rely on France" for support against the proposed ban.