Kotak Hitam Sriwijaya Air SJ182 Ditemukan Penyelam TNI AL
Indonesia Navy Divers Hunt for Crashed Plane`s Black Boxes
Editor : M. Achsan Atjo
Translator : Dhelia Gani

PUBLISHED: Rabu, 13 Januari 2021 , 00:58:00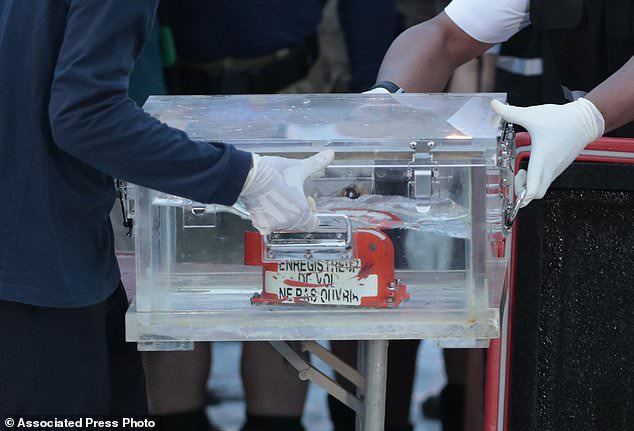 PEREKAM DATA: Kotak hitam ini terbenam di lumpur dasar laut di bawah berton-ton benda tajam dari reruntuhan pesawat Sriwijaya Air SJ182 [Foto: Associated Press/MailOnline]
PENYELAM TNI AL menemukan perekam data penerbangan [the flight data recorder] dari pesawat jet Sriwijaya Air SJ182 bersama 62 penumpang di dalamnya yang jatuh ke kawasan Kepulauan Seribu di Laut Jawa.
Perangkat tersebut diharapkan dapat membantu penyelidik untuk menentukan apa yang menyebabkan Boeing 737-500 menukik ke laut di tengah hujan deras tak lama setelah lepas landas dari Bandara Soekarno - Hatta Jakarta, Sabtu [9/1].
Pesawat jet berusia 26 tahun itu diparkir selama hampir sembilan bulan karena pengurangan penerbangan yang disebabkan oleh pandemi Covid-19, dan kembali melayani penerbangan komersial sejak bulan lalu.
Stasiun TV menampilkan penyelam di atas speedboad mengangkut wadah putih besar berisi perekam data penerbangan menuju Posko di JICT Jakarta.
Panglima TNI Marsekal TNI Hadi Tjahjanto mengatakan "kotak hitam" [black box], perekam suara kokpit, kemungkinan akan segera ditemukan karena suar dipancarkan di area yang sama.
Kotak hitam terbenam di lumpur dasar laut di bawah berton-ton benda tajam dari reruntuhan pesawat, kata Kepala Staf TNI AL [Kasal] Laksamana Yudo Margono. Dia mengatakan setidaknya 160 penyelam dikerahkan dalam pencarian pada Selasa.
Lebih dari 3.600 personel penyelamat, 13 helikopter, 54 kapal besar dan 20 kapal kecil mendukung pencarian di utara Jakarta, lokasi jatuhnya Sriwijaya Air SJ182 jatuh dan telah menemukan bagian-bagian dari pesawat dan potongan tubuh dari jasad korban pada kedalaman 23 meter di bawah permukaan laut.
Sejauh ini, para pencari telah mengirimkan 74 kantong berisi jenazah kepada para ahli identifikasi polisi yang pada Senin mengatakan telah mengidentifikasi korban pertama, awak kabin berusia 29 tahun, Okky Bisma.
Istrinya, Aldha Refa, yang juga pramugari Sriwijaya Air, berbagi kesedihannya melalui serangkaian unggahan di media sosial.
"Suamiku adalah pria yang penyayang, saleh, dan sangat baik," tulisnya di Instagram. "Surga adalah tempatmu, sayang ... damai di sana."
Anggota keluarga korban telah memberikan sampel untuk tes DNA kepada unit identifikasi korban bencana Kepolisian RI [Inafis Polri] yang menyatakan telah mengidentifikasi tiga korban lagi, termasuk co-pilot.
Ketua Komite Nasional Keselamatan Transportasi [KNKT] Soerjanto Tjahjono mengesampingkan pesawat pecah di udara setelah melihat kondisi bangkai pesawat yang ditemukan oleh tim pencari. Dia mengatakan jet itu utuh sebelum menghantam laut, mengacu pada puing-puing, dan sebarannya tidak luas ketimbang apabila pecah sebelum jatuh di laut.
Tjahjono mengatakan pesawat terus mengirimkan data ketinggian hingga turun ke 75 meter di atas permukaan laut seperti dikutip Associated Press yang dilansir MailOnline.
INDONESIAN navy divers searching the ocean floor on Tuesday recovered the flight data recorder from a Sriwijaya Air jet that crashed into the Java Sea with 62 people on board.
The device is expected to help investigators determine what caused the Boeing 737-500 to nosedive into the ocean in heavy rain shortly after taking off from Jakarta on Saturday.
The 26-year-old jet had been out of service for almost nine months because of flight cutbacks caused by the coronavirus pandemic, officials said. It resumed commercial flights last month.
TV stations showed divers on an inflatable raft with a large white container containing the flight data recorder heading to a Jakarta port.
Military chief Air Chief Marshal Hadi Tjahjanto said the plane´s other "black box," the cockpit voice recorder, was likely to be found soon because its beacon was being emitted in the same area.
The devices were buried in seabed mud under tons of sharp objects in the plane´s wreckage, navy Chief Adm. Yudo Margono said. He said at least 160 divers were deployed Tuesday in the search.
More than 3,600 rescue personnel, 13 helicopters, 54 large ships and 20 small boats are searching the area just north of Jakarta where Flight 182 crashed and have found parts of the plane and human remains in the water at a depth of 23 meters (75 feet).
So far, the searchers have sent 74 body bags containing human remains to police identification experts who on Monday said they had identified their first victim, 29-year-old flight attendant Okky Bisma.
His wife, Aldha Refa, who is also a flight attendant for Sriwijaya Air, shared her grief in a series of posts on social media.
"My husband is a loving, devout and super kind man," she wrote on Instagram. "Heaven is your place, dear ... be peaceful there."
Anguished family members have been providing samples for DNA tests, and the National Police disaster victim identification unit said it has identified three more victims, including the co-pilot.
The chairman of Indonesia´s National Transportation Safety Committee, Soerjanto Tjahjono, ruled out a possible midair breakup after seeing the condition of the wreckage found by searchers. He said the jet was intact until it struck the water, concentrating the debris field, rather than spreading it out over a large area as would be seen with a midair event.
Tjahjono said the plane continued to send altitude data until it descended to 250 feet (75 meters) above the water´s surface.