Penyelam TNI AL Berjibaku Cari Kotak Hitam Sriwijaya Air SJ182
Indonesia Navy Divers Hunt for Crashed Plane`s Black Boxes
Editor : Ismail Gani
Translator : Novita Cahyadi

PUBLISHED: Selasa, 12 Januari 2021 , 00:59:00 WIB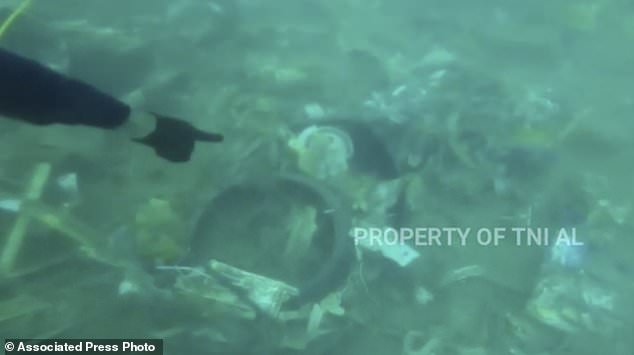 BAWAH LAUT: Rekaman televisi menunjukkan roda pendaratan, roda dan mesin jet di antara bagian-bagian yang ditemukan, sementara penyelamat lainnya membawa beberapa kantong jenazah [Foto: Associated Press/MailOnline]
PENYELAM TNI AL menjelajahi dasar Laut Jawa pada Senin [11/1] untuk mencari Kotak Hitam [Black Box] pesawat naas Sriwijaya Air SJ182 yang jatuh di kawasan Kepulauan Seribu bersama 62 penumpang dan awak pesawat.
Pesawat jet Boeing 737-500 hilang kontak beberapa menit setelah lepas landas dari Bandara Soekarno - Hatta, Cengkareng Banten saat hujan deras pada Sabtu, dan pencarian sejauh ini telah menemukan bagian-bagian pesawat dan serpihan jenazah korban yang memperkirakan tidak ada tanda-tanda penumpang selamat.
Otoritas Indonesia mengatakan sinyal dari kotak yang berisi perekam suara kokpit dan data penerbangan terdeteksi antara Pulau Lancang dan Pulau Laki di kawasan Pulau Seribu di utara Jakarta. Lokasi dimana suara itu dipancarkan dari Kotak Hitam, yang terlepas dari ekor pesawat ketika jatuh ke laut.
Perekam suara kokpit menyimpan percakapan antara pilot, dan perekam data melacak informasi elektronik seperti kecepatan udara, ketinggian, dan percepatan vertikal. Saat ditemukan, mereka akan diangkut ke pelabuhan dan diserahkan ke Komite Nasional Keselamatan Transportasi [KNKT].
Lebih dari selusin helikopter, 53 kapal TNI AL dan 20 speedboat, dan 2.600 personel penyelamat dikerahkan untuk melakukan pencarian sejak Minggu dan telah menemukan bagian-bagian pesawat di dalam air pada kedalaman 23 meter, di bawah koordinasi tim SAR.
Kepala Badan Search and Rescue Nasional [Basarnas] Marsekal Madya TNI Bagus Puruhito mengatakan penyelam yang menggunakan peralatan "ping locator" berteknologi tinggi sedang mencari target yang teridentifikasi di bawah lumpur dasar laut 20 meter.
Rekaman televisi menunjukkan roda pendaratan, roda dan mesin jet di antara bagian-bagian yang ditemukan, sementara penyelamat lainnya membawa beberapa kantong jenazah berisi jenazah ke rumah sakit polisi di Jakarta Timur untuk proses identifikasi.
Para pencari telah mengirimkan 17 kantong jenazah yang berisi jasad manusia kepada para ahli identifikasi polisi yang pada Senin mengatakan mereka telah mengidentifikasi korban pertama mereka, seorang pria berusia 29 tahun, Okky Bisma, seorang awak kabin seperti dikutip Associated Press yang dilansir MailOnline.
INDONESIAN navy divers scoured the floor of the Java Sea on Monday as they hunted for the black boxes of a Sriwijaya Air jet that nosedived into the water over the weekend with 62 people aboard.
The Boeing 737-500 jet disappeared minutes after taking off from Jakarta, Indonesia´s capital, during heavy rain on Saturday, and the search so far has yielded plane parts and human remains but no sign of survivors.
Authorities have said signals from the boxes containing the cockpit voice and flight data recorders were detected between Lancang and Laki islands in the Thousand Island chain just north of Jakarta. Officials said they have marked a location where the sounds were being emitted from the black boxes, which detached from the tail of the aircraft when it plummeted into the sea.
The cockpit voice recorder holds conversations between pilots, and the data recorder tracks electronic information such as airspeed, altitude and vertical acceleration. When found, they will be transported to port and handed to the National Transportation Safety Committee overseeing the crash investigation.
More than a dozen helicopters, 53 navy ships and 20 boats, and 2,600 rescue personnel have been searching since Sunday and have found parts of the plane in the water at a depth of 23 meters (75 feet), leading rescuers to continue searching the area.
National Search and Rescue Agency chief Bagus Puruhito said divers using high-tech "ping locator" equipment were looking for an identified target beneath 20 meters (65 feet) of seabed mud.
Television footage showed landing gear, wheels and a jet engine among the parts found, while other rescuers brought several body bags containing human remains to a police hospital in eastern Jakarta for the identification process.
Searchers have sent 17 body bags containing human remains to police identification experts who on Monday said they´d identified their first victim, a 29-year-old man, Okky Bisma, a flight attendant.