AHM Kalkulasi Ulang Target Penjualan 2013
AHM Re-Calculate 2013 Sales Target
Reporter : Gatot Priyantono
Editor : Taswin Bahar
Translator : Dhelia Gani

PUBLISHED: Senin, 03 Desember 2012 , 08:25:00 WIB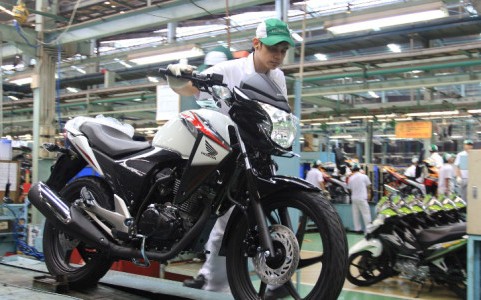 Foto: suarajakarta.com
Jakarta (B2B) - PT Astra Honda Motor (AHM) harus melakukan kalkulasi ulang penjualan tahun depan sehubungan dengan rencana adanya peraturan bank syariah terkait uang muka (down payment/DP).

Direktur Pemasaran PT AHM Margono Tanuwijaya mengatakan penjualan sepeda motornya juga mengalami penurunan menjadi 4, 075 juta hingga 4,085 juta unit dari realisasi tahun lalu sekitar 4,276 juta unit.

"Namun secara pangsa pasar kami naik menjadi 57 - 57,9%. Ini bukan hanya karena aturan uang muka kredit sepeda motor tetapi memang pasar motor lagi turun," katanya di sela-sela final Honda Racing Championship di Sirkuit Speed City Garuda Wisnu Kencana, Minggu (2/12).

Pada November, lanjutnya, penjualan motor Honda mencapai 360.000 unit dan Desember diperkirakan sekitar 300.000 unit. Untuk tahun depan, manajemen Honda terpaksa melakukan kaji ulang setelah pemerintah berencana membuat aturan baru terkait uang muka di perbankan syariah.

Dia mengakui sejak adanya peraturan uang muka untuk otomotif dan properti sebesar 30%, cukup mengganggu penjualan motor. Namun, bank dan pembiayaan syariah masih bisa memberikan kredit dengan uang muka di bawah 30%, sehingga mampu mendorong penjualan.
Jakarta (B2B) - In line with down payment regulations of Sharia Bank, PT Astra Honda Motor (AHM) must to re-calculate their next year sales plan.

Marketing Director of PT AHM Margono Tanuwijaya said that Honda motorcycle sales also decreased to be 4.075 – 4.085 million units of last year 4.276 million units.

"In contrary, we had a significant increasing in market share level of 57%-57.9%. This condition isn't actually impacted by motorcycle down payment regulations but caused by motorcycle market share slowdown," he said Sunday (12/2/12).

In November, he added, Honda's motor cycle sales had reached 360.000 units and in December its estimated will be 300.000 units. While, for next year, Honda's management have to review their plan after Gov't intent to determine a new regulation for down payment it through Sharia banking.

He admitted since the implementation of automotive and real-estate down payment level of 30% is quite disturbing motorcycle sales. However, bank and sharia financing can give credit down payment below 30% so that able to boost motorcycle sales.