Peringatan Hari Buruh di Indonesia Disorot Media Internasional
Workers across World mark May Day with Defiant Marches
Editor : Ismail Gani
Translator : Novita Cahyadi

PUBLISHED: Rabu, 02 Mei 2018 , 10:04:00 WIB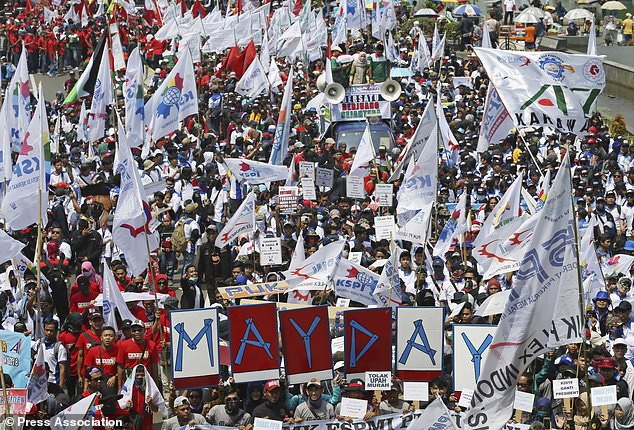 Foto: Press Association/MailOnline
RIBUAN PEKERJA dan aktivis memperingati Hari Buruh Sedunia, 1 Mei, yang dikenal dengan sebutan May Day dengan aksi unjuk rasa di seluruh dunia yang menuntut pemerintah mereka mengatasi masalah tenaga kerja.
Hari Buruh Sedunia ditetapkan sebagai hari libur nasional di banyak negara, meskipun kegiatan unjuk rasa di banyak kota di mancanegara lantaran cenderung anarkis.
Aksi demo buruh di Jakarta menjadi sorotan dunia setelah sekitar 10.000 pekerja dari berbagai kelompok buruh berkumpul di dekat istana presiden di Jakarta untuk menyuarakan tuntutan mereka.
Sebagian besar pekerja datang dari Jakarta dan sekitarnya, dan banyak pula dari Jawa Barat dan Surabaya.
Para pengunjuk rasa mendesak pemerintah untuk menghapus outsourcing, dan menaikkan upah mereka. Mereka juga meminta pemerintah untuk menghentikan masuknya pekerja asing untuk bekerja di Indonesia, dan mengatakan hal itu mengancam kesempatan kerja bagi pekerja lokal seperti dikutip Press Association yang dilansir MailOnline.
WORKERS and activists have marked May Day with rallies to demand their governments address labour issues.
International Workers' Day is a public holiday in many countries, though activities are restricted in some places, sometimes leading to confrontations.
About 10,000 workers from various labour groups rallied near the presidential palace in Jakarta to voice their demands.
Most of the workers came from Jakarta and nearby suburbs, but some travelled from West Java and Surabaya.
The protesters urged the government to avoid outsourcing, and to raise their wages. They also asked the government to stop foreign labourers from working in Indonesia, saying it decreases employment opportunities for local workers.