Wahana Permainan Roboh Tewaskan Remaja di Pekalongan Disorot Dunia
Fairground Accident Kills Teenager and Injuring Three in Indonesia
Editor : Ismail Gani
Translator : Novita Cahyadi

PUBLISHED: Kamis, 25 Juli 2019 , 01:00:00 WIB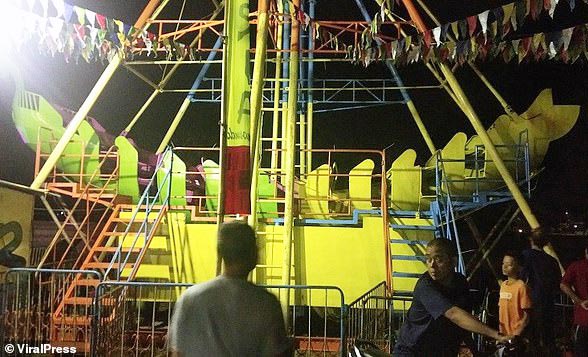 Selain menahan tersangka, polisi juga mengumpulkan bukti dari tempat kejadian dalam bentuk pipa besi yang digunakan untuk knalpot diesel, dua bagian wahana yang putus [Foto: MailOnline]
SEORANG remaja tewas dan tiga rekannya cedera pada Selasa malam setelah wahana permainan yang disebut 'perahu gila' ambruk menimpa warga di sebuah pasar malam.
Keempat remaja itu duduk di barisan belakang wahana ketika tiba-tiba terpental di arena pasar malam di Jajar Wayang, Kecamatan Bojong, Kabupaten Pekalongan, Jateng.
Pengunjung dan warga bergegas untuk membantu para korban setelah mereka jatuh, tepat di bawah mesin wahana permainan berwarna kuning dan hijau setinggi sembilan meter.
Para korban dilarikan ke RS Islam Pekajangan tetapi remaja Taufik Mailano, 15, dinyatakan meninggal tak lama setelah tiba di rumah sakit.
Tiga korban lainnya - Refal Giat Setiawan, 16, Efan Khafis, 16, dan Chandra, 15, - menjalani perawatan dirawat di rumah sakit hari ini karena luka-luka yang mereka derita.
Efan Khafis, salah satu korban yang selamat, mengatakan bahwa dia dan teman-temannya sedang mencoba wahana meskipun pasar malam belum dibuka, yang resmi dibuka Rabu di Pekalongan.
Namun beberapa saat setelah mereka menyalakan mesin wahana, sebatang besi di bagian belakang mesin mati, dan besi yang menopang wahana di bagian belakang tempat anak-anak itu duduk mati, lalu ambruk.
Operator wahana mengatakan bahwa para korban duduk di tepi wahana dan bukan di kursi yang disediakan untuk penumpang.
Petugas dari Polreds Pekalongan memulai penyelidikan dan menahan operator mesin, Bany Mahardika, untuk menjalani pemeriksaan.
Bany mengatakan bahwa dia telah memperingatkan anak-anak itu untuk tidak duduk di belakang wahana tetapi para korban tidak mendengarnya karena musik latar belakang yang keras dari perjalanan.
Petugas Polsek Bojong langsung mendatangi lokasi kejadian. Kasatreskrim Polres Pekalongan, AKP Heri Heriyanto langsung melakukan olah kejadian perkara.
"Setelah kami melakukan pemeriksaan lebih dalam semalam dan hari ini, kami telah membuat operator mencurigakan."
Heriyanto menjelaskan bahwa operator telah lalai dengan keselamatan perjalanan.
Dia menambahkan: "Karena kesalahannya, orang-orang telah meninggal dan dia sekarang menjadi tersangka."
Operator menghadapi tuduhan Pasal 359 KUHP dengan ancaman hukuman penjara maksimum lima tahun.
Selain menahan tersangka, polisi juga mengumpulkan bukti dari tempat kejadian dalam bentuk pipa besi yang digunakan untuk knalpot diesel, dua bagian wahana yang putus, dua potong karet dan bel seperti dilansir MailOnline.
A TEENAGER was killed and three of this friends were injured last night after a pirate ship ride collapsed at a fairground.
The group of four friends were sitting on the back row of the swinging ride when it suddenly snapped off at the market in Central Java, Indonesia.
Horrified revellers rushed to help after the victims after they plunged to the ground, directly under the 30ft high yellow and green coloured machine.
The victims were rushed to the Islam Pekajangan hospital but teenager Taufik Mailano, 15, was pronounced dead shortly after arriving.
The other three victims - Refal Giat Setiawan, 16, Efan Khafis, 16, and Chandra, 15, - are being treated at the hospital today for their injuries.
Evan Khafis, one of the survivors, said that he and his friends were trying for the ride for the last time before the official opening today in the Bojong district of Pekalongan city.
But a few moments after they started the machine, an iron bar on the very back of the machine snapped off, and the metal carriage support on the back of the machine that the boys were sitting on, plunged to the ground.
The ride operator claimed that they were sitting on the ridge around the edge of the ship and not in the proper seats.
Officials from Pekalongan Regional Police began investigations and brought the machine operator, Bany Mahardika, for questioning this morning.
Bany said that he had warned the boys not to sit on the back of the vehicle but the victim did not hear him because of the loud background music from the ride.
Pekalongan Regional Police Heri Heriyanto said: 'After we have carried out deeper checks last night and today, we have made the operators suspects.'
Heriyanto explained that the operator had been careless with the safety of the ride.
He added: 'Because of his mistake, people have died and he is now a suspect.'
The operator faces being charged with Article 359 of the Criminal Code with the threat of a maximum jail term of five years.
In addition to detaining the suspect, the police also collected evidence from the scene in the form of an iron pipe that was used for a diesel exhaust, two parts of the ride that broke off, two pieces of rubber and a bell.