Dianggap Kejam, Proses Potong Hewan Kurban Idul Adha Diselidiki Australia
Distressing Cattle Slaughter Investigated
Editor : Ismail Gani
Translator : Novita Cahyadi

PUBLISHED: Selasa, 11 Agustus 2020 , 10:48:00 WIB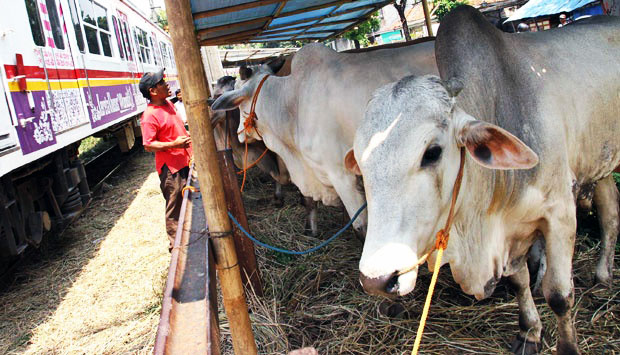 HEWAN KURBAN: Mark Harvey-Sutton mengatakan fasilitas RPH yang diduga melanggar dapat dicoret dari rantai pasokan di Indonesia jika pelanggaran teridentifikasi [Foto: istimewa]
BADAN FEDERAL Australia sedang menyelidiki kegiatan pemotongan sapi untuk hewan kurban yang diduga dilakukan secara brutal di Indonesia setelah rekaman videonya viral belum lama ini.
Aktivis organisasi pecinta hewan Australia pada Jumat [7/8] mengajukan komplain berupa pengaduan ke Departemen Pertanian, Air dan Lingkungan tentang dugaan pelanggaran pada dua fasilitas rumah potong hewan ternak [RPH] di Indonesia.
Dewan Eksportir Ternak Australia [ALEC] sedang menyelidiki apa yang sebenarnya terjadi seperti diungkap video yang viral tersebut.
Kepala ALEC Mark Harvey-Sutton mengatakan kegiatan pemotongan hewan itu mengenaskan, tidak dapat diterima dan tidak pantas.
"Dewan eksportir ALEC sangat peduli terhadap perlakuan ternak sapi dalam rantai pasok mereka, mereka bertindak cepat untuk menyelidiki kerja sama erat dengan importir Indonesia dan jaringan distribusinya," katanya, Selasa.
"Industri ini memiliki regulasi dan ada sistem untuk membuat keputusan yang diperlukan untuk menghentikan ketidakpatuhan di masa-masa mendatang."
Mark Harvey-Sutton mengatakan fasilitas RPH yang diduga melanggar dapat dicoret dari rantai pasokan di Indonesia jika pelanggaran teridentifikasi.
"Pemeliharaan perdagangan internasional tidak pernah lebih penting dan untuk menunjukkan rasa hormat atas hubungan jangka panjang kami dengan Indonesia dan produsen kami," katanya seperti dikutip Australian Associated Press yang dilansir MailOnline.
Pemerintah federal baru-baru ini memutuskan untuk tidak mengajukan banding atas keputusan Pengadilan Federal bahwa larangan enam bulan ekspor sapi hidup tidak sah.
Industri yang terkait dengan ekspor sapi hidup diharapkan mendapatkan kompensasi ratusan juta untuk pelarangan sementara.
Hingga berita ini diturunkan, Australian Associated Press sedang meminta tanggapan dari pihak berwenang di Australia.
FEDERAL AGENCIES are investigating the brutal slaughter of Australian cattle in Indonesia after distressing new footage emerged.
Activist group Animals Australia on Friday made a complaint to the Department of Agriculture, Water and Environment about the alleged breaches at two facilities.
The Australian Livestock Exporters' Council is looking into what happened.
ALEC chief Mark Harvey-Sutton said the killings were distressing, unacceptable and inappropriate.
"Exporters have genuine care for the livestock in their supply chains, they act quickly to investigate working closely with importers and in-market teams," he said on Tuesday.
"The industry is regulated and there are systems in place to make any necessary decisions to stop future non-compliance."
Mr Harvey-Sutton says offending facilities can be removed from supply chains if breaches are identified.
"Never has the maintenance of international trade been more important and to show respect for our longstanding relationship with Indonesia and our producers," he said.
The federal government recently decided against appealing a Federal Court ruling that a six-month ban on live cattle exports was invalid.
Live cattle export-linked industries are expected to get hundreds of millions in compensation for the temporary ban.
Comment is being sought from Animals Australia.