Profesi Masa Depan, Universitas Trisakti Pamerkan Karya Mahasiswa Seni Rupa dan Desain
Indonesian Universities Push Students to Develop Design and Photography Talents
Reporter : Gusmiati Waris
Editor : Cahyani Harzi
Translator : Dhelia Gani

PUBLISHED: Senin, 03 September 2018 , 14:46:00 WIB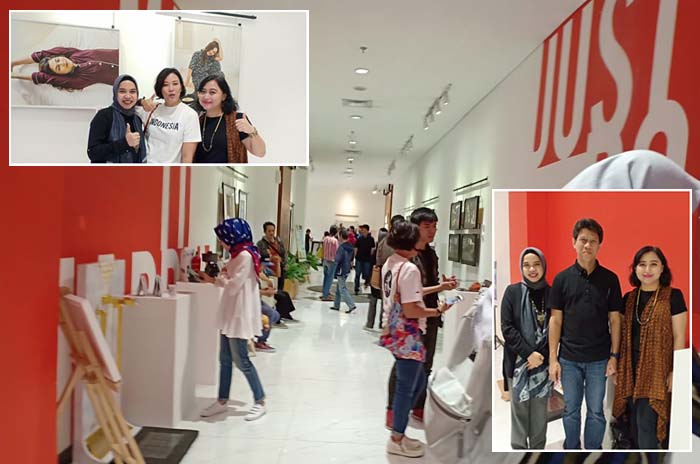 UNIVERSITAS TRISAKTI: Wakil Dekan I FSRD, Awang ENR bersama Ariani dan Erlina Novianti, ketua program studi disain produk dan fotografi (inset bawah) dan dengan Veronica, Marcomm Lippo Mall Puri Indah (atas) Foto2: B2B/Mya
Jakarta (B2B) - Ruangan ´Backspace´ lantai satu Lippo Mall Puri di kawasan Kedoya, Jakarta Barat menjadi lebih semarak dengan tampilnya sejumlah mock up, poster dan foto karya para mahasiswa dari program studi disain produk dan fotografi pada Fakultas Seni Rupa dan Disain - FSRD Universitas Trisakti. Karya-karya tersebut merupakan tugas akhir bagi mahasiswa yang telah menyelesaikan karyanya sekitar lima bulan sebelum dipamerkan kepada publik dalam pameran bertajuk ´Last.Ly´ selama 18 hari.

Pameran akan berlangsung hingga 18 September 2018 setelah dibuka oleh Wakil Dekan I FSRD Universitas Trisakti, Awang ENR pada Sabtu (1/9); yang didampingi oleh Ketua Program Studi Disain Produk, Ariani dan Ketua Program Studi Fotografi, Erlina Novianti.

"Pameran ini bertujuan memperkenalkan profesi disainer produk dan fotografer dari karya sarjana strata satu atau S1 yang selama ini belum dikenal luas oleh publik," kata Awang.

Pameran FSRD Universitas Trisakti diikuti oleh para mahasiswa semester akhir yang menampilkan lima mock up dan poster dari program studi disain produk. 16 karya foto ditampilkan oleh para mahasiswa dari program studi fotografi.

"Pameran bertujuan memotivasi para mahasiswa agar berani menampilkan karya mereka di depan publik, sehingga dapat memicu semangat mereka untuk menghasilkan karya terbaik dan lebih percaya diri dalam berkarya," kata Wakil Dekan I FSRD.

Selain pameran, FSRD Universitas Trisakti mengadakan sesi talkshow, yang dilakukan oleh mahasiswa program studi fotografi mempresentasikan karya foto mereka di depan pelajar SMA, mahasiswa dan masyarakat. Sementara program studi disain produk menggelar acara yang sama melalui kegiatan designer talk.

Tugas Akhir Kuliah
Tempat wudhu untuk lanjut usia alias lansia dipilih oleh Ruhama Afifa Ruhmana, mahasiswi seni rupa dan disain Universitas Trisakti untuk menyelesaikan tugas akhir. Karya berbentuk mock up yang ditampilkan mahasiswi program studi disain produksi ini mengedepankan fungsi tempat wudhu untuk lansia yang terkendala keterbatasan fisik tanpa mengabaikan fungsi disain produk.

Tugas akhir Ruhama berjudul ´Alat Berwudhu untuk Lansia´ mengembangkan produk disain tersebut dari sudut pandang lansia agar lebih mudah melaksanakan ibadah shalat.

"Indonesia adalah negara mayoritas Muslim tapi masih minim perhatian pada produk yang mengembangkan disain sarana berwudhu, maka saya mengambil tema Islam untuk menyelesaikan tugas akhir saya," katanya.

Menurutnya, sebelum membuat mock up disain harus merancang dan membuat grafis sebelum mendisain mock up dari akrilik, sementara material asli adalah dari marmer. "Saya rancang sejak Maret dan rampung Agustus atau sekitar lima bulan."

Sementara Erlina Novianti sebagai Ketua Program Studi Fotografi mengharapkan kegiatan pameran dapat mendukung para mahasiswanya mempertanggungjawabkan tugas akhir secara ilmiah di hadapan para penguji saat sidang skripsi.

"Pameran dua mahasiswa fotografi yakni Rian dan Septian diharapkan dapat menjadi spirit mahasiswa memperkenalkan profesi fotografi kepada publik," kata Erlina.

Veronica, Marcomm Lippo Mall Puri mendukung kegiatan pameran tersebut untuk memperkenalkan kepada publik tentang ´profesi masa depan´ dari disain dan fotografi sebagai bagian dari ekonomi kreatif.
Jakarta (B2B) - Corner of the first floor of Lippo Mall Puri in the Kedoya area in Jakarta, the capital of Indonesia become more vibrant with the appearance of a number of mock ups, posters and photographs of the work of Trisakti University students of the Faculty of Art and Design or FSRD. These works are final assignments for students and exhibited to the public at the exhibition titled ´Last.Ly´ for 18 days.

The exhibition will run until September 18, 2018 after being opened by the Vice Dean I of Trisakti University´s FSRD Faculty, Awang ENR on Saturday (September 1) accompanied by the Chair of the Product Design Study Program, Ariani and Chair of the Photography Study Program, Erlina Novianti.

"This exhibition aims to introduce the profession of product designers and photographers from students to be widely known by the public," Mr Awang said.

Trisakti University´s FSRD Faculty exhibition was attended by the final semester students which featured five mock ups and posters of the product design study program and 16 photo works were displayed by students from the photography study program.

"The exhibition aims to motivate students to be confident in displaying their work in public, so that it can trigger their enthusiasm to produce the best work," he said.

The talkshow was held by photography study program students, present their photo works to students and the community. While the product design study program held the same event through talk designer activities.

Lecture Final Project
Means to cleanse the body for Muslims or ablution before prayer for elderly, chosen by Ruhama Afifa Ruhmana, a student of fine arts and design to complete the lecture final project. Mock-up work from students of product design study programs emphasizes function without ignoring the design. Ms Ruhmana´s final assignment entitled ´Ablution Tool for the Elderly´ developed the design product from the perspective of the elderly so that it was easier to pray.

"Indonesia is a Muslim-majority country but still lacks attention to products that develop the design of ablution facilities so I took the Islamic theme to complete my final project," she said.

According to her, before making a mock up, he had to design and make graphics from acrylic, while the original material is marble. "I have been designing since March and completed in August or around five months."

While Erlina Novianti as Chair of the Photography Study Program expects the exhibition can support students completing the final project.

"The exhibition of two photography students namely Rian and Septian is expected to be the spirit of students introducing the photography profession to the public," said Mrs Novianti said.

Veronica, Lippo Mall Puri Indah´s Marketing Communication supports the exhibition´s activities to introduce the public to the ´future profession´ of design and photography as part of the creative economy.