Standar Internasional, DKV Usakti Tetap Kedepankan Tradisi dan Kearifan Lokal Nusantara
Indonesian`s Trisakti University Supports Development of Visual Communication Design
Reporter : Gusmiati Waris
Editor : Cahyani Harzi
Translator : Dhelia Gani

PUBLISHED: Minggu, 23 September 2018 , 20:18:00 WIB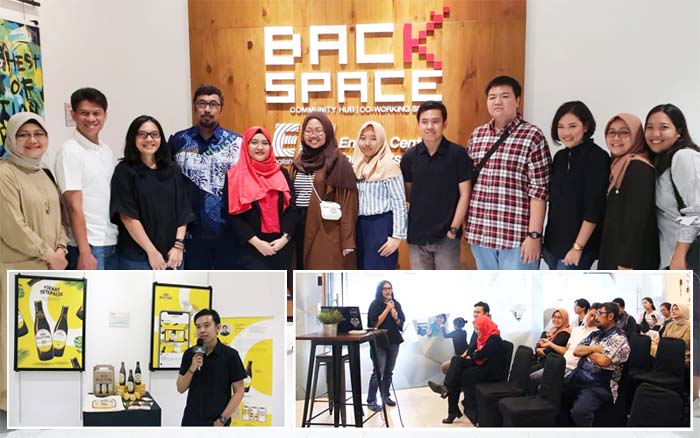 TUGAS AKHIR: Dekan FSRD Usakti, Dr Ganal Rudiyanto (batik biru), Wakil Dekan I Awang ENR (ke-2 kiri), KaProdi Disain Komunikasi Visual, Elda Franzia (ke-3 kiri), mahasiswa pemakalah dan Designers Talk (inset) Foto2: Humas DKV Usakti
Jakarta (B2B) - Program studi Disain Komunikasi Visual di Universitas Trisakti disingkat DKV Usakti bertekad menjadi program studi yang andal di Indonesia, mempunyai standar internasional dalam keilmuannya dengan mengedepankan tradisi dan kearifan lokal nusantara dalam pengembangan seni, disain, ilmu pengetahuan dan teknologi guna meningkatkan kualitas hidup dan peradaban manusia.
Dekan Fakultas Seni Rupa dan Disain - FSRD Usakti, Dr Ganal Rudiyanto mengatakan sesuai dengan positioning Usakti sebagai urban university maka karya-karya yang ditampilkan pada Final Project Exhibition yang akan berlangsung hingga Jumat (12/10) di BackSpace Lippo Mall Puri, menampilkan sejumlah karya mahasiswa DKV Usakti dan diskusi melalui Designers Talk yang menampilkan tujuh pembicara sekaligus sebagai peserta pameran.
"Karya mahasiswa yang ditampilkan di pameran tugas akhir dimulai dengan ketertarikan mahasiswa terhadap hal-hal yang dekat dengan kehidupannya dan menarik, karena memiliki problematika yang dapat dipecahkan melalui solusi disain," kata Dr Ganal Rudiyanto kepada pers usai membuka pameran dari mahasiswanya di BackSpace Lippo Mall Puri, Sabtu (22/9).
Menurutnya, membahas tentang DKV tidak lepas dari konsep komunikasi dan ungkapan kreativitas seni. Mahasiswa DKV memiliki peluang untuk mengolah ide dan kreativitas tersebut menjadi konsep visual, yang juga dapat berkembang menjadi bibit entrepreneurship di masa mendatang, sesuai dengan gerakan pengembangan ekonomi kreatif secara nasional.
Ketujuh karya dan pembicara Designer Talks adalah Buku Ilustrasi Pertautan Dua Budaya Tionghoa dan Sunda dalam Kuliner karya Jovian Satria; Desain Kemasan dan Media Promosi Bir Pletok Setu Babakan (M Luthfi Juliansyah); Stiker Animasi LINE Bertema Kudapan Khas Betawi (Wieke Pratiwi Prabowo); Kampanye Sarapan Sehat Anak Usia Dini (Putri Nerissa Arviana); Branding SUKE Sayuran Krispi Tabur (Rafiqa Fahrini); Desain Boardgame Journey to the Galaxy (Usamah Bawazir) dan Pameran Seni Visual Me Voice (Ruslan Gani Al Hakim).
Dia menambahkan Prodi DKV Usakti berupaya meningkatkan peran sertanya mendukung kebutuhan masyarakat mengenai keilmuan DKV bekerja sama dengan pemerintah, industri, institusi, asosiasi profesi, dan para pemangku kepentingan melalui pengabdian masyarakat dari kegiatan tugas akhir mahasiswa.
"Dengan demikian, lulusan DKV Usakti berkembang dan berperan aktif dalam industri kreatif di Indonesia, khususnya pengembangan industri kreatif yang berkelanjutan untuk memenuhi kebutuhan masyarakat nasional maupun internasional," katanya.
Jakarta (B2B) - Indonesia´s leading private university in Jakarta, Trisakti University support activities of Final Project Exhibition of the Visual Communication Design study program or DKV Usakti by promoting the traditions and local wisdom of the archipelago in development of art and design, according to the dean of faculty.
The Dean Faculty of Fine Arts and Design of Trisakti University or the FSRD, Dr Ganal Rudiyanto said that in line with positioning Usakti as an urban university, then the works displayed at the Final Project Exhibition will take place until Friday (12/10) at BackSpace Lippo Mall Puri in West Jakarta featuring a number of works by Usakti DKV students and discussion through Designers Talk with exhibitors as speakers.
"The work shown in the final project exhibition began with student interest to things that are close to the lives of students, because it has problems that can be solved through design solutions," Mr Rudiyanto told the press here after opened an exhibition on Saturday (September 22).
According to him, DKV carries the concept of communication and artistic creativity so that it has an opportunity process ideas and creativity into visual concepts, which also becomes a future business opportunity.
The seven works and the Designer Talks speaker are the Book Illustration of Chinese and Sundanese Culture in Culinary by Jovian Satria; Packaging Design and Promotional Media of Beer Pletok Setu Babakan by M Luthfi Juliansyah; LINE Animation Stickers Themed Betawi Snacks by Wieke Pratiwi Prabowo; Early Childhood Healthy Breakfast Campaign by Putri Nerissa Arviana; Branding SUKE Vegetables Krispi Tabur by Rafiqa Fahrini; Boardgame Design Journey to the Galaxy by Usamah Bawazir and Visual Me Voice Art Exhibition by Ruslan Gani Al Hakim.
He said the Usakti DKV Study Program seeks to increase its participation in supporting the needs of the community cooperate with government, industry, institutions, professional associations, and stakeholders through community service from student final project activities.
"Thus the Usakti DKV graduates support and play an active role in the creative industry in Indonesia, especially the development of sustainable creative industries to meet the needs of national and international communities," he said.