31 Tewas setelah Feri KM Lestari Maju Kandas di Perairan Selayar
Passengers Rescued from Stricken Indonesia Ferry; 31 Dead
Editor : Ismail Gani
Translator : Novita Cahyadi

PUBLISHED: Rabu, 04 Juli 2018 , 15:00:00 WIB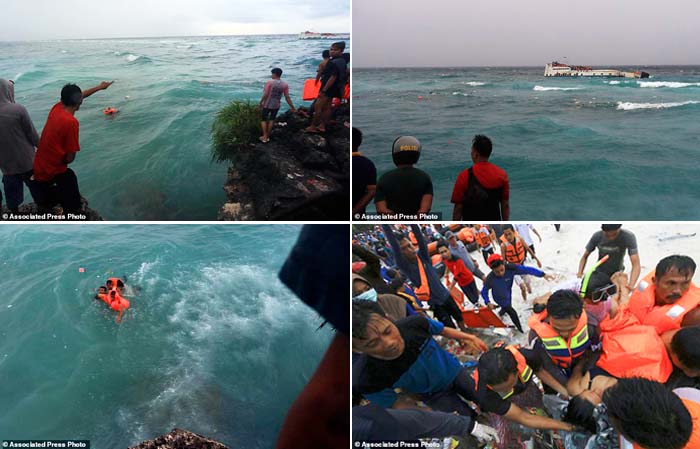 Foto2: Associated Press/MailOnline
PENUMPANG yang terjebak semalaman di sebuah kapal feri yang kandas di perairan Selayar, Sulawesi Selatan, kata otoritas yang berwenang, jumlah korban tewas meningkat menjadi 31 orang, tiga orang hilang dan diyakini tenggelam di dalam kapal.
Kecelakaan laut ini merupakan serangkaian tragedi kapal di Indonesia berawal dari hari yang sama setelah pemerintah memutuskan menghentikan pencairan 164 orang yang diduga tengggelam setelah sebuah kapal tenggelam di Danau Toba, Sumatera Utara.
Kapal feri yang melaut dari Tanjung Bira ke Selayar mengangkut 139 penumpang sesuai dengan manifesnya, mulai tenggelam pada Selasa sore di laut lepas. Dalam upaya menyelamatkan nyawa penumpang, nakhoda mengarahkan kapal ke pantai terdekat sekitar 300 meter dari Pantai Pabadilang, Selayar.
Dirjen Perhubungan Laut di Kemenhub, Agus Purnomo, mengatakan dalam pernyataan resmi bahwa penumpang yang selamat dan terjebak di feri semalaman berhasil diselamatkan pada Rabu pagi.
Dia tidak menyebutkan secara pasti jumlah penumpang yang selamat tetapi mengatakan kapten dan pemilik kapal adalah dua orang terakhir yang meninggalkan kapal.
Amiruddin, Kepala Badan SAR Sulawesi Selatan, mengatakan ada 164 orang di kapal itu termasuk awak. Amiruddin, mengatakan 130 penumpang selamat.
"Kami masih mencari tiga orang lain yang kami yakini masih berada di dalam kapal," kata Amiruddin.
Foto-foto yang dirilis oleh Badan Penanggulangan Bencana Nasional pada Selasa memperlihatkan penumpang yang berkumpul di dinding kapal yang setengah tenggelam sementara yang lain turun ke laut menggunakan tali yang tergantung di sisinya. Sebagian besar penumpang tampak menggunakan pelampung.
Dirjen Agus Purnomo memuji tindakan kapten dengan membantu menyelamatkan nyawa.
Kapal sepanjang 48,5 meter mengangkut puluhan kendaraan termasuk bus dan truk, sedang dalam perjalanan ke pulau Selayar, tepat di sebelah selatan pulau Sulawesi, dari pelabuhan Bira kapal naas itu bertolak ke Selayar.
Kecelakaan kapal laut kerap terjadi di Indonesia, negara kepulauan dengan lebih dari 17.000 pulau, dengan penegakan peraturan keselamatan yang lemah.
Tragedi kapal tenggelam di Danau Toba dua pekan lalu adalah yang terburuk di Indonesia dalam satu dekade seperti dikutip Associated Press yang dilansir MailOnline.
PASSENGERS trapped for a night on a stricken ferry off the Indonesian island of Sulawesi were rescued early Wednesday, officials said, as the death toll rose to 31 with three people missing and believed drowned inside the vessel.
The latest in a succession of boat tragedies in Indonesia began on the same day that officials called off a search for 164 people presumed drowned when a wooden ferry sank on June 18 in a deep volcanic crater lake on the island of Sumatra.
The Sulawesi ferry, with 139 passengers aboard according to its manifest, began sinking Tuesday afternoon in rough seas. In a desperate bid to save lives, the vessel´s captain steered it toward shore, grounding it between 200-300 meters (985-655 feet) from land.
Indonesia´s director-general of sea transportation, Agus Purnomo, said in a statement that people trapped on the ferry overnight were rescued early Wednesday.
He didn´t specify how many but said the captain and the boat owner were the last two people to leave the vessel.
Amiruddin, chief of the South Sulawesi search and rescue agency, said there were 164 people on the vessel including crew. Amiruddin, who uses one name, said 130 survived.
"We are still searching for three others who we strongly believe are still inside the ship," Amiruddin said.
Photos released by National Disaster Mitigation Agency on Tuesday showed passengers clinging to the listing vessel as others descended into the heavy seas using ropes hung over its side. Most appeared to be wearing lifejackets.
Purnomo credited the captain´s actions with helping to save lives.
The 48.5-meter- (159-foot) -long vessel, carrying several dozen vehicles including a bus and trucks, was on its way to Selayar island, just south of the main Sulawesi island, from the port of Bira when it began taking on water.
Ferry tragedies are common in Indonesia, an archipelago of more than 17,000 islands, with weak enforcement of safety regulations often to blame.
The Lake Toba sinking two weeks ago was the worst in about a decade.