WiFi Gratis untuk Pelajar DKI Jangkau 1.953 Titik di Jakarta Pusat
Free WiFi for Jakarta´s Students Available at 1,953 Points in Indonesian Capital
Reporter : Kemal Agus Praghotsa
Editor : Cahyani Harzi
Translator : Dhelia Gani

PUBLISHED: Selasa, 01 September 2020 , 15:22:00 WIB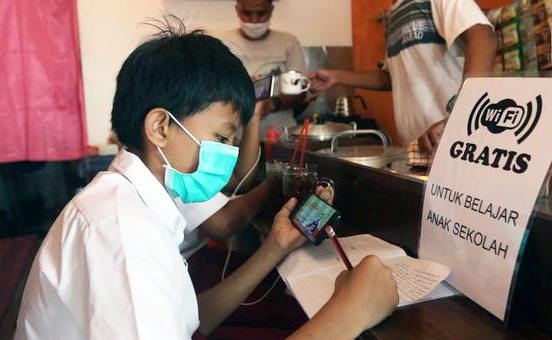 BELAJAR DARING: Keberadaan internet gratis sebagai salah satu pemenuhan akses internet bagi warga Jakarta, terutama untuk pelajar dan guru serta UMKM [Foto: istimewa]
Jakarta [B2B] - Akses internet gratis dari Pemerintah Provinsi [Pemprov] DKI Jakarta menjangkau wilayah Jakarta Pusat melalui 1.953 titik JakWIFI.
Wakil Wali Kota Jakarta Pusat, Irwandi mengatakan, akses WiFi gratis JakWIFI tersebar di tiga titik sekolah, SDN 01 Galur, SMPN 156 dan SMAN 10. Ada juga di lima kantor kelurahan yakni Kenari, Petojo Selatan, Kwitang, Kebon Kosong dan Karang Anyar.
Selain itu titik JakWIFI juga tersedia di 39 taman, 37 RPTRA, tiga di kompleks kantor Wali Kota Jakarta Pusat, dua dari pihak Asosiasi Penyelenggara Jaringan Telekomunikasi (Apjatel) dan 1.864 dari pihak Molecool.
"Di wilayah Jakarta Pusat sudah ada beberapa titik WiFi yang dapat diakses oleh publik, dan demi keamanan dilengkapi password," kata Irwandi.
Dia menambahkan, keberadaan internet gratis sebagai salah satu pemenuhan akses internet bagi warga Jakarta, terutama untuk pelajar dan guru serta UMKM.
"Dengan begitu, pendidikan dan ekonomi di Jakarta, khususnya wilayah Jakarta Pusat akan meningkat," tandasnya.
Jakarta [B2B] - The Jakarta Provincial Government has provided free WiFi, dubbed JakWiFi at 1,953 points across Central Jakarta.
Central Jakarta Deputy Mayor Irwandi said the free WiFi was spread across three school points namely, SDN 01 Galur, SMPN 156, SMAN 10. There were also five urban village offices namely, Kenari, Petojo Selatan, Kwitang, Kebon Kosong and Karang Anyar.
Free WiFi also installed in 39 parks, 37 city parks, three in office complexes of Central Jakarta Mayor, two from Telecommunications Network Providers Association (Apjatel) and 1,864 from Molecool.
"In Central Jakarta, the WiFi has been accessible at several points. For our security, there is a password," he stated here recently.
This free WiFi program is one of the fulfillments of internet access for residents, especially for students and teachers, including SMEs.
"Hopefully education and economy in Jakarta, especially in the Central Jakarta area, can continue to improve," he stated.