Sriwijaya Air Tidak Kirim Sinyal Darurat sebelum Hilang Kontak
Crew on Crashed Indonesian Passenger Jet Did Not Declare Emergency
Editor : Kemal A Praghotsa
Translator : Dhelia Gani

PUBLISHED: Selasa, 12 Januari 2021 , 01:56:00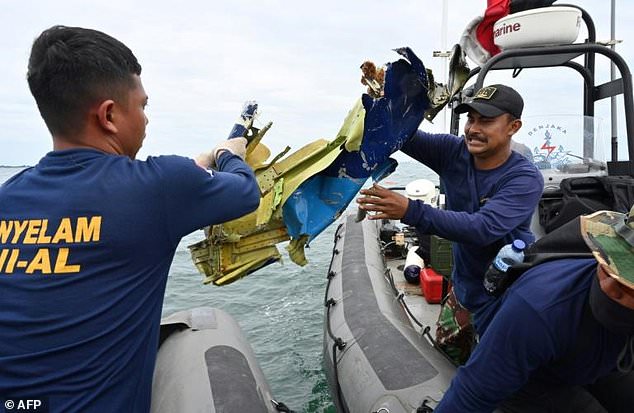 PUING PESAWAT: Beberapa dari 2.600 personel yang bekerja dalam upaya pencarian yang melibatkan puluhan perahu dan helikopter telah menemukan potongan tubuh penumpang, puing-puing pesawat [Foto: AFP/MailOnline]
PESAWAT Sriwijaya Air yang jatuh di kawasan Kepulauan Seribu, Sabtu pekan lalu [9/1] dengan 62 orang di dalamnya tidak menyatakan keadaan darurat atau melaporkan masalah teknis sebelum tiba-tiba jatuh ke laut.

Pihak berwenang sejauh ini belum menjelaskan mengapa pesawat berusia 26 tahun itu jatuh hanya empat menit setelah lepas landas, seraya mengatakan telah mengetahui lokasi kotak hitam [black box] dari pesawat naas tersebut.

Rekaman percakapan dengan menara pengawas lalu lintas udara menunjukkan komunikasi rutin dengan pilot, dan tidak ada informasi kondisi darurat tentang pesawat naas Boeing 737-500 jatuh dari ketinggian 10.000 kaki (3.000 km) dalam waktu kurang dari satu menit sebelum jatuh di Laut Jawa, kata Penyidik Komite Nasional Kecelakaan Transportasi [KNKT] Nurcahyo Utomo.

"Ini seperti percakapan biasa dan tidak ada yang mencurigakan," katanya kepada AFP.

"Tidak ada pembicaraan tentang keadaan darurat atau semacamnya."

Data awal menunjukkan "kemungkinan besar" pesawat tersebut dalam kondisi utuh ketika menghantam air pada Sabtu, tambahnya.

"Tapi kami belum tahu pada tahap ini" apa yang menyebabkan kecelakaan itu, kata Ketua Sub Komite IK Penerbangan KNKT, Nurcahyo Utomo.

Pengalaman Terbang
Ada 62 penumpang dan awak di dalam penerbangan setengah penuh tersebut, termasuk 10 anak-anak.

Kapten Pilot Afwan - ayah tiga anak berusia 54 tahun adalah mantan pilot TNI AU dengan pengalaman terbang puluhan tahun, menurut media yang dikutip AFP seperti dilansir MailOnline.

Beberapa dari 2.600 personel yang bekerja dalam upaya pencarian yang melibatkan puluhan perahu dan helikopter telah menemukan potongan tubuh penumpang, puing-puing pesawat, dan pakaian penumpang dari perairan dangkal sedalam sekitar 23 meter.

Kantong jenazah yang berisi jenazah dibawa ke kamar mayat polisi di mana penyelidik berharap dapat mengidentifikasi korban dengan mencocokkan sidik jari atau DNA dari jenazah mereka dengan kerabat yang masih hidup.

Rapin Akbar, yang memberikan sampel darah ke rumah sakit, memiliki lima kerabat di dalamnya termasuk seorang kakak perempuan, seorang keponakan, dan istrinya serta bayi mereka yang berusia tujuh bulan.

Mereka terbang kembali ke Pontianak, ibukota Provinsi Kalimantan Barat, yang ditempuh sekitar 90 menit perjalanan udara.
THE CREW of an Indonesian passenger jet that crashed off Jakarta at the weekend with 62 people aboard did not declare an emergency or report technical problems before it suddenly plunged into the sea, an investigator said Monday.

Authorities have so far been unable to explain why the 26-year-old plane crashed just four minutes after takeoff, but say they´ve pinpointed the location of the black boxes.

A recording of conversations with air traffic control pointed to routine exchanges, and there was no communication as the Sriwijaya Air Boeing 737-500 plunged about 10,000 feet (3,000 metres) in less than a minute before slamming into the Java Sea, said National Transportation Safety Committee investigator Nurcahyo Utomo.

"It´s like a normal conversation and nothing suspicious," he told AFP.

"There´s no talk of an emergency or something like that."

The preliminary data suggested it was "most likely" the plane was intact when it hit the water Saturday, he added.

"But we don´t know at this stage" what caused the crash, Utomo said.

- Switched flight -
There were 62 Indonesian passengers and crew aboard the half-full flight, including 10 children.

The jet´s captain, Afwan -- a 54-year-old father of three who like many Indonesians goes by one name -- was a former air force pilot with decades of flying under his belt, according to local media.

Some of the 2,600 personnel working in the recovery effort involving dozens of boats and helicopters are hauling body parts, twisted piece of wreckage and passengers´ clothing from shallow waters about 23 metres (75 feet) deep.

Body bags filled with human remains were being taken to a police morgue where investigators hope to identify victims by matching fingerprints or DNA from their remains to living relatives.

Rapin Akbar, who gave a blood sample to the hospital, had five relatives on board including an older sister, a nephew and his wife and their seven-month-old baby.

They were flying back to Pontianak, the city on Indonesia´s section of Borneo island, about 90 minutes away.