Menag Usul Biaya Haji Naik Jadi Rp69 Juta Tahun 2023
Minister of Religion Suggests Hajj Fees to Increase to IDR 69 Million in 2023
Editor : Cahyani Harzi
Translator : Novita Cahyadi

PUBLISHED: Senin, 23 Januari 2023 , 17:03:00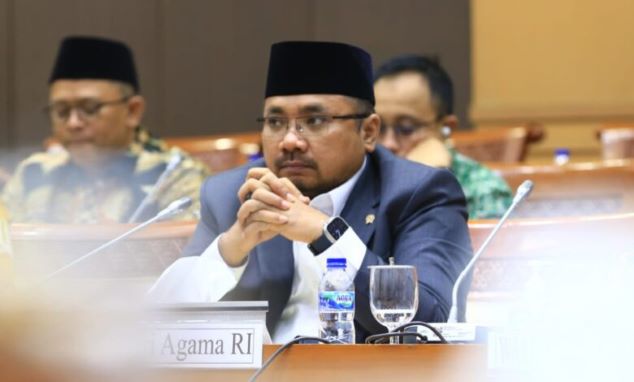 KENAIKAN TARIF: Menteri Agama RI Yaqut Cholil Qoumas dalam rapat dengar pendapat dengan anggota Dewan Perwakilan Rakyat (DPR) beberapa waktu lalu.
Jakarta [B2B] - Menteri Agama RI Yaqut Cholil Qoumas mengusulkan kenaikan Biaya Perjalanan Ibadah Haji [Bipih] 1444 H/2023 M menjadi Rp69.193.733,60. Hal ini disampaikan Menag Yaqut saat Rapat Kerja bersama Komisi VIII DPR.
Angka tersebut merupakan 70% dari usulan rata-rata Biaya Penyelenggaraan Ibadah Haji [BPIH] yang mencapai Rp98.893.909,11.
Jika dibandingkan tahun sebelumnya, usulan BPIH 2023 mengalami kenaikan sebesar Rp514.888,02. Meski demikian, secara komposisi, ada perubahan signifikan antara komponen Bipih yang harus dibayarkan jemaah dan komponen yang anggarannya dialokasikan dari nilai manfaat [optimalisasi].
Menurut Menag, BPIH 2022 sebesar Rp98.379.021,09 dengan komposisi Bipih sebesar Rp39.886.009,00 [40,54%] dan nilai manfaat (optimalisasi) sebesar Rp58.493.012,09 [59,46%].
Sementara itu, usulan Kemenag untuk BPIH 2023, sebesar Rp98.893.909,11 dengan komposisi Bipih sebesar Rp69.193.734,00 (70%) dan nilai manfaat (optimalisasi) sebesar Rp29.700.175,11 [30%].
Berikut rincian komponen yang dibebankan langsung kepada jemaah:
Biaya Penerbangan dari Embarkasi ke Arab Saudi (PP) sebesar Rp33.979.784,00;
Akomodasi Makkah Rp18.768.000,00;
Akomodasi Madinah Rp5.601.840,00;
Living Cost Rp4.080.000,00;
Visa Rp1.224.000,00; dan
Paket Layanan Masyair Rp5.540.109,60
"Usulan ini atas pertimbangan untuk memenuhi prinsip keadilan dan keberlangsungan dana haji. Formulasi ini juga telah melalui proses kajian," ungkap Menag dalam keterangannya, Kamis [19/1].
Menurut Menag, kebijakan tersebut diambil dalam rangka menyeimbangkan antara besaran beban jemaah dan keberlangsungan dana nilai manfaat BPIH di masa yang akan datang.
Pihaknya juga menjelaskan, pembebanan Bipih harus menjaga prinsip istitha'ah dan likuiditas penyelenggaraan ibadah haji tahun-tahun berikutnya.
"Itu usulan pemerintah. Menurut kami, itu yang paling logis untuk menjaga supaya yang ada di BPKH itu tidak tergerus, ya dengan komposisi seperti itu. Jadi dana manfaat itu dikurangi, tinggal 30%, sementara yang 70% menjadi tanggung jawab jemaah," ujar Menag.
Lebih dari itu, Menag Yaqut juga mengungkapkan terkait kemampuan jemaah dalam menjalankan ibadah haji. Dia menyebutkan, pihaknya telah mengukurnya dengan nilai tersebut.
"Selain untuk menjaga itu [BPKH], yang kedua ini juga soal istitha'ah, kemampuan menjalankan ibadah. Kan, ada syarat jika mampu. Haji itu jika mampu. Kemampuan ini harus terukur, kami mengukurnya dengan nilai segitu," sambung Gus Men, panggilan akrabnya.
Setelah menyampaikan usulan, kata Gus Men, Kemenag selanjutnya akan menunggu pembahasan di tingkat Panitia Kerja BPIH yang dibentuk Komisi VIII DPR.
"Ini baru usulan, berapa biaya yang nanti disepakati, tergantung pembicaraan di Panja," tutupnya.
Jakarta [B2B] - The Minister of Religion of the Republic of Indonesia Yaqut Cholil Qoumas proposed an increase in the cost of the 1444 H/2023 M Hajj Pilgrimage Trip to IDR 69,193,733.60. This was conveyed by Minister of Religion Yaqut during a Working Meeting with Commission VIII of the DPR.
This figure is 70% of the proposed average Hajj Pilgrimage Organizing Cost [BPIH] which reaches IDR 98,893,909.11.
Compared to the previous year, the 2023 BPIH proposal has increased by IDR 514,888.02. However, in terms of composition, there has been a significant change between the Bipih component that must be paid by the congregation and the component whose budget is allocated from the value of benefits [optimization].
According to the Minister of Religion, the 2022 BPIH is IDR 98,379,021.09 with a Bipih composition of IDR 39,886,009.00 [40.54%] and a benefit value (optimization) of IDR 58,493,012.09 [59.46%].
Meanwhile, the Ministry of Religion's proposal for BPIH 2023, amounted to IDR 98,893,909.11 with a Bipih composition of IDR 69,193,734.00 (70%) and a benefit value (optimization) of IDR 29,700,175.11 [30%].