Pasal Penodaan Agama, Vonis Alnoldy Bahari Disorot Dunia
Indonesian Man Jailed for Facebook Post Allegedly Insulting Islam
Editor : Ismail Gani
Translator : Novita Cahyadi

PUBLISHED: Selasa, 01 Mei 2018 , 17:46:00 WIB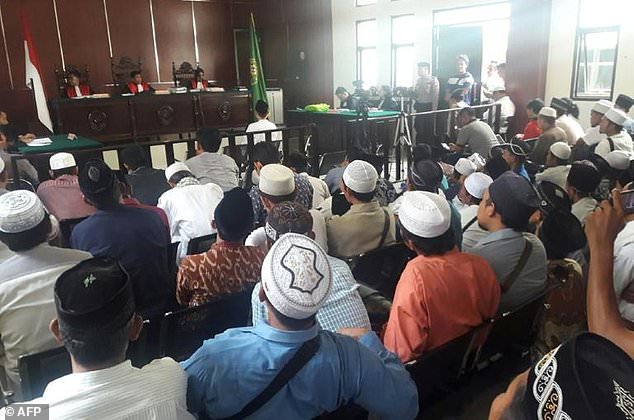 Alnoldy Bahari, 39, divonis bersalah karena terbukti menyebarkan ujaran kebencian melalui Facebook dengan mempertanyakan iman umat Islam (Foto: AFP/MailOnline)
SEORANG warga Indonesia dipenjarakan selama lima tahun pada Senin karena sebuah unggahannya (posting) di Facebook dianggap menyinggung Islam, kata pengacaranya, tuntutan hukum terbaru di bawah undang-undang informasi elektronik Indonesia.

Alnoldy Bahari, 39, divonis bersalah karena terbukti menyebarkan ujaran kebencian melalui Facebook dengan mempertanyakan iman umat Islam.

"Dia dijatuhi hukuman lima tahun penjara dan harus membayar denda 100 juta rupiah," kata pengacara Alnoldy Bahari, Andi Komara.

"Kami kemungkinan besar akan mengajukan banding karena banyak fakta tidak diperhitungkan dan dipelintir."

Vonis akan memicu kekhawatiran bahwa Islam moderat Indonesia berada di bawah ancaman dari radikal yang semakin berpengaruh.

Bahari, dari kota Pandeglang di provinsi Jawa Barat, dituduh melakukan penodaan agama dan menebar kebencian pada Desember 2017, setelah seorang pemimpin Front Pembela Islam militan (FPI) di Pandeglang melaporkannya kepada polisi.

Meskipun tuduhan penodaan agama itu kemudian dijatuhkan, Bahari menemukan dirinya menghadapi hukuman penjara hingga enam tahun karena tuduhan kebencian yang didefinisikan secara bebas, sebagaimana didefinisikan di bawah undang-undang informasi elektronik.

Demonstran dari FPI - banyak yang berpakaian putih dan mengenakan kupluk - berkumpul di luar pengadilan ketika putusan dibacakan.

Kelompok-kelompok hak asasi manusia telah lama berkampanye menentang undang-undang pencemaran nama baik kontroversial Indonesia, yang mereka katakan tidak perlu kabur dan memungkinkan para pejabat dan orang-orang kaya untuk mengkriminalisasi para kritikus dan minoritas.

"Indonesia membutuhkan undang-undang internet yang dapat melindungi hak untuk mengekspresikan pendapat atau bahkan pertanyaan tentang agama," kata Damar Juniarto, koordinator Indonesia untuk kelompok hak digital SAFEnet, kepada AFP seperti dilansir MailOnline.

"Kasus Alnoldy ini membuktikan bahwa orang-orang yang hanya mengungkapkan pemikiran mereka tentang situasi reguler di Facebook ... dapat dihukum oleh hukum."
AN INDONESIAN was jailed for five years Monday for a Facebook post deemed offensive to Islam, his lawyer said, the latest conviction under the country´s controversial electronic information law.

Alnoldy Bahari, 39, was found guilty of spreading hate speech for a post in which he claimed to have experienced God´s presence and questioned the faith of other Muslims.

"He´s been sentenced to five years´ jail and has to pay a fine of 100 million rupiah ($7,200)," said Bahari´s lawyer Andi Komara.

"We will most likely appeal because many facts weren´t taken into account and were twisted."

The verdict will fuel fears that Indonesia´s moderate brand of Islam is coming under threat from increasingly influential radicals.

Bahari, from the town of Pandeglang in West Java province, was charged with blasphemy and hate speech in December 2017, after a local leader of the militant Islamic Defenders Front (FPI) complained to police.

Although the blasphemy charge was subsequently dropped, Bahari found himself facing up to six years´ jail for the loosely defined charge of hate speech, as defined under the electronic information law.

Demonstrators from the FPI -- many dressed in white and wearing skullcaps -- gathered outside the court as the verdict was read.

Rights groups have long campaigned against Indonesia´s controversial defamation laws, which they say are unnecessarily vague and allow officials and wealthy individuals to criminalise critics and minorities.

"Indonesia needs an internet law that can protect rights to express opinions or even questions about religion," Damar Juniarto, Indonesia coordinator for digital rights group SAFEnet, told AFP.

"This Alnoldy case proves that people who only express their thoughts about a regular situation on Facebook... can be punished by the law."