Bela Palestina di Kedubes AS jadi Sorotan Dunia
Indonesia Muslims Protest at US Embassy over Israel Strikes
Editor : Kemal A Praghotsa
Translator : Novita Cahyadi

PUBLISHED: Jum'at, 21 Mei 2021 , 17:48:00 WIB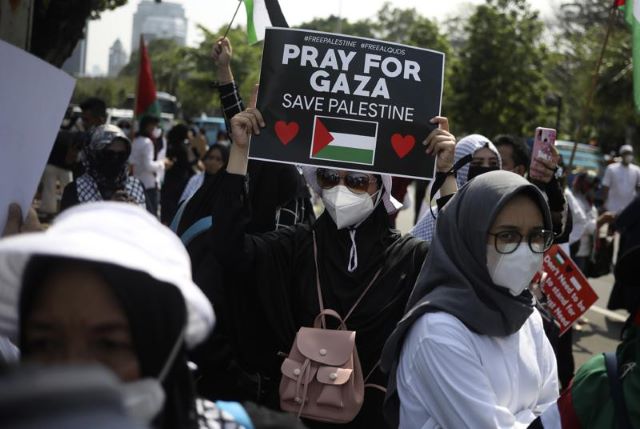 Para pengunjuk rasa, menghentikan lalu lintas Jalan Medan Merdeka saat sedang berjalan menuju Kedubes AS sambil meneriakkan "Allahu Akbar" dan "Selamatkan Palestina´. [Foto: Associated Press/MailOnline]
LEBIH DARI seribu warga muslim melakukan unjuk rasa di Kedutaan Besar Amerika Serikat [AS] di Jakarta, pada Jumat untuk mengecam dukungan AS untuk Israel dan menuntut diakhirinya serangan udara Israel di Jalur Gaza.
Para pengunjuk rasa berbaris di beberapa masjid setelah salat Jumat menuju jalan utama di luar kedutaan, yang berada di bawah penjagaan polisi. Mereka menghentikan lalu lintas Jalan Medan Merdeka saat sedang berjalan menuju Kedubes AS sambil meneriakkan "Allahu Akbar" dan "Selamatkan Palestina´.
Demonstrasi ini diselenggarakan oleh Himpunan Mahasiswa Indonesia [HMI] dan beberapa kelompok lain.
Ketika tiba di depan Kedubes AS, para pemimpin aksi dan polisi yang berjaga meminta kepada pada pengunjuk rasa untuk menjaga jarak selama demostrasi dengan pengeras suara, untuk mencegah penyebaran virus Covid-19.
Lebih dari 3.000 polisi dikerahkan untuk menjaga jalannya aksi demostrasi hari ini dan menjaga beberapa titik yang dekat dengan Kedubes AS, antara lain Istana Negara hingga Kantor Perserikatan Bangsa-Bangsa [PBB] di Jakarta.
Israel dan kelompok militan Islam Hamas telah menyetujui gencatan senjata yang mulai berlaku Jumat, menghentikan perang selama 11 hari yang menyebabkan kehancuran luas di Jalur Gaza.
Setidaknya 230 warga Palestina tewas, termasuk 65 anak-anak dan 39 wanita, dan 1.710 orang terluka, menurut Kementerian Kesehatan Gaza seperti dikutip Associated Press yang dilansir MailOnline.
MORE THAN a thousand Muslims rallied outside the U.S. Embassy in Indonesia´s capital on Friday to denounce American support for Israel and demand an end to Israeli airstrikes in the Gaza Strip.
The protesters marched from several mosques after Friday prayers to a major street outside the embassy, which was under heavy police guard. They halted traffic along the way as they chanted "Allahu Akbar," or "God is Great," and "Save Palestinians."
Authorities with loudspeakers warned protesters to maintain social distancing during the demonstration, organized by the Islamic Student Association and several other groups, to prevent the spread of the coronavirus.
More than 3,000 police, many wearing hazmat suits, were deployed to secure the embassy and the nearby presidential palace and United Nations mission.
Indonesia, the world´s most populous Muslim-majority nation, does not have formal diplomatic relations with Israel and there is no Israeli embassy in the country. It has long been a strong supporter of the Palestinians, and President Joko Widodo has condemned the Israeli airstrikes.
Media reports said similar protests were held Friday in at least 10 provincial capitals and cities across Indonesia.
Israel and the Islamic militant group Hamas have agreed to a cease-fire that took effect Friday, halting a bruising 11-day war that caused widespread destruction in the Gaza Strip and brought life in much of Israel to a standstill.
At least 230 Palestinians were killed, including 65 children and 39 women, and 1,710 people were wounded, according to the Gaza Health Ministry. Twelve people in Israel, including a 5-year-old boy and 16-year-old girl, were killed in rocket attacks launched from civilian areas in Gaza toward civilian areas in Israel.