Dunia Soroti Penyelundupan Tengkorak Manusia dari Bali ke Belanda
Police Bust Plot to Mail 24 Human Skulss from Indonesia to the Netherlands
Editor : Ismail Gani
Translator : Novita Cahyadi

PUBLISHED: Minggu, 11 Februari 2018 , 17:51:00 WIB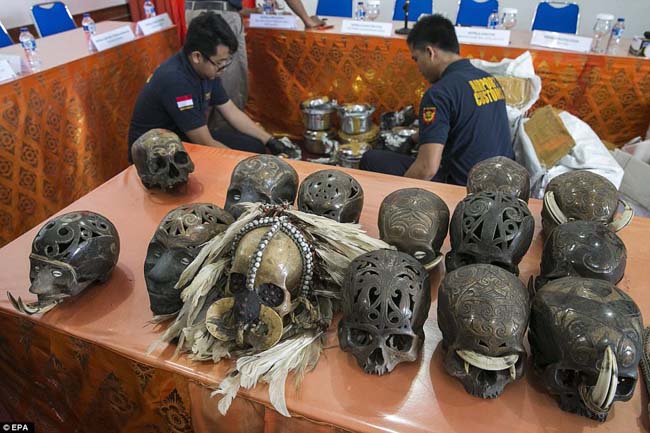 Tengkorak tersebut diberi label sebagai bahan sintetis namun ternyata merupakan tengkorak manusia setelah diperiksa oleh para ahli dari Pusat Pelestarian Warisan Budaya Bali (Foto: MailOnline)
DITJEN BEA CUKAI menggagalkan upaya penyelundupan 24 tengkorak manusia dari Bali ke Belanda, dan asal-usul tengkorak manusia yang diperkirakan berusia puluhan tahun itu masih diselidiki.

Dua paket kiriman dari 24 tengkorak manusia berukir tersebut berhasil dicegah oleh petugas bea cukai pada dua tanggal terpisah pada Januari.

Tengkorak manusia tersebut diyakini sebagai artefak budaya dari wilayah lain di Indonesia, diperkirakan berasal dari Papua atau Kalimantan.

Tengkorak tersebut diberi label sebagai bahan sintetis namun ternyata merupakan tengkorak manusia setelah diperiksa oleh para ahli dari Pusat Pelestarian Warisan Budaya Bali.

Pejabat Bea Cukai Ni Aniek mengatakan bahwa tengkorak tersebut mungkin berasal dari Papua, wilayah Melanesia yang merupakan kawasan paling timur Indonesia, dan Kalimantan di pulau Kalimantan, tempat bermukimnya masyarakat adat Dayak.

Dulu, orang Dayak dikenal sebagai ´pemburu kepala manusia´ dan menyimpan tengkorak korban mereka, percaya bahwa kepala itu adalah sumber kehidupan.

Belum ada yang ditangkap sehubungan dengan percobaan penyelundupan tengkorak.

Pusat Pelestarian Warisan Budaya Bali segera memutuskan tindakan yang diambil setelah kasus tersebut terungkap seperti dilansir MailOnline.
INDONESIAN customs officials stopped smugglers from shipping two dozen human skulls from the paradise island of Bali to the Netherlands,

Two dispatches of a total of 24 elaborated human skulls were intercepted by border officials on two separate dates in January.

The skulls are believed to be culturally-significant artifacts from other parts of Indonesia, possibly from the islands of Papua or Borneo.

They were labeled as manufactured from synthetic materials but found to be human after being examined by experts from the Balinese Cultural Heritage Conservation Center.

Customs official Ni Aniek said the skulls are probably from Papua, a Melanesian region that makes up easternmost Indonesia, and Kalimantan on the island of Borneo, home to indigenous Dayak peoples.

In the past, Dayak people were known as ´headhunters´ and preserved the skulls of their victims, believing the head to be the source of life.

No one has yet been arrested in connection with the attempted smuggling of the skulls.

The Balinese Cultural Heritage Conservation Center has been taked with decide what to do with them.